In a predictably tense and edgy encounter, goals from Holly Hunter and Tess Howard proved to be enough for a maiden title despite a late consolidation for the Hockeyroos.
The historic victory – 24 years in the making – means that England have now finally won the top prize in Commonwealth hockey after claiming either silver or bronze at every Games since 1998.
Eight Loughborough-linked players and support staff were part of the England team, including current students Izzy Petter and Ellie Rayer, and alumnae Giselle Ansley, Maddie Hinch, and Laura Unsworth.
The side is also coached by alumnus David Ralph, with former Loughborough player Sabbie Heesh and Lizzie Neal (alumna — travelling reserve) both playing a part.
The win completed a flawless campaign for England Women who remained unbeaten throughout, scoring 23 goals and conceding just two.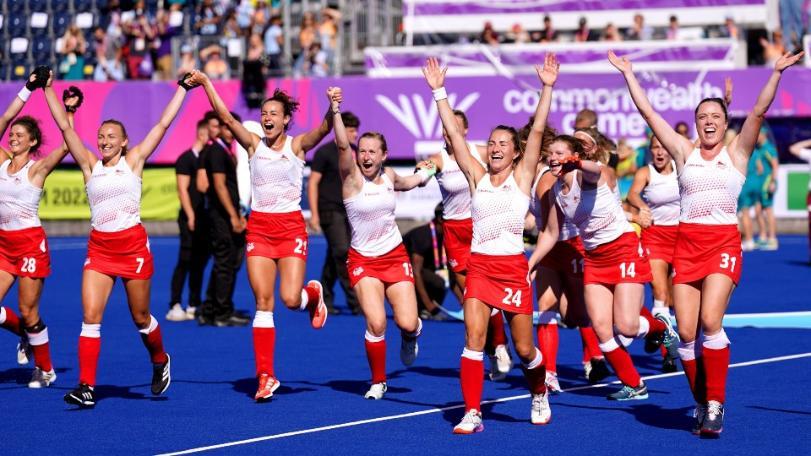 Team England celebrates after the full-time whistle. Image provided by PA/Alamy.
In a brilliant return for Loughborough, all players performed incredibly throughout the tournament, including both Hinch and Petter playing a vital role in reaching this afternoon's final, as they starred in Friday's shootout win versus New Zealand in the semi-finals.
England's victorious captain Hollie Pearne-Webb told BBC Sport:
"I'm a bit lost for words - it's the first time in history we've ever done this. It's a new group. I think over the next two years it's pretty exciting when we join up with the GB squad when the Scots and the Welsh come in.
"The crowd's support has been absolutely phenomenal. I just feel so lucky that's it's in my career that we get a home Commonwealth Games."
Loughborough's dedicated 2022 Commonwealth Games website features all the latest news, videos, and medal tables from Birmingham.