To acknowledge the progression that has been made by the Maia community over the last 12 months, the event featured an insightful and thought-provoking panel discussion featuring three special guests.
The panel speakers were as follows:
Dr Gifty Edila – Barrister, Solicitor-Advocate, Mediator and Author. She is also an honorary Graduate and former University Council Member.
Jane Fordham – Loughborough alumna, People and Inclusion Consultant, Women in PR committee member, and former Head of People and Executive Director of Talent and Marketing.
Dr Jummy Okoya – Leadership and Organisation Development Consultant, Positive Psychology Consultant and EDI expert.
The three were also joined by Renae Huggan-Broughton, a Graduate Management Trainee at the University, who chaired the panel session.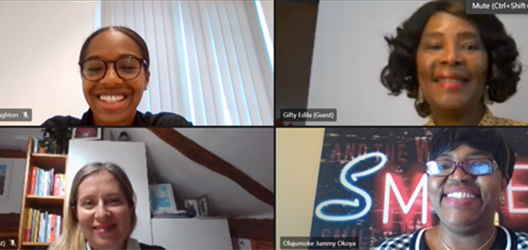 The trio were asked questions about speeding up equity in the workplace; what they believe are the most important characteristics about inclusive leadership; overcoming bias and career challenges; as well as talking about mental health and coping with fatigue for those trying to progress EDI within an institution. The event was recorded for anyone who was unable to attend, and it is now available to view online.
Co-Chair of Maia and Director of People, Organisational Development and Leadership Champion for EDI, Adèle MacKinlay, provided a short overview of the initiatives which have been led by Maia over the last 12 months. This included the launch of a successful mentoring scheme, holding more than 30 remote events, and having over 450 members representing every job family and department across both of our campuses.
Prior to the celebratory event, members shared what Maia has meant for them, and below are just a few examples of what they said:
"[It has] Given me a safe space in which to share experiences candidly, to offer my support and receive support from others."
"[Maia has] Connected me with a mentor whose input and advice I really value, and who is helping me to achieve a lifetime goal."
To conclude, Maia committee member Deborah Bowen showcased Loughborough's Inspirational Women: a call-out to members which asked for them to nominate a woman who has achieved something amazing over the last year, personally or professionally. The outcome was outstanding, with more than 300 women across the institution nominated, including every member of the University's domestic and residential services teams at both our East Midlands and London campuses.
Manager of Domestic Services, Sarah Roberts commented: "I'm delighted they are being recognised for their contribution, we've all worked so hard during this challenging time."
A full list of the names is available to read here: Loughborough's Inspirational Women list
After attending the event, Dr Okoya commented: "It was a pleasure spending the afternoon with you all, you are such an engaged community.
"I have to say you're a fantastic group of women and it's an honour to have been able to contribute today. You can count on my support any day."
And for those who are interested in meeting with other Maia members in an informal setting, the Network is hosting two upcoming virtual Connect Over Coffee sessions later this month. They will be taking place on 20 May (1pm-2pm) and 27 May (11am-12pm). Book your place here.
Maia's mission is to (1) engage with a diverse range of women who can learn from, work with, and support one another, (2) speed up gender equity at Loughborough University, and (3) empower all women at Loughborough. To find out more about the Network, visit the dedicated webpages.