During his nine years as the leader of the University, Professor Allison has steered many successes that have seen Loughborough rise up league tables and gain a reputation for being one of the best student experiences in the country.
From being awarded a Queen's anniversary prize in 2013, to opening the Loughborough University London campus in 2015, and receiving various awards and accolades throughout his tenure – including TEF Gold, twice named 1st in the Times Higher Education Student Experience Survey, as well as being awarded 'University of the Year' at the WhatUni Student Choice Awards (2015, 2018, 2020) and in The Times and The Sunday Times Good University Guide (2019).
In addition, our Loughborough campus has been heavily invested in under his leadership. Specialist facilities were built: The National Centre for Sport and Exercise Medicine (NCSEM), the West Park Teaching Hub, and STEMLab. In recent years, the University has unveiled the Elite Athlete Centre and Hotel, as well as the latest halls of residence, Claudia Parsons.
With these achievements and many more, it is little wonder that Professor Allison was recently awarded a CBE in the Queen's Birthday Honours List for his services to education and to supporting young people's talent, equality and achievement.
Earlier this month, around 100 guests made up of staff from across the institution joined VC Bob for afternoon tea in the graduation marquee. Pauline Matturi hosted the event, and many close colleagues of Bob's shared their stories and favourite moments of working with him. He was presented with some leaving gifts, and guests were treated to some delicious food by the University's catering team – including cupcakes with his face on!
And last Wednesday, the celebrations continued at the University Stadium where the Vice-Chancellor came across two very special surprises.
With staff from Loughborough's Sports Development Centre as well as senior colleagues in attendance, Professor Allison had the honour of unveiling his portrait painted by Paul Brason. It will be put on display at Loughborough University London.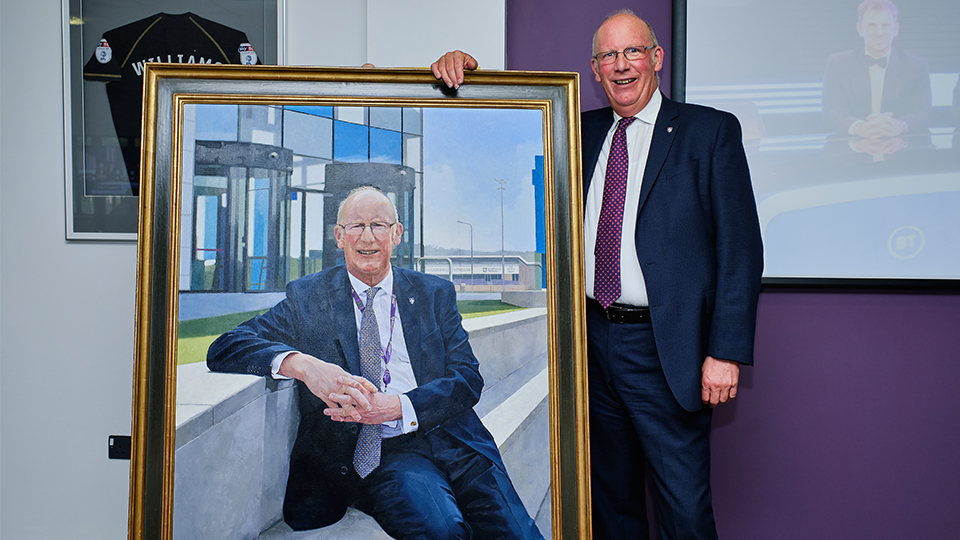 It was also announced that a stand at the stadium has been renamed the 'Allison Stand' in tribute to him.
He has spent his final weeks celebrating with thousands of graduating students at the in-person ceremonies which began on 19 July.
To read more about what has been achieved under Professor Allison's leadership and the positive changes that have been put in place, check out the latest Volume piece, Reflections on Success, here.