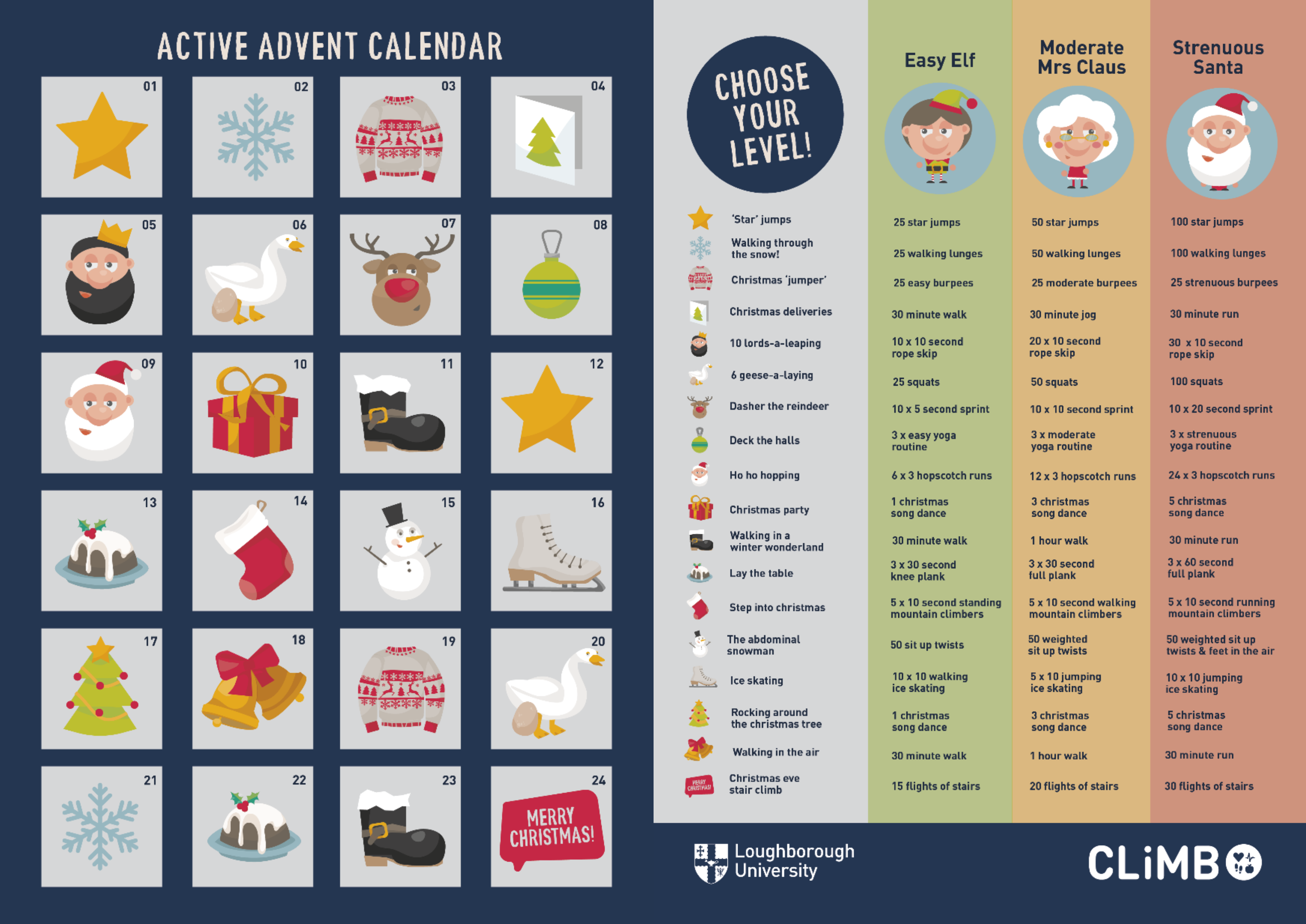 The Active Advent pilot randomised controlled trial
We recruited 107 individuals with 79% completing follow-up. At the end of Advent, the intervention group reported ~21 minutes more MVPA compared to the comparator.
We designed and tested a Christmas-themed physical activity intervention delivered in the run up to Christmas (1-24 December 2021). Participants were randomised to the 'Active Advent' intervention or the comparator group.
The 'Active Advent' intervention involved daily emails, replicating an Advent calendar, containing physical activity an idea. These came in three intensities: Easy Elf, Moderate Mrs Claus and Strenuous Santa. The comparator group received information about a healthy lifestyle on 1 December.
We found that the public are interested in engaging in a Christmas-themed physical activity intervention during Advent. The intervention during Advent showed promise for increasing physical activity and reducing sedentary time among inactive adults. It was also enjoyed by participants, showing that the public would welcome public health campaigns to help them to be more physically active and less sedentary in the weeks prior to Christmas.
What next?
Further research might consider determining the effectiveness of the intervention, as our findings have indicated that the intervention might be worthwhile.. This may include the use of an app or similar such technology.
Citation details
Biddle GJH, Sanders JP, Gokal K, Madigan CD, Thomas JJC, Pyle A, Daley AJ et al. A Christmas themed physical activity intervention to increase participation in physical activity during Advent: pilot randomised controlled trial BMJ 2022; 379 :e072807 DOI:10.1136/bmj-2022-072807
Acknowledgments
We thank the participants and the CLiMB Active Advent Study Team (Dale Esliger, Henrietta Graham, Natalia Iris, Victoria Kettle, Julie Isherwood, Gemma Ladley, Chris McLeod, Lauren Sherar) for making this study possible. Thank you to all the individuals who helped promote the study on social media, the workplaces who promoted it among staff and the community groups who shared the study with their respective communities.
Find out more about our work in brief interventions and making every contact count