Women's health and lifestyle behaviours
We are investigating the benefits of lifestyle interventions during pregnancy and postnatally.
The prevalence of obesity in women continues to rise and pregnancy is a high-risk time for excessive weight gain.
The fact that most women do not lose extra weight gained during pregnancy is significant because postnatal weight retention contributes to the development of obesity in later life and increases the risk of complications in any future pregnancy.
Our research is investigating innovative solutions to delivering physical activity and weight management interventions at scale, to women across the lifespan, to reduce their risk of future disease and ill health.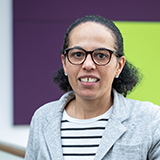 2022
Jones C, Gibbons M, Magsamen-Conrad K, Ulanday KT, Watterson J, Oakley-Girvan I, Houghton LC, & Gokal K. "Mother's Health and Well-Being Matters: Is a Mediated Social Cohesion Public Health Intervention Feasible?". American journal of health promotion: AJHP, 2022, 36(3), 410–420. DOI: 10.1177/08901171211055317
2021
2020
Evaluation of a weight management intervention for postnatal women embedded within child immunisation appointments in primary care (PIMMS). Funded by NIHR. Led by Amanda Daley.