Women's health and lifestyle behaviours
We are investigating the benefits of lifestyle interventions during pregnancy and postnatally.
The prevalence of obesity in women continues to rise and pregnancy is a high-risk time for excessive weight gain.
The fact that most women do not lose extra weight gained during pregnancy is significant because postnatal weight retention contributes to the development of obesity in later life and increases the risk of complications in any future pregnancy.
Our research is investigating innovative solutions to delivering physical activity and weight management interventions at scale, to women across the lifespan, to reduce their risk of future disease and ill health.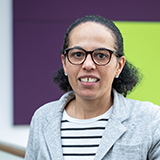 2021
2020
2019
Daley AJ, Jolly K, Jebb SA, Roalfe A, Mackilllop L, Lewis A, Clifford S, Usman M, Ohadike C, Kenyon S, MacArthur C, Aveyard P. Effectiveness of a behavioural intervention involving regular weighing and feedback by community midwives within routine antenatal care to prevent excessive gestational weight gain: POPS2 randomised controlled trial. BMJ Open. 2019;9(9):e030174. DOI: 10.1136/bmjopen-2019-030174

Ferguson JA, Daley AJ, Parretti HM. Behavioural weight management interventions for postnatal women: A systematic review of systematic reviews of randomized controlled trials. Obesity Reviews 2019;20:829-841. DOI: 10.1111/obr.12834
Evaluation of a weight management intervention for postnatal women embedded within child immunisation appointments in primary care (PIMMS). Funded by NIHR. Led by Amanda Daley.