Healthy lifestyles in children
Examining the implementation of healthy lifestyle programmes in children and young people.
Despite the benefits of being physically active and eating a healthy diet, most young people do not achieve the minimum recommended levels of physical activity or eat sufficient fruit and vegetables each day.
Our cutting-edge and innovative research focuses on developing and evaluating the implementation, effectiveness and scale-out of evidence-based healthy lifestyle programmes in young people.
Our team is internationally renowned and have contributed to developing national policies and recommendations.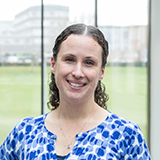 Children's diet
Physically active school lessons
International Children's Accelerometry Database (ICAD). Led by Lauren Sherar (in collaboration with Cambridge University and Norwegian School of Sport Sciences).
Veggie Brek: Increasing vegetable consumption in children. Led by Chris McLeod.
Understanding the barriers to physical activity for children and young people with epilepsy. Funded by the Waterloo Foundation. Led by Lauren Sherar (the PI institution UCL).
Understanding the barriers and facilitators to using accelerometry to collect physical activity data on children and young people in low to middle income countries. Funded by Research England. Led by Lauren Sherar.
The acceptability and usefulness of physical activity calorie equivalent food labelling in young people. Funded by UKRI/ESRC. Led by Natalia Iris.