Academic dress
The wearing of academic dress is a tradition that has persisted since the Middle Ages, when the first universities were founded. The varying colours of the gowns and hoods and more subtle variations in their style and cut, indicate the award (diploma, bachelor, master or doctor), and the awarding university.
Ordering Your Gown
Graduands are required to wear full academic dress, gown, hood and cap, which you should hire from Loughborough University's official gown supplier, Ede and Ravenscroft Ltd.
Fill in the on-line order form at Ede and Ravenscroft's Graduation Services page and you will receive a £5 online discount.
| Award | Price (including discount) |
| --- | --- |
| Certificates/Diplomas | £45.00 |
| Bachelors | £45.00 |
| Masters (extended UG) | £45.00 |
| Masters (PG) | £51.00 |
| PG Diplomas and Certificates | £51.00 |
| PGCE | £51.00 |
| MPhil | £51.00 |
| PhDs and Doctorates | £58.00 |
When to wear academic hats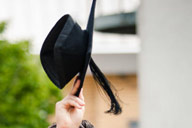 During the ceremony, both male and female graduands should carry their hats until they have crossed the stage and then put them on.
What to wear on the day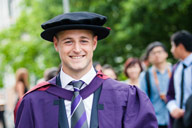 Academic gowns have an open front, so you should wear appropriately smart clothing under your academic dress. For comfort and practicality, it is recommended that you wear a button through top or shirt, which will enable you to attach the academic hood to your clothing without pins.
Refunds on your gown hire
If you are unable to attend your graduation ceremony, for whatever reason, Ede and Ravenscroft will refund your hire payment in full providing they receive your request for a refund TEN days before the date of the ceremony. Cancellations should be made by logging into the Ede and Ravenscroft website (telephone cancellations are NOT accepted).
Collecting and returning gowns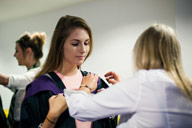 You are required to collect and return your Academic Dress at specific times of the day, as detailed in the On the Day page.
Colours of Academic Dress

BA
Bachelor of Arts
Gown

Black stuff of the London style

Hood

Full shape in purple stuff

Hood lining

Dark green

Cap

Black cloth mortar board

BEd
Bachelor of Education
Gown

Black stuff of the London style

Hood

Full shape in purple stuff

Hood lining

Cream

Cap

Black cloth mortar board

BEng
Bachelor of Engineering
Gown

Black stuff of the London style

Hood

Full shape in purple stuff

Hood lining

Lilac

Cap

Black cloth mortar board

BLS
Bachelor of Library Studies
Gown

Black stuff of the London style

Hood

Full shape in purple stuff

Hood lining

Dark red

Cap

Black cloth mortar board

BSc
Bachelor of Science
Gown

Black stuff of the London style

Hood

Full shape in purple stuff

Hood lining

Grey

Cap

Black cloth mortar board

CertHE
Certificate of Higher Education
Gown

Black stuff of the London style

Hood

Half shape of purple stuff unlined

Hood lining

No lining

Cap

Black cloth mortar board

DipHE
Diploma of Higher Education
Gown

Black stuff of the London style

Hood

Half shape of purple stuff unlined

Hood lining

No lining

Cap

Black cloth mortar board

DLitt
Doctor of Letters
Gown

Oxford shape in scarlet, with sleeves and facings of University purple with degree colour one-inch strips on both the sleeves and facings.

Hood

Dark green

Hood lining

Scarlet

Cap

Velvet bonnet with cord and tassels in degree colour

DSc
Doctor of Science
Gown

Oxford shape in scarlet, with sleeves and facings of University purple with degree colour one-inch strips on both the sleeves and facings.

Hood

Grey

Hood lining

Scarlet

Cap

Velvet bonnet with cord and tassels in degree colour

DTech
Doctor of Technology
Gown

Oxford shape in scarlet, with sleeves and facings of University purple with degree colour one-inch strips on both the sleeves and facings.

Hood

Yellow

Hood lining

Scarlet

Cap

Velvet bonnet with cord and tassels in degree colour

DUniv
Doctor of the University
Gown

Oxford shape in scarlet, with sleeves and facings of University purple with degree colour one-inch strips on both the sleeves and facings.

Hood

White

Hood lining

Scarlet

Cap

Velvet bonnet with cord and tassels in degree colour

EngD
Doctor of Engineering
Gown

Purple stuff of the London style

Hood

Full shape of lilac taffeta lined and edged all round with one inch of purple stuff

Hood lining

Purple

Cap

Black cloth bonnet with maroon cord and tassels

MA
Master of Arts
Gown

Black stuff of the London style

Hood

Full shape of purple stuff with one-half inch edging

Hood lining

Dark Green

Cap

Black cloth mortar board

MBA
Master of Business Administration
Gown

Black stuff of the London style

Hood

Full shape of purple stuff with one-half inch edging

Hood lining

Peach

Cap

Black cloth mortar board

MChem
Master of Chemistry
Gown

Black stuff of the London style

Hood

Full shape of purple stuff

Hood lining

Pale Green

Cap

Black cloth mortar board
MComp
Master of Computer Science
Gown

Black stuff of the London style

Hood

Full shape of purple stuff

Hood lining

Royal Blue

Cap

Black cloth mortar board

MDes
Master of Design
Gown

Black stuff of the London style

Hood

Full shape of purple stuff with one-half inch edging

Hood lining

Champagne

Cap

Black cloth mortar board

MEng
Master of Engineering
Gown

Black stuff of the London style

Hood

Full shape of purple stuff

Hood lining

Lilac

Cap

Black cloth mortar board

MMath
Master of Mathematics
Gown

Black stuff of the London style

Hood

Full shape of purple stuff

Hood lining

Pale Blue

Cap

Black cloth mortar board

MPhil
Master of Philosophy
Gown

Black stuff of the London style

Hood

Full shape of purple edged all round with one inch of purple ribbon

Hood lining

White

Cap

Black cloth mortar board

MPhys
Master of Physics
Gown

Black stuff of the London style

Hood

Full shape of purple stuff

Hood lining

Pink

Cap

Black cloth mortar board

MRes
Master of Research
Gown

Black stuff of the London style

Hood

Full shape of purple stuff edged all round with one inch of red ribbon

Hood lining

Red

Cap

Black cloth mortar board

MSc
Master of Science
Gown

Black stuff of the London style

Hood

Full shape of purple stuff with one-half inch edging

Hood lining

Grey

Cap

Black cloth mortar board

MSci
Master of Science
Gown

Black stuff of the London style

Hood

Full shape of purple stuff

Hood lining

Gold

Cap

Black cloth mortar board

PGCE
Postgraduate Certificate of Education
Gown

Black stuff of the London style

Hood

Half shape of purple stuff unlined

Hood lining

No lining

Cap

Black cloth mortar board

PGCert
Postgraduate Certificate
Gown

Black stuff of the London style

Hood

Half shape of purple stuff unlined

Hood lining

No lining

Cap

Black cloth mortar board

PGDip
Postgraduate Diploma
Gown

Black stuff of the London style

Hood

Half shape of purple stuff unlined

Hood lining

No lining

Cap

Black cloth mortar board

PhD
Doctor of Philosophy
Gown

Purple stuff of the London style

Hood

Full shape of purple stuff lined and edged all round with one inch of maroon taffeta

Hood lining

Maroon

Cap

Black cloth bonnet with maroon cord and tassels