Logging in to Microsoft services
To reduce the threat of cyberattacks on our systems, the University has implemented a change to the login and authentication process for your account.
The login experience for your Microsoft Office 365 services (Teams, Outlook, OneDrive, etc) on your computer, mobile phone, and any tablet computers has changed and you will be presented with a new login screen as shown below:
‌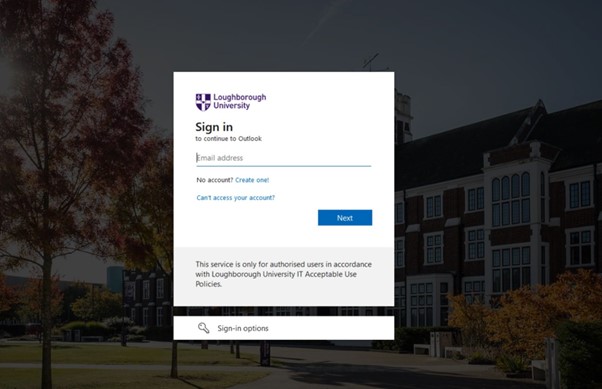 The current login experience will not change for accessing services like: Learn, Co-Tutor, LUSI, Library catalogue, etc.
You will only get this new login page for Microsoft services and some other Microsoft third-party applications.
Frequently asked questions
Will I need to use my email address to login to my desktop/laptop/Mac?
No, you will need to continue to use your existing username and password to login to your computer when it switched on.
I'm on campus and using a university desktop / laptop, how will this affect me?
This process shouldn't affect you, however if you are presented with the new login screen shown above, please enter your username and password as prompted.
Why can't I use my normal username?
All Microsoft cloud services require a username in the format of an email address.
I have an email alias, can I use this to login?
No, this requires the original email address associated with your account.
OneNote is not syncing, and I cannot initiate it to sign in
Sign-out and sign in again, following the prompts as per the new login screen shown above.
Why am I receiving lots of prompts for MFA (DUO) authentication?
This is typically seen when several applications are attempting to sign in, using saved settings. Make sure that you only respond to Duo prompts when you are actively expecting them when you are starting your computer or applications. Check the details in the Duo prompt are correct, including the location and you can also check the sign in details for your account at https://mysignins.microsoft.com/
What is Loughborough Microsoft Login when my MFA client prompts me and do I trust it?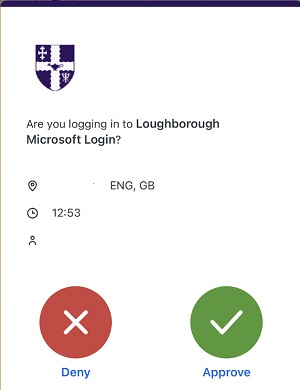 Always check the details in the Duo prompt are correct, any only respond if you are expecting a Duo prompt by starting your computer, using the VPN, or accessing Loughborough applications and websites. All Duo prompts will show the University logo, start with "Loughborough", followed by the service which you are accessing. For example, "Microsoft Login", "Loughborough IdP", or "Loughborough VPN Service". If anything looks unusual, then please contact the IT Service Desk using the button below
Contact IT Services
Mac Mail (unsupported) is prompting me again for login
Please follow the login prompts and MFA as necessary, also consider using Microsoft Outlook, more information can be found using the button below
Outlook
I have an account which is used with Power Automate, Power Apps etc. Will they be affected?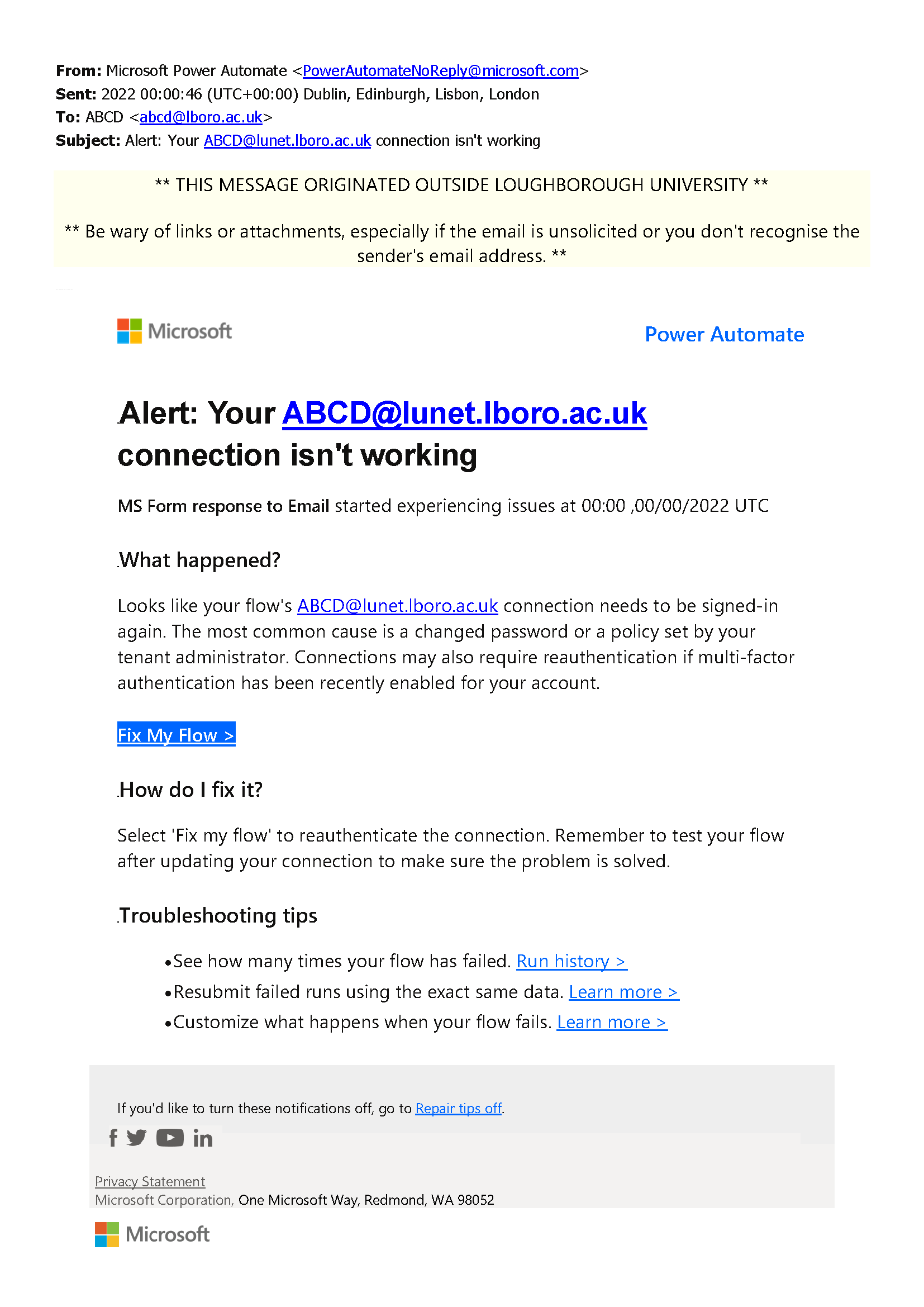 ou may be prompted to re-enable connections within the app configuration, please follow the onscreen instructions to re-authenticate. You may also receive an email from Microsoft to fix your connections. An example of the email can be found below:‌
Why has this icon has appeared in the bottom right of my screen in the system tray?

The icon indicates that re-authentication to OneDrive is required, please select the icon and follow the on screen instructions