Optimising athlete performance
We have significant expertise in understanding the factors that influence human performance in sport and exercise, alongside the methods for enhancing athletic performance across the ability range.
We have established research collaborations with major organisations including the English Institute of Sport, UK Sport, the Lawn Tennis Association, British Paralympic Association, British Athletics, British Swimming and the England and Wales Cricket Board.
Our research employs perspectives from multiple disciplines including the biomedical sciences, physiology, nutrition, psychology, biomechanics and motor control, sociology and management to study diverse sport populations (elite, para sports, youth and coaching). It is delivered by world leading academics and centres of expertise such as the Peter Harrison Centre for Disability Sport, the Environmental Ergonomics Research Centre and the National Centre for Sport and Exercise Medicine.
Specialists in sports science, textiles and computer science also aim to optimise the performance of the athlete through the study of human comfort and acclimatisation, clothing-wearer interaction, and the design of innovative technical apparel, footwear and equipment.
Blood flow restricted exercise in trained athletes
A key objective of an endurance athlete's training programme is to optimise the underlying physiological determinants of performance.
One important consideration is that training adaptations are reduced as training status increases, meaning it is harder to improve performance the more training you do.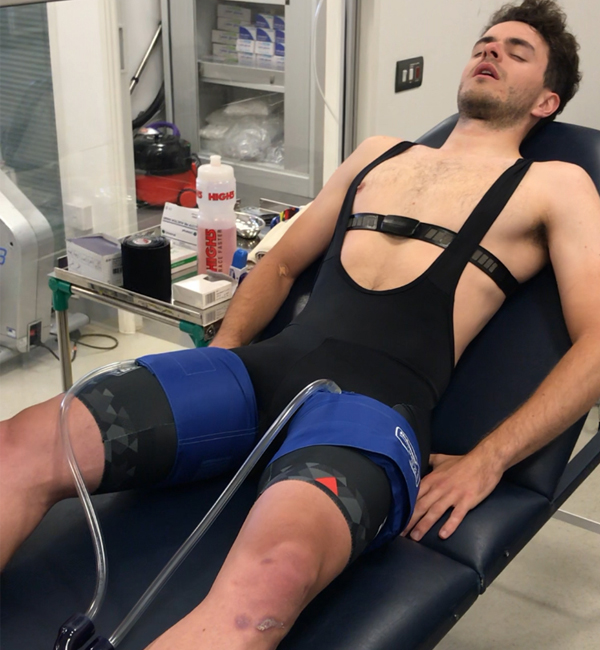 BFR exercise – potentially more bang for buck?
Blood flow restricted (BFR) exercise is one approach which has the potential to enhance the physiological adaptations associated with training, including increases in capillary supply and mitochondrial function, which can contribute to improving endurance-exercise performance. The possibilities for BFR exercise to provide "more bang for buck" for the endurance-trained individual is an exciting prospect that demands further attention.
Scientific Triathlon Podcast
Richard Ferguson talks to Scientific Triathlon about blood flow restricted training.
Sleep in athletes with spinal cord injury (SCI)
Sleep problems occur frequently in individuals with spinal cord injury (SCI).
New study to support Para sport athletes
In 2019-2020, eight athletes were monitored at home where their skin temperature and sleep patterns were measured. They also spent 24 hours at a hotel, where researchers continuously measured core temperature using a 'thermometer pill', melatonin and brainwaves. It is hoped the data collected will explain more about the circadian patterns – the body's natural rhythms that dictate when to sleep and wake – of athletes with spinal cord injuries.
Performing in extreme physical environments
Academics from the Environmental Ergonomics Research Centre (EERC) and Peter Harrison Centre for Disability Sport (PHC) have investigated the challenges posed to athletes, coaches and practitioners by extreme physical environments.
Informing performance guidelines and apparel design
The EERC has conducted extensive research with sports clothing providers to map how the human body regulates temperature during exercise, enabling designers to optimise fabrics and design features within sports apparel in order to keep athletes cooler in the heat and warmer in the cold. The PHC has recently investigated the level of strain imposed on paratriathletes when competing in hot and humid environments, and strategies to help mitigate its impact. This has informed guidance published by International Triathlon Union in 2020.