Innovating sports technology and design
Innovative sports technology builds on a unique combination of the University's strengths in engineering, sports science and design.
When combined with world-class sports facilities and access to elite athletes, the sports technology offering at Loughborough is truly world-leading.
Combining expertise from our world famous Sports Technology Institute with other leading researchers across the University's Loughborough and London campuses, our research brings engineers, designers and physical scientists together to provide innovative solutions and address contemporary challenges faced by sporting bodies, athletes and brands.
Partnerships with global brands have enhanced the design, simulation, testing, safety and manufacturing of sporting goods. Collaboration with governing bodies improves performance and increases safety through equipment design and specification, while upholding the integrity of their sport.
Head injury prevention
For almost 30 years we have developed deep expertise in the understanding of sports collisions and ball impacts, applying new insights to improve the understanding of impact injuries and their prevention.
We develop and implement cutting-edge techniques that safely and accurately replicate a blow to the head.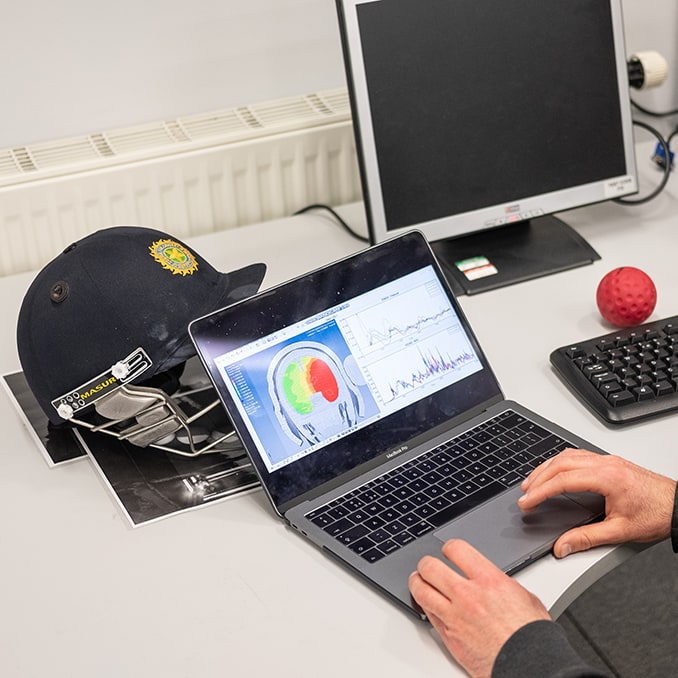 Eliminating serious and life-threatening facial injuries
Our work has far-reaching impact in many sports and potential wider industry applications. Partner to leading brands across multiple sports, we help equipment manufacturers to ensure safety and performance. We have significantly improved the safety of protective head gear, in partnership with the England and Wales Cricket Board, Cricket Australia, the International Cricket Council, the British Standards Institute and leading manufacturers.