Optimising athlete performance
We have significant expertise in understanding the factors that influence human performance in sport and exercise, alongside the methods for enhancing athletic performance across the ability range.
We have established research collaborations with major organisations including the English Institute of Sport, UK Sport, Lawn Tennis Association, and English Cricket Board.
Our research employs perspectives from multiple disciplines including the biomedical sciences, physiology, nutrition, psychology, biomechanics and motor control, sociology and management to study diverse sport populations (elite, disability, youth and coaching).
Our specialists in sports science, textiles and computer science also aim to optimise the performance of the athlete through the study of human comfort and acclimatisation, clothing-wearer interaction, and the design of innovative technical apparel, footwear and equipment.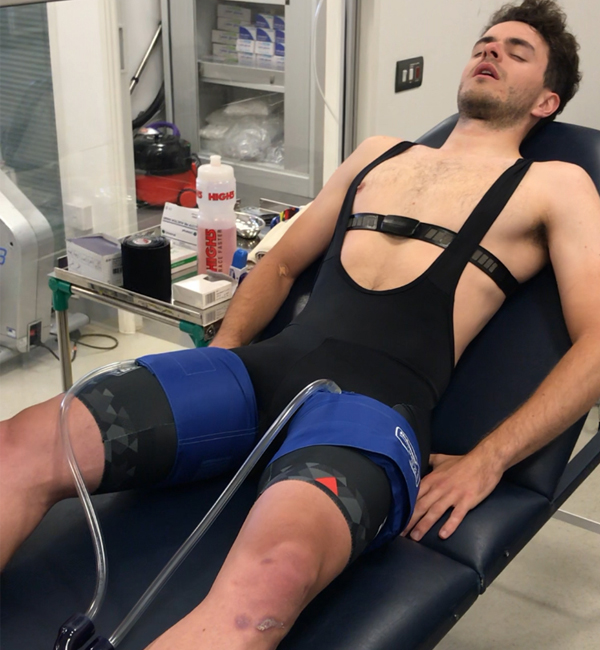 Blood flow restricted exercise in trained athletes
Dr Richard A. Ferguson, Dr Conor Taylor
A key objective in elite training methods is to maximise the magnitude of event specific performance adaptation. However, it is generally accepted that eliciting further adaptations within well-trained individuals becomes challenging such that there is a reduced plasticity of skeletal muscle in the trained state.
We have recently demonstrated the potency of combining sprint interval training (SIT) with blood flow restriction (BFR) in enhancing the adaptive responses in well-trained individuals. The addition of BFR elicited an increase in maximum aerobic capacity of ~4.5%, compared to no change with SIT alone. BFR exercise may, therefore, provide well-conditioned athletes with more 'bang for their buck' in augmenting the adaptive response to training. A greater understanding of the mechanisms and potential benefits of BFR exercise training has the potential to provide impetus for integration into training practice.