Ready Set Loughborough
A programme of support and development to help you gain maximum benefit from your time at Loughborough University.
As part of Loughborough University's Personal Best programme, we have developed a unique induction activity - Ready Set Loughborough - specifically to help you prepare for coming to Loughborough.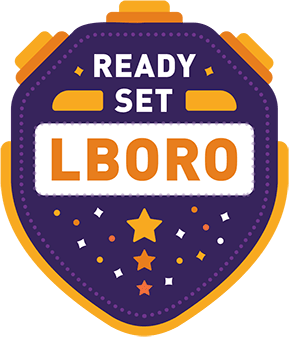 Ready Set Loughborough includes two sections:
Get Ready to Study - to help you prepare for academic life at Loughborough
Being a Good Loughborough Citizen - to educate you about our Community and how you can be a good Loughborough citizen.
The two sections cover a number of important topics and within each topic you will find one or more activity cards with different activities to complete.
When you have completed the compulsory activities, you will be awarded the Ready Set Loughborough badge in our dedicated Personal Best web app. You will easily be able to spot all the compulsory activities as there is a green asterisk in the top-right-hand corner of each card.
What's included?
Each week we will cover a different topic to help you prepare for life at university.
Topics include:
Week one: Embracing your new community
Week two: Tackling racism
Week three: Wellbeing and disability awareness
Week four: Study skills, academic reading and academic writing
Week five: Collaborative working and goal setting
Week six: Understanding digital awareness
Developing your mathematical ability runs for the full six weeks.
How do I complete the 'Ready Set Loughborough' badge?
Personal Best and the badges are accessed through our dedicated web app. You'll need to have registered and received your IT credentials first before you can make a start.
What other support is available to me?
Personal Best also offer you the chance to gain the Personal Best Award which is a fantastic way of structuring and evidencing your personal and professional development over the next few years.
The Award has been designed to support you with your development in 15 key skill areas. By completing activities and reflecting on your development in Personal Best, you become eligible to receive the Personal Best Award upon completing your degree.
To read more about what is required, take a look at the Personal Best Award web pages.
What is Personal Best?
Personal Best is an exclusive development programme for Loughborough students. It is structured around the University motto: Veritate, Scientia, Labore - each word indicating development in a dimension of your life at Loughborough – academic, professional and personal.