What we do
Loughborough Enterprise Network in the heart of London
Helping you foster your unique spark of Loughborough Genius London style!
Want to become an entrepreneur, be self-employed, freelance, or develop your enterprising skillset? Benefit from a wide range of support available through the Loughborough Enterprise Network, here in London.
Hi! We are Hayley and Kaltun, your Student Enterprise staff based at Loughborough University in London.
Bringing Loughborough Enterprise Network to the heart of London's new digital quarter (Here East, Olympic Park), we're here to help you foster your unique spark of Loughborough genius.
By generating opportunities for you as our students and graduates to develop the skills you need to transition into the world of entrepreneurship, innovation and new ventures, we support you throughout your business journey.
Want to become an entrepreneur, be self-employed, or even develop your enterprising skillset? You'll benefit from a wide range of support available through the Loughborough Enterprise Network here in London, including events, competitions, networking mentoring and access to the Start-Up Fund.
You can find us in FutureSpace at our Loughborough in London campus.
Have a look at the Calendar to find out about the sessions we'll be running this term.
Read more about our Start-up Fund to see how it could help you with up kickstart your business with up to £5000!
Book a Careers Advice appointment below to find out how we can help you.‌
Events
Details of some of the LEN London events run throughout the year, click on the tab to find out more details.
LEN's Nights
What are LEN's Nights?
LEN provides you with a space to connect with other enterprising minds, so we decided to create LEN's Nights: a series of fun, inspirational evenings on key topics that provide you with the chance to network with like-minded individuals.
LEN's Nights are informal events; they bring together those interested in developing their own business ideas with those with a general interest in entrepreneurship in order to meet one another and listen to inspiring journeys.
Why should you attend?
LEN's Nights provide you with real-life experience on the ins and out of running a business;
LEN's Nights give you the chance to develop your business ideas within a community of people who can help you;
LEN's Nights are run in the heart of our brand new enterprise space at Loughborough University London;
LEN's Nights are fun, informative, informal and unmissable;
LEN's Nights will feed you yummy things... like pizza;
LEN's Nights are FREE to attend!
Santander Universities Entrepreneurship Awards 2019
Loughborough Enterprise Network is delighted to announce that the Santander Awards is back for another year!
Since 2011, Santander has held an annual business pitching competition called the Santander Universities Entrepreneurship Awards.
Santander works with universities to give early-stage student and graduate ventures a boost, with cash prizes, mentoring and business support;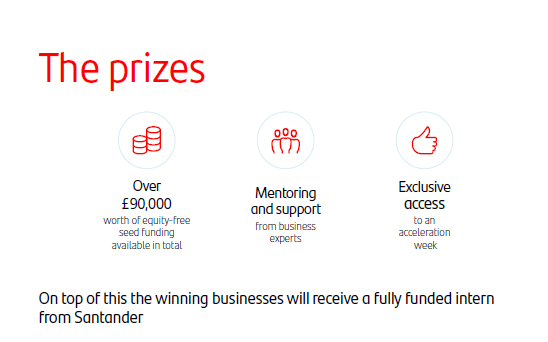 As we know this is such an amazing opportunity for our students, Rob Simmons from Santander universities has kindly offered to come and deliver a short briefing session followed by questions and answers from students looking to apply.
You must attend this session if you want to apply!
How Loughborough University students apply to the awards:
Step 1: Attend the briefing session on Wednesday 6th March 2019: Book HERE.

Step 2: Fill in the Santander Business Model Canvas and complete a 2 Minute Video Pitch by Friday 22nd March 2019.

Step 3: Submit to Loughborough Enterprise Network via email LEN@lboro.ac.uk.

Step 4: We select two businesses to progress to the next round.

Step 5: Santander Universities will select their favourites and invite them to present at a regional competition.

Step 6: Following this, there will be an accelerator week in August before the national finals in October 2019!
Eligibility Criteria: Santander Awards briefing pack
Your business needs to be registered in the UK.

The company must have been set up for no longer than 12 months.

Funding generated must be no higher than £100,000 (including but not limited to investment, grants, loans, revenue and prizes).

The company can have a maximum of five employees (please note that this does not include founders).
What are you waiting for?
Venture Crawl
On Wednesday 20th March 2019, 300 students from 12 London universities will embark on a unique entrepreneurial journey. Could you be one of them?
Over the course of 12 hours, 8 iconic Routemaster buses will take students to some of London's top innovation hubs and workspaces to experience London's startup ecosystem first-hand and meet top entrepreneurial leaders.
Venture Crawl = 2019's BEST practical entrepreneurship event! As this is such a great event and we only have a limited amount of seats, you will need to apply to get your seat.
40 spaces ONLY!!
Deadline to submit applications: Friday 8/03/2019 by 5pm
To get your seat on the bus:
- You must be a current Loughborough University Student or Loughborough University London Student.
- You must complete an application for review, best applications get a seat.
- You must be able to attend the whole event on Wednesday 20th March 2019.
- Your applications will be reviewed by Loughborough Enterprise Network.
- If you get granted a place you must attend or let us know if you can no longer attend. This is so we can give your space to another student.
Creative Hack - Design - Create - Hack
How do you make the creative industries more sustainable for London?
Loughborough University teams up with London College of Fashion, University College London, Birkbeck, University of East London and London South Bank University to invite a select number of students to help solve this challenge.
This hackathon offers students and recent alumni the opportunity to come together to learn, create, test, prototype and present their ideas to do something amazing and tackle some of the big environmental challenges facing. The best teams walk away with a substantial cash prize.
This hackathon is held in the brand new enterprise space at Loughborough University London.
Consultancy Challenge: Breakthrough to International Markets
We are very excited to be working with Loughborough University Careers team, Santander and the Department for International Trade to bring you this business export challenge.
Forty postgraduate students join us on a Consultancy Challenge. This challenge will be a chance for our students to put into practice their business-related knowledge and skills on a live export business problem.
What is the Consultancy Challenge?
Employers with an interest in export business will provide a live business challenge. Students will then get into teams, be given training and access to highly detailed web-based research tools to assist in collecting meaningful information to give recommendations to solve their export challenge.

Teams will consider the options and prepare a brief, a presentation and a poster outlining their solutions and recommendations. On May 22nd 2019 teams will attend an event at our Loughborough University London campus where they will be asked to present their findings to employers and learn more about their business face to face. An example of an export business challenge might be 'Which emerging markets should I target with my product?' or 'How can I best market my exports in the far east?'.
Support along the way...
Please see below some resources we have pulled together to help support different aspects and activities on this challenge.