Telephony upgrade project
Changes to the University Telephony service
During 2023/2024, IT Services will be delivering a project to migrate University staff from the current Cisco telephone system to the new service, Teams Phones.
Introducing Teams Phone
The Microsoft Teams platform is in widespread use across the University for internal communications and collaboration. This project will integrate telephone functionality within the Teams software, giving users the flexibility to make and receive external phone calls without the need for a standard desk phone.
Microsoft Teams will continue to support internal communications via Teams-to-Teams calling
Benefits include:
Integrate telephone functionality will support the making and receiving of external calls from anywhere via laptop, desktop, or smartphone app with an internet connection
You will retain your existing University telephone number and gain access to a new voicemail system integrated with MS Teams
Almost all features that are currently available on your desk phone will continue to be available in Microsoft Phone
Timescales
Confirmation of dates will be communicated in advance.
Phase 1: Planning (February 2023 – May 2023)
To ensure we can make this change without unnecessary disruption, IT Services are contacting key contacts in Departments and Schools across the University to assist with the planning and preparation for their areas.
Phase 2: Service rollout (June 2023 onwards)
Expand to see the current Schedule for 2023/2024
Phase 1: Academic building / Professional Services
| Location | Status | Planned Date |
| --- | --- | --- |
| TBC | TBC | TBC |
Guidance and FAQs
To make and receiving external telephone calls with MS Teams Phone, this first needs to be configured. To tell if you have Teams Phone enabled you can:
Click on the "Calls" button on the left hand side of the Teams client.
If you see a numerical dial pad you are enabled for Teams Phone telephone calls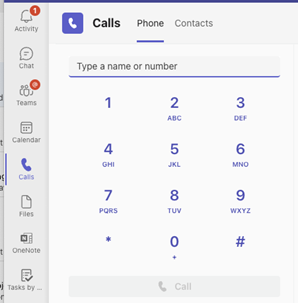 What equipment will I receive?
IT Services will replace the majority of Desk phones across the University and supply a Microsoft Teams certified headset for each user that requires Microsoft Teams Phone. If you work in multiple locations, you should take this headset with you wherever possible.
Handset (role-critical)
If you job share or work in an environment where access to a physical phone is necessary, we may replace your existing Cisco telephone handset with a new device compatible with MS Teams.
Who will set up and configure my new setup?
IT Services will collect your old desk phone and replace it with a Microsoft Teams headset.
Once confirmed that you have been migrated to Microsoft Teams Phone, all you will need to do is plug your Headset in to your desktop or laptop. The headset will automatically be set as the default option within Microsoft Teams for making and receiving calls.
Full support pages for Microsoft Teams Phone functionality will be available shortly.
When will the change happen?
Microsoft Teams Phone is planned to be rolled out from June 2023 onwards.
IT Services will communicate when and where migrations will be taking place, as well as when equipment will be delivered.
How will I make a call?
External
Click on the Calls button and enter the number you want to call. There is no need to dial '9' for an outside line in MS Teams
Internal
There will be no need to use Teams Phone to make internal calls. This functionality will continue to be supported by Microsoft Teams
Support pages for Microsoft Teams Phone functionality are under development and will be available shortly.
Contacts and support
For further questions and support, please contact the project team.