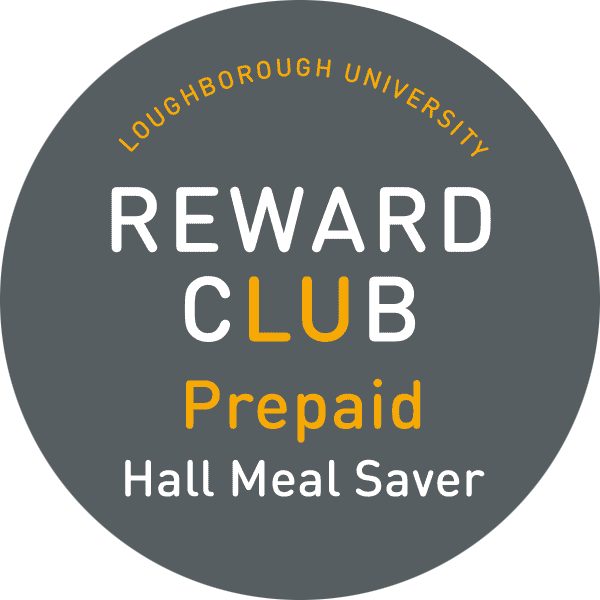 This is our discounted meal package available to all students, staff and tenants for use in catered dining halls.
Ideal for self-catered students living on or off the University campus who would like discounted and nutritional hot meals.

For every 10 meals you purchase, you receive 1 free meal voucher.
The Prepaid Hall Meal Saver is available via our "Reward Club" smartphone app.
Visit our Reward Club page for more information on the reward side of the app.

Your purchased meals will be uploaded into a cashless purse under the wallet section of the app.
The cash purse/vouchers expires at the end of each academic year if not used.
Only available during Term time.
Expires; FRIDAY 28.06.24
Costs for 2022/23
| | | |
| --- | --- | --- |
| Number of Meals | Total Cost | PLUS Free Meal Voucher |
| 10 | £59.50 | 1 |
| 20 | £119.00 | 2 |
| 30 | £178.50 | 3 |
| 40 | £238.00 | 4 |
| 50 | £297.50 | 5 |
1 meal entitles you to the following from any dining hall;

One Main dish / Sandwich / Baguette
accompaniment; potatoes, vegetables and salad bar
Dessert or yoghurt
One piece of fresh fruit

All meals have unlimited hot drinks and squash

Only available from the following catered halls;
David Collet, Village Restaurant, Cayley, Rutherford, Faraday, Royce and Towers
REMINDER; Do not use your University password when setting up an account

All emails sent on behalf of the Prepaid Hall Meal Saver are from;
"MCR Systems" "noreply@mcr-symphony.net" - We recommend adding this to your safe senders list
How does it work?
Visit the app store to download the Reward Club app searching "LU rewards". A smartphone website version of the Reward Club can also be used if you are unable to download apps.


Complete the registration process and validate your email to open your account through the app or website version.


Open the app /website and select the star icon at the bottom of the screen, this is your wallet/purse section. Tap the Prepaid Catered Hall Meal Saver purse, press "Yes, Go to website" and follow the onscreen instructions.


Select a top up value (Number of meals) between £59.50 - £297.50 (11 - 55 meals)


Complete your details on the payment portal and confirm, on successful completion you will receive an email/notification of payment.


The funds will drop into the Prepaid Catered Hall Meal Saver purse and are ready to use straight away. The free meal voucher will be downloaded to your app within 24hours.


Once in a catered hall. Open your app and tap the circle option to display a "TAP to display ID TAG" press this and a payment QR code is generated. Simple scan this on the white box scanner to pay using your Prepaid Catered Hall Meal Saver purse or let the cashier know you want to use a Prepaid Catered Hall Meal Saver voucher.