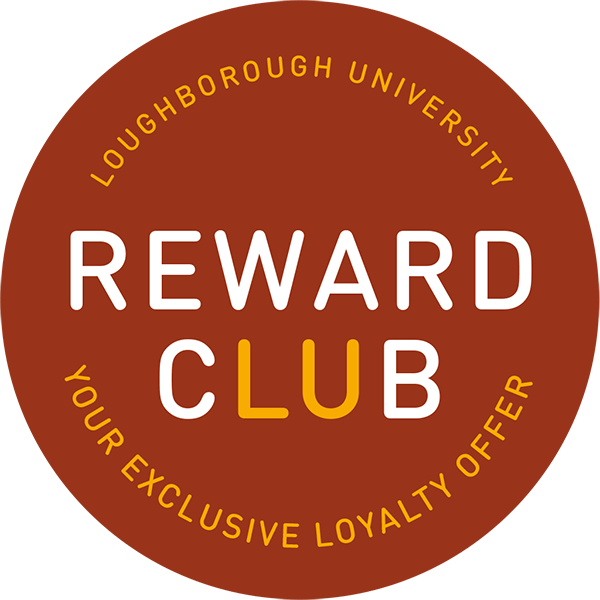 Collect 5 points for every £1 you spend!
Saving you money in Cafés and Shops on campus
If you're a student, staff or tenant download the free "LU rewards" smartphone app today to start earning rewards & points.
The Loughborough University Reward Club App is a smartphone only rewards solution enabling you to earn and redeem some great deals when you use your app in participating Shops, Cafés and Bars across Loughborough University campus. You can collect points on the purchases you make and spend them back on almost anything you like.
Collect 5 points per £1 spent, representing a 5% saving! By downloading the app and being part of the Reward Club, you will receive exclusive offers and exciting deals throughout the year. So spread the word, join Loughborough University's Reward Club today.
SIGN UP TODAY AND RECEIVE A FREE HOT DRINK
Plus one FREE stamp towards your
"buy 6 hot drinks and get 1 free" voucher
* One point is worth 1p
Please don't use your University password when setting up an account

If you would like to receive offers and promotions through email, please add the below sender to your safe senders list. This is also the name of the sender email that will send your validation email when you sign up for a new account.
"MCR Systems" "noreply@mcr-symphony.net"
Drinks offer
Buy 6 hot drinks and earn 1 voucher for a free hot drink
Breakfast offer
Buy 6 breakfasts and earn 1 voucher for a free 6 item breakfast
Once part of the Reward Club, expect to receive exclusive offers, quick wins, flash promotions, daily deals and much more!