How to back-up your University OneDrive when leaving or graduating
You will need to back up any documents, files, and folders before you leave the University and your account expires. Once your account has expired, you will not have access to your OneDrive and the data held within it.
Select files
Select the files / folders you want to save by putting a tick in the check box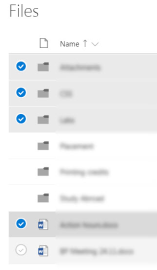 Download
Once you have selected all the files:
Click Download and the selected files and folders will begin to download to your device
Save as
A Save As window will pop-up.
Select a location and click Save and the files downloaded will be saved in a ZIP folder,
You will need to extract the files in order to remove them from the folder