Graphic Design
BA (Hons) degree
4 years full-time with placement year or 3 years full-time
Fees for 2024-25

(per academic year)

UK: £9,250

International: £23,000

UCAS codes

4 years full-time with placement year: W901

3 years full-time: W900
Overview
Our Graphic Design BA (Hons) degree has an enviable reputation for developing students to be visual thinkers who excel in the creative industries.
This is a flexible degree that can be tailored to your interests – for example, in app development, animation, visual identity and branding, illustration, photography, typography and publishing, or graphic design in general. It facilitates the development of a specialised skillset that can be applied to range of industries and technical formats.
Production possibilities are vast, with final projects having previously included: corporate advertisement campaigns, children's book illustrations, websites, smart phone and tablet apps, brochures, computer games, illustrated comics, puppet animations, and animated films, to name a few.
The course focuses on teaching practical and creative skills in traditional and new, analogue, and digital media, as well as an understanding of relevant social, cultural, economic, ethical, and sustainable contexts. Graphic Design at Loughborough is a highly competitive course that provides the very best opportunities for budding creative practitioners and many invaluable opportunities to showcase their work.
Why you should choose us
2nd
in the UK for Graphic Design
The Guardian University Guide 2024
3rd
in the UK for Art and Design
The Times and Sunday Times Good University Guide 2024
4th
in the UK for Art and Design
The Complete University Guide 2024
32nd
in the world for Art and Design
QS World University Rankings by Subject 2023
100%
of research impact in Art and Design rated 'world-leading' or 'internationally excellent'
REF 2021
1st
in the UK for Fashion and Textiles
The Guardian University Guide 2024
Why you should study this course
The Graphic Design BA degree at Loughborough provides students with access to invaluable opportunities via our long-standing links with industry.
We are regularly contacted by companies requesting that our students gain experience by working on projects with, or for, them – in the past this has included Reebok, Swarovski, Ford, H&M, Radio Times, Abercrombie & Fitch, Shell and Mercedes Benz.
Students are also encouraged to gain recognition and experience by entering industry renowned competitions. These include: D&AD Graphic Design and Illustration Student Briefs, Association of Illustrators' Images, Panasonic Design Awards, Nokia Student Design Campaign, American Express Student Series, and the BFI Future Film Best Documentary.
The course is taught by academics who are research specialists in the fields of graphic design and animation, or who have many years of experience working within a variety of industries. Their knowledge and deep understanding enrich the curriculum, allowing students to thrive under expert creative guidance.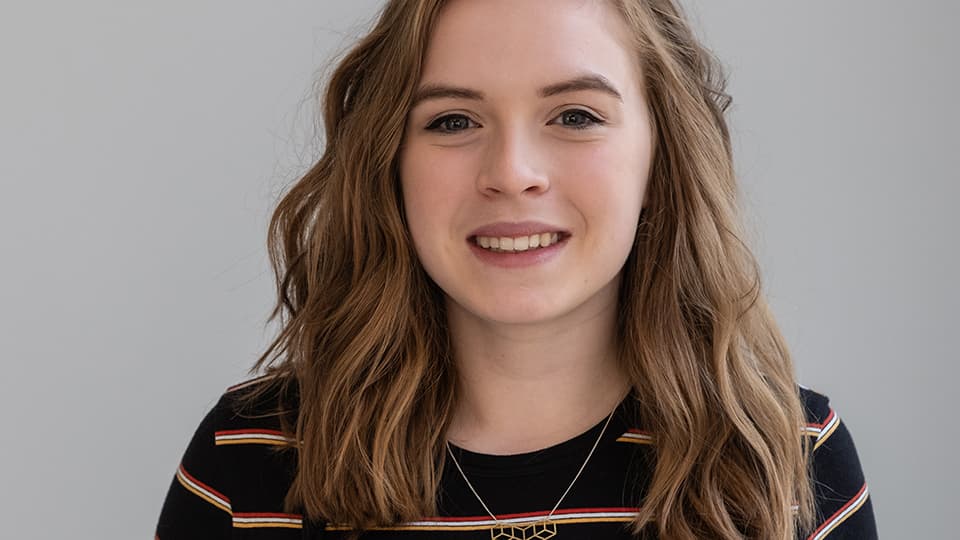 Lauren Jefferis
Recent graduate
I did a Year in Enterprise as my placement year, which was massively beneficial in starting my business, Pickle Illustration. It gave me a grounding in business skills and connected me further to the Enterprise Network at the University.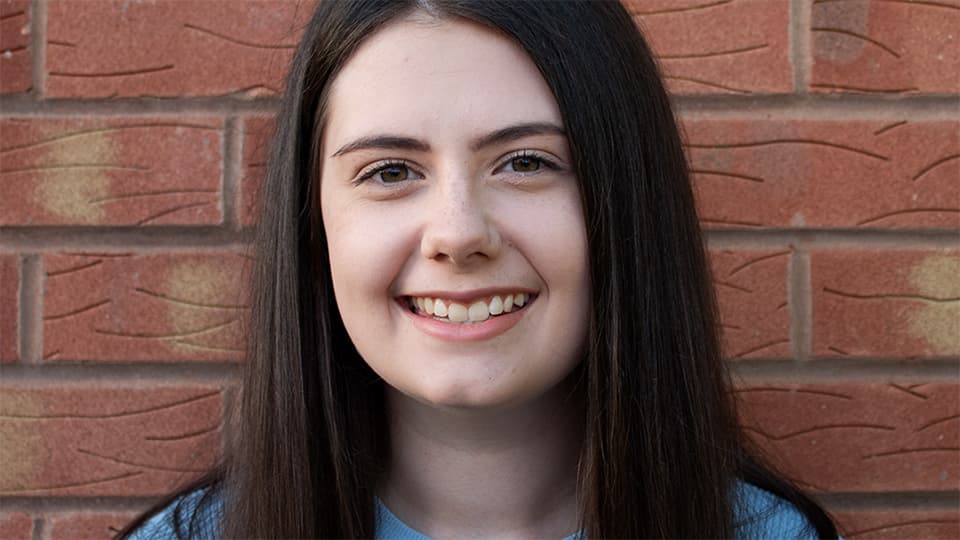 Emma Lawrence
Recent graduate
It was clear from the outset, that I would be able to try animation, photography, branding, editorial design, illustration and so much more at Loughborough (and boy was I right!)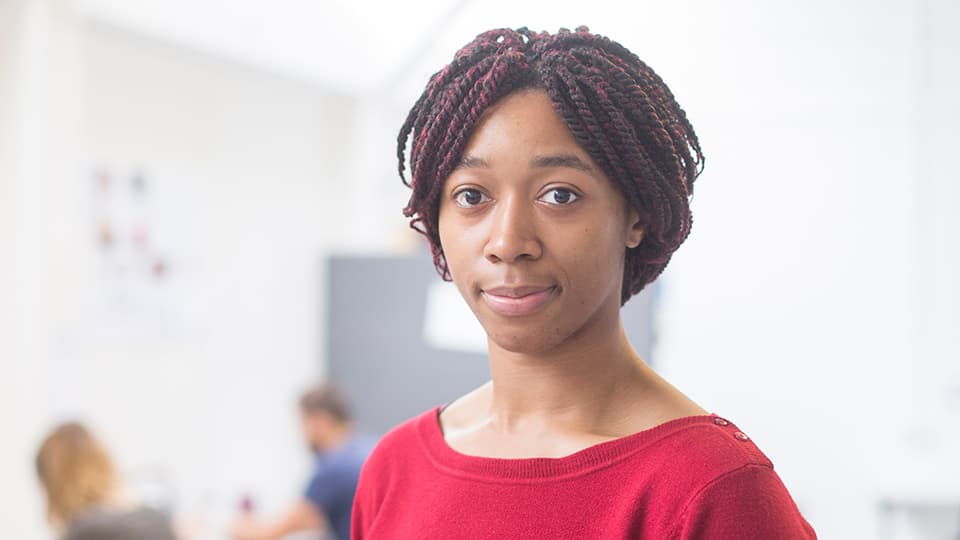 Chinny Ogbuagu
Recent graduate
The teachers are very supportive and go out of their way to give you all the advice, technical and otherwise, that you might need. They push you to do the best you can.
What you'll study
The Graphic Design BA (Hons) degree is a diagnostic course, meaning that students can identify and develop the specific areas of study that they are most interested in. This is achieved through a combination of exciting core and optional modules.
The information below is intended as an example only, featuring module details for the current year of study. Modules are reviewed on an annual basis and may be subject to future changes – revised details will be published through Programme Specifications ahead of each academic year. Please also see Terms and Conditions of Study for more information.
Creative Production
The aims of this module are to:
support the development of core digital competencies for the creative production of visual outputs
introduce core industry standard digital production skills.
Graphic Design Context
The aims of this module are to:
introduce core ideas and concepts of graphic design practice within a critical, historical and theoretical context
establish creative design processes that emphasise research, iterative development, experimentation and criticality
provide an opportunity for establishing a learning community through collaborative working and formative peer feedback.
Type and Language
The aims of the module are to:
Provide a practical, critical, historical and theoretical introduction to typography and writing systems.
Equip students with the basic skills and understanding required to produce typographic outcomes.
Visual Thinking
The aims of the module are to:
Introduce a variety of applied visual methods and processes for undertaking creative enquiries.
Develop technical knowledge and confidence across digital and analogue image-making techniques.
Writing for Practice
The aims of this module are to:
Provide students with the opportunity to develop knowledge and understanding of how writing is used to frame art and design practices across diverse applications
Develop skills in academic writing and argumentation
Deepen understanding of the relationship between studio activity and scholarship
Visual Practices
The aims of this module are to:
Develop a practical understanding of applied image-making methods and procedures
Enable students to visually articulate concepts, information and values across a variety of contexts and in a breadth of media.
Branding and Strategy
The aims of the module are to:
Introduce design methods for undertaking branding and strategy
Enable students to engage with audiences and contexts strategically to generate insight and understanding
Introduce storytelling, tone of voice, values and brand personality as a paradigm within branding
Develop a practical understanding of how graphic systems are used in the production of visual design outputs.
Digital Storytelling: Using Narrative to Explore Your Creative Practice
More information to follow
Social Design
The aims of this module are to:
provide a practical and theoretical introduction to social design
equip students with the skills, methods and understanding required to undertake social design projects
interrogate responsible approaches to practicing graphic design.
Visualisation
The aims of this module are to:
introduce a variety of visualisation techniques, methods and rationales
develop conceptual and experiential knowledge of the various tasks performed by different types of visualisation techniques including data visualisaton, knowledge visualisation, network visualisation, system mapping and information graphics
develop technical knowledge and confidence in the production of different visualisation types across multiple practical applications.
Narrative and Sequence
The aims of this module are to:
critically examine how graphic design practices utilise narrative and sequence to achieve intended goals
provide students with technical, practical and conceptual skills for undertaking narrative and sequential graphic design practices.
Collaboration
The aims of this module are to:
introduce a variety of collaborative and participatory design processes
develop a practical and reflexive understanding of the role of the designer within a variety of professional scenarios
promote innovation through co-design, stakeholder engagement and consultation.
Audience and Environment
The aims of this module are to:
enable students to develop targeted understanding of audiences and environments using analytical design methods
facilitate the production of imaginative and distinctive creative responses to complex challenges that draw upon analytical and exploratory processes
empower students to negotiate and manage unbounded design briefs.
Design Research Methods
The aims of this module are to:
introduce students to a variety of design research methods and their applications
provide the opportunity to undertake a short, guided research study
prepare students for undertaking a dissertation.
Speculative Futures
The aims of this module are to:
Discuss the notions of a critical art/design studio based on a fictional setting of social dreaming.
Identify and interpret the physical circumstances of a place, the social structure, and the basic principles of a non-human-centred community.
Conceptualise ideas to shape the essential objects required to sustain existence in a hypothetical setting, using an object-oriented design ontology and working in groups.
Facilitate various modes of visualisation and production to illustrate proposals and create a viable, feasible and convincing collective story.
Arts Management
The aims of this module are to:
give students an awareness and understanding of arts management as a discipline, in the context of arts organisations and the creative industries;
provide students with a context in which to explore ideas and practices related to professional environments they may wish to progress to post-graduation;
present students with the opportunity to evaluate and apply information, resources and ideas to a scenario relevant to their career futures.
Becoming a Responsible Practitioner
The aim of this module is to equip students with both the skills and mindset to uphold and reflect on the values of Responsible Design, namely design that is ethical, pluriversal, planet-centric, decolonial, transdisciplinary, and optimistic, in both the processes and outcome of the creative agenda.
Creative Dissent: Protest, Activism and Art

This module highlights the social production of art. It explores the extent to which art and cultural production contributes to protest movements and activates social and political transformation. Addressing historical and contemporary connections between art and activist practices, it will provide students with an understanding of the complex relationship between art, politics and wider social movements.
In addition to facilitating the development and contextualisation of their own socially-engaged studio or cultural practice, it will provide students with an opportunity to develop specialist interests for future study in Part C and to engage in the creation of a community of learners and researchers.
Creative Placemaking
The aims of this module are to:
explore how creative interventions can transform how spaces function
develop theoretical and practical understanding of how creative practitioners can actively work to inform placemaking.
Design - Creative - Art with Waste
The aims of this module are to:
Deliver a broad understanding of critical making with plastic waste materiality and enable students to engage with complex social challenges by applying art-design methods, creative strategies, and visual experimentation.
Foster critical engagement with historical, theoretical, cultural, political, social, and ethical dimensions of waste to enable students to develop visual practices across diverse design and art communication contexts.
Design for Heritage Futures
The aim of this module is to broaden the student's perspective, understanding and appreciation of cultural heritage, and the range of approaches, methods, tools, and emerging technologies, available to support the preservation and safeguarding of cultural heritage.
Students will practice the generation of speculative ideas through appraising academic literature and existing research, emphasising sustainable thinking in the context of preserving cultural heritage.
Drawing Characters: Representation and Identity
The aims of this module are to:
Raise student's awareness of identity and representation issues in character designs.
Equip students with transferrable character design skills that could be applied to a wide range of creative arts subject disciplines.
Design for Wellbeing
The aim of this module is to teach students how designed experiences and creative practice influence human wellbeing and how designers and/or creative practitioners can impact upon the positive wellbeing of people through their design and creative practice.
Story Design for Creative Industries
The aims of this module are to: learn basic elements of creating narratives for the story industry, to include film, TV, stage, animated film, and video games, and to provide a forum in which these skills can be practised.
The module will enable students to analyse and explore their own creative practice. They will design and develop their own short outline for a dramatic story, under the supervision of the module leader.
Dissertation
More information to follow.
Negotiated Project
More information to follow.
Major Project
More information to follow.
How you'll study
Teaching is conducted across a variety of sessions and group sizes, ranging from large lectures to individual 1-to-1 tutorials.
The key to learning is taking part – your involvement and participation in activities such as development drawing, research, reflective work, seminars, group work, and much more, will be intrinsic to your academic success.
Lectures

Seminars

Tutorials

Independent study

Group work

Supervision

Workshops

Practical sessions
How you'll be assessed
The Graphic Design BA is assessed through coursework, using a variety of significant methods.
This is to encourage development of a broadly relevant set of skills and competencies for both industrial practice and further study. This includes practical projects, industrial and self-generated project work for defined user groups, technical demonstrations and training, elicitation tools, development drawing, visual research skills, essays/reflective work, seminar participation, in-class presentations, contextual research projects, workbook/logbooks, group work and peer assessments, and an industrial report or dissertation.
Placement year
On this course you'll have the opportunity to complete a year working in industry as part of your degree, which usually takes place after the second year of study.
A placement year provides an incredible opportunity to gain a whole year of invaluable experience, to enhance your CV and to broaden your professional network. Placement students receive ongoing support from tutors and the Careers Network.
Our strong industry links help students to secure a variety of year-long and flexible work placements in the UK and internationally, supported by a dedicated School Placement Officer and Programme Placement Co-ordinator. Some students alternatively choose to opt for the Year in Enterprise option, where they can spend 12 months developing their own business idea with the help and support of the University.
Additional award
This course comes with the option to undertake a year in enterprise or a professional placement, at the end of which you will gain a Diploma in Professional Studies (DPS). This is an additional award to the final qualification you will receive once you have successfully completed this course.
Featured placement year companies
Walt Disney, New Look, Superdry, DK Publishing, ThinkJam, Mondelez, Snowsport England, Hobbs Ltd, Team Creatif, Ragged Edge, Mirjam Rouden, Hombo & Zergers, Red Umbrella, Deki, Champions, Broadley TV, Minute Man Press, Marks and Spencers.
Study abroad
If you are interested in travelling whilst you study, there are placement opportunities in other countries too, as well as options to spend a full academic year at one of our European or international partner universities.
Studying abroad offers an exciting way to experience new cultures, see more of the world, and expand your learning experience. It takes place after the second year of study.
Additional award
This course comes with the option to study abroad for a year, at the end of which you will gain a Diploma in International Studies (DIntS). This is an additional award to the final qualification you will receive once you have successfully completed this course.
Students' project work
Our final year Graphic Design students get to exhibit their projects at the annual Arts Degree Show. The event is attended by members of the public, the media and industry. It provides a fantastic opportunity for students to demonstrate the culmination of their work across the degree, which is hugely varied and inspiring.
Where you'll study
Students on the Graphic Design BA have access to our state-of-the-art creative hubs, each containing the specialist workshops, tools, and machinery needed for any type of creative project.
There are 5 hubs in total and these are as follows: creative digital technologies and photography; print, dye, weave, stitch, and digital embroidery; metals, plastic, wood, and laser; painting and printmaking; and ceramics and mouldmaking. All hubs are staffed by expert technical tutors who can help you to achieve an unrivalled level of quality in your creative output.
Entry requirements
To learn more about the qualifications we typically accept, please select your country from the drop-down menu below.
General entry requirements
The entry requirements for each course should be read alongside the University's general entry requirements which give further details on acceptable subjects, alternative UK and international qualifications and minimum English language requirements.
Contextual admissions
The University's admissions process uses contextual information to provide insights into the context in which your academic qualifications have been achieved. This may influence the typical offers listed below.
Tuition fees for 2024 entry
UK fees
Full-time course per annum

£9,250

Placement year

Approx. 20% of the full-time fee
International fees
Full-time course per annum

£23,000

Placement year

Approx. 20% of the full-time fee
Tuition fees cover the cost of your teaching, assessment and operating University facilities such as the library, IT equipment and other support services. University fees and charges can be paid in advance and there are several methods of payment, including online payments and payment by instalment.
Additional costs
Tuition fees cover the cost of your teaching, assessment and operating University facilities such as the library, IT equipment and other support services. University fees and charges can be paid in advance and there are several methods of payment, including online payments and payment by installment.
Your future career
Every year our students enter and are recognised by a variety of award schemes, both industry-focussed and institutional.
These include RSA, YCN, RBS Creative Conditions, and D&AD. Through participating in these external activities, students can boost their employability and promote their work to major employers.
Graphic Design graduates have gone on to pursue a wide range of careers, in areas including photography, art direction, graphic design, publishing, illustration, video production, television and film, curating, art buying, art editing, marketing, advertising, branding, performing arts, exhibition and display design, app design, and comic illustration.
Career support services
Your time at Loughborough University will form a launchpad from which you can build an exciting career. With so many opportunities available, you'll never be short of ways to improve your employability.
Our award-winning Careers Network team is here to help and support you, offering everything from CV workshops, one-to-one advice sessions and mock interview practice sessions to high-profile employer events. We've got everything you need for a really successful future.
Companies students have worked for after graduating
ASOS, IBM, Hotel Chocolat, Real Sociedad, Debenhams, Agent Provocateur and Headline Publishing.
Compare our course stats at Discover Uni
4 years full-time with placement year