Revolutionising sport medicine
Loughborough University leads the National Centre for Sport and Exercise Medicine an IOC accredited research centre for the prevention of injury and protection of athlete health.
This status was renewed in 2019 for a further four years. The Centre's activities within this theme have a dedicated focus on the biological mechanisms that underpin, as well as interventions to improve, athlete physical and mental health.
In addition, we are the primary home for defence medicine research, working in collaboration with the Defence and National Rehabilitation Centre (DNRC) at Stamford Hall. Our research examines and informs the following subthemes in order to facilitate lifelong performance across the activity spectrum:
Injury prevention and management
Musculoskeletal rehabilitation
Concussion
The impact of exercise and training on immune function and infection risk for athletes
The role of regenerative medicine for athletes and military personnel
Shoulder pain in wheelchair dependent individuals
Dr Barry Mason / Professor Vicky Tolfrey
Shoulder pain is one of the primary health concerns for wheelchair dependent individuals, with up to 73% of wheelchair users thought to experience pain at some point in their life. However very little is known about what causes shoulder pain and even less is known about how we can prevent it. The Peter Harrison Centre for Disability Sport (PHC) have been working on this area over recent years with colleagues from the University of Groningen and Queen Mary's University of London to understand more about the biomechanics of wheelchair propulsion in individuals symptomatic and asymptomatic of shoulder pain. We are currently trying to establish which propulsion biomechanics are consequences of pain and which may be causes of pain. Concurrently, we are also trying to further our understanding about which populations (athletic vs. non-athletic) and wheelchair configurations are, if any, at greatest risk of developing shoulder pain. Finally, in collaboration with University of Southampton we are attempting to explore the effectiveness of different longitudinal interventions for reducing the incidence of shoulder pain in wheelchair users.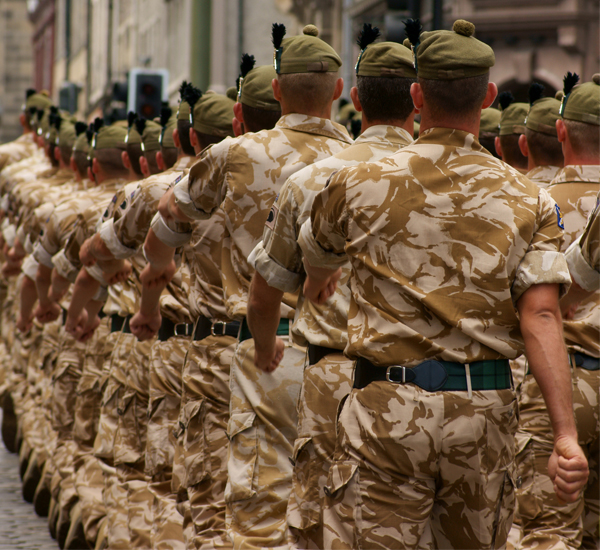 Novel technologies for military training
Dr Paul Sanderson, Elliott Fullerton
The aim of this project is to use novel technologies and analysis to quantify the exposure to injury resulting from initial military training. As the size of the full-time armed forces is reduced to meet the Strategic Defence and Security Review 2020 target of 144,200 personnel, the demand to maximise the proportion of deployable personnel is evident. Increasing first time pass rates whilst reducing the incidence of injury in training will support this demand whilst minimising the necessary medical manpower and financial burden. All personnel must complete basic training prior to becoming a soldier. Training can vary from 12-50 weeks in length and is necessarily arduous in order to ensure soldier capability for active duty. As a result, recent defence statistics show up to 57.3% of untrained (recruit) personnel and 17.0% of trained personnel were medically discharged from 1st April 2017 – 31 March 2018, with 57% of medical discharges associated with musculoskeletal injury. Knowledge of patterns/thresholds that relate to injury incidence will help the prescription of physical training programmes in the future.
Prevention of musculoskeletal injury in the military environment
Dr Paul Sanderson, Dr Andrew Kingsnorth
It is generally accepted that musculoskeletal injury (MSKI) is one of the major drains on human capital and military capability. The Prevention of Musculoskeletal Injury in the Military Environment (PRIME) studies seek to gain a better understanding of the variables involved in musculoskeletal injury in military personnel. The PRIME 1 study uses a 'concept mapping' approach that utilises multi-dimensional scaling and hierarchical cluster analysis multi to give insight into complex research. This work was extended to include context specific information from the British Army (PRIME 2 study). The outputs of PRIME 1 & 2 are already helping shape defence policy in MSKI prevention and thus is supporting defence capability.