Our staff
Professor L. Alberto Franco BEng (Católica), MSc (Lancaster), PhD (LSE)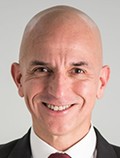 Professor of Management Sciences
Associate Dean (Teaching)
Group decision support; problem structuring; visual framing; behavioural operations research; decision science practice.
Alberto Franco is Professor of Management Sciences and currently Associate Dean (Teaching) in the School of Business and Economics at Loughborough University. As a decision scientist, he has extensive consulting and research experience in heath, transport, construction, government and defence, where he has led projects to support strategic management, value-focused thinking, risk analysis, and resource allocation for over 20 years. Organisations he has worked with include: Whitbread, Bombardier, Network Rail, Ministry of Defence, Department for Environment, Food and Rural Affairs, and the World Health Organisation.
After completing a civil engineering degree at Pontificia Universidad Católica (lima, Peru), Alberto started his career as a specialist soil mechanics consultant. In 1988, he began a gradual move into academia, first lecturing in mathematics and subsequently in management science and operations management at Universidad del Pacifico (Lima, Perú). He moved to the UK in 1996 to study Operational Research (OR), and gained MSc and PhD degrees from Lancaster University and the London School of Economics (LSE), respectively. Since then he has held various positions at, among others, LSE, University of Strathclyde, University of Warwick, IE Business School (Madrid, Spain), Radboud University (Nijmegen, The Netherlands), and Universidad del Pacifico. Alberto joined Loughborough in June 2013 as Head of the Management Science and Operations Discipline Group, a role he performed until August 2016.
Alberto's research involves the empirical study of intervention approaches that use group facilitation and visual models to help teams engage in effective strategic thinking, problem solving, and decision making. More recently, his research interests lie in making the work of decision scientists more 'visible', with a view to discovering novel ways to improve decision science practice and education. This is part of a broader European behavioural agenda within the decision science and operational research disciplines, and draws on a range of theoretical perspectives (e.g. communication, psychology, sociology, economics).
Alberto's current field and experimental work examines how behaviour affects, or is affected by, the use of decision-supported processes within teams. This research has both a descriptive and a prescriptive orientation, and adopts a process and interaction lens for analysis. His recent contributions in this area include:
• Investigating the conditions under which models developed within group workshops become 'boundary objects' in interaction.
• Distinguishing the analytical and relational capabilities and impacts of mixed-method operational research interventions.
• Understanding how visual interactions with strategy tools produce different knowledge production patterns in workshops.
• Identifying the role and impact of individual differences in the use and perceived effectiveness of decision aids.
• Unpacking the socio-material and situated specifics of facilitated modelling practices.
Alberto welcomes applications for undertaking PhD research within any of the above areas.
Associate Editor, Group Decision and Negotiation
Editor, Euro Journal on Decision Processes.
Editorial Board, European Journal of Operational Research.
2017 Enterprise Award (Impact from Research), Loughborough University (with G Montibeller)
2017 Dean's Award Researcher of the Year, School of Business and Economics, Loughborough University.
2016 British Journal of Management's Top 10 Article. Paper: Visual Interactions with Strategy Tools, with S Paroutis and T Papadopoulos).
2016 Decision Analyst Society's Practice Competition Award Finalist. Paper: Supporting the Prioritisation of Emerging Animal Threats for the UK Department for Environment, Food and Rural Affairs with Decision Analysis, with G Montibeller).
2016 Dean's Award Impact of Practice, School of Business and Economics, Loughborough University (with G Montibeller).
2014 OR Society Annual Conference 2014 Keynote speaker.
2013 Banxia Prize for Best Paper in the OR Society Conference's Problem Structuring Methods Stream. (Paper: Dynamics of facilitated modelling: A micro-level analysis of model-supported group conversations, with E Tavella).
Franco, L.A. & Greiffenhagen, C. (2018). Making OR practice visible: Using ethnomethodolpgy to analyse facilitated modelling workshops. European Journal of Operational Research, 265(2): 673-684.
Franco, L.A. & Nielsen, M.F. (2018). Formulations in facilitation practice: An exploratory video-based investigation of their use in situ. To appear in Group Decision and Negotiation
Franco, L.A., Rouwette, E.A.J.A., & Korzilius, H. (2016). Different paths to consensus? The impact of need for closure on model-supported group conflict management. European Journal of Operational Research, 249(3): 878-889.
Henao, F., & Franco, L. A. (2016). Unpacking multimethodology: Impacts of a community development intervention. European Journal of Operational Research, 253(3): 681-696.
Paroutis, S, Franco, LA, & Papadopoulos, T (2015). Visual interactions with strategy tools: Producing strategic knowledge in workshops British Journal of Management, 26: S48-S66.