Since June 2022, over 200 volunteering activities have been undertaken by over 150 people, with some volunteering on multiple occasions.
Activities in the last year have included delivering guest lectures, being part of panel discussions, supporting international student recruitment and international alumni groups, mentoring students, and providing careers tips.
Alumni give their time to support current and prospective Loughborough students, fellow alumni, and provide advice to the University.
Our Alumni Advisory Board (AAB), currently made up of 16 alumni, attend regular meetings led by the Alumni President, Dr Luke Stott. Luke began his term last summer, and has overseen the meetings of the Board, and represents the alumni community at University Council meetings.
Members of the Alumni Advisory Board also give their time on a personal level. For instance, alumnus David Mead has worked with alumni in his networks to share stories with prospective students. Aisha Adedeji has shared her Personal Best story and also contributed to the LSU Leadership Conference. Amy Ward contributed as a mentor at the annual Talk Sport Conference - which saw 27 alumni get involved as speakers, mentors, and careers fair exhibitors, with many more friends of the University also contributing.
The University has again been able to make overseas trips, and the Vice-Chancellor has visited alumni in New York, San Francisco, New Delhi and Mumbai, where he met with passionate Loughborough alumni.
Members of the AAB and many other alumni also support our international activities.
Patrick Lee hosts monthly dinners in Hong Kong and is volunteering to build further alumni networks in China. Meanwhile, Yasamin Fozouni and Emma Fu have been supporting activity in the USA, whilst others have been supporting international student recruitment events in India and China.

Patrick Lee pictured seated on the left at one of the monthly Hong Kong alumni dinners
We celebrated International Women's Day. Three alumnae - Kerrine Bryan, Samantha Emery and Yasamin Fozouni - contributed to an online panel discussion. We also held our Women's Event in London (pictured above), where alumnae Emma Barrat (AAB member) and Kim Emenike gave their time to discuss their careers and to inspire fellow graduates, whilst forming the beginning of a new network.
More recently, Babak Erfani gave a Voices of Diversity talk, focusing on LGBT+ in the workplace.
Alumni contribute as volunteers for University Council and the Loughborough Business School Advisory Board, and earlier in the academic year, another a group of alumni gathered for a meeting of the School of Science Board.
Alumnus and University Council member Mike Wedderburn, of Sky Sports News, again supported the student Black in Sport Summit, which brought together speakers such as Lewis Hamilton, alumna Alice Dearing, and alumna Ama Agbeze.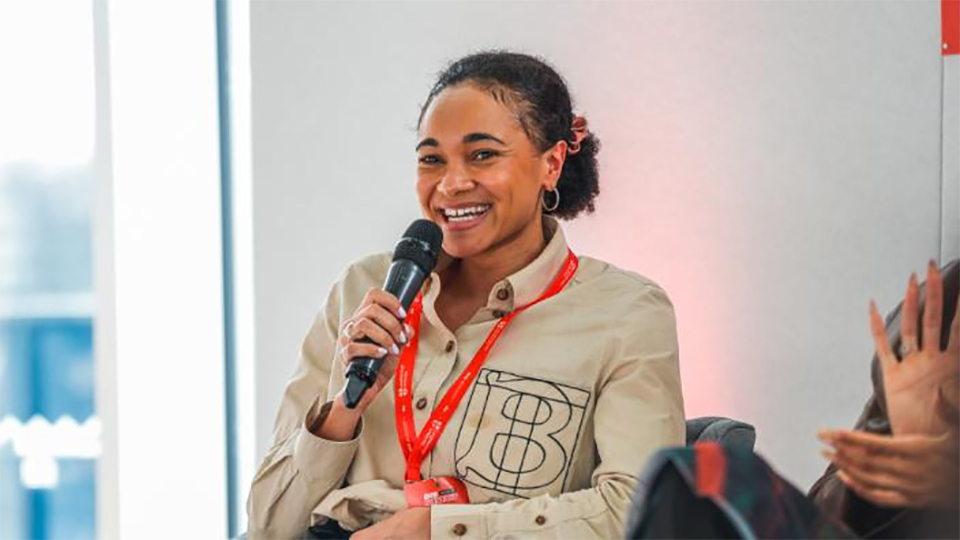 Alumna A‌lice Dearing shared her expertise. Image: Flynn Duggan
Several alumni have been involved in guest talks for careers, enterprise, Loughborough University London, and for outreach activities with school-aged pupils, including the Engineering Experience and the Inspiring Minds events, as well as Why it Matters video profiles.
Alumni became mentors on the Future Black Talent Programme (Loughborough) as well as the Monday Mentoring initiative (London).
Alumni have also supported other kinds of initiatives, with over 100 sharing their graduation photographs last summer, and 90 people recently sending in their creative Loughborough alumni stories – an inspiration to prospective and current students, as well as fellow alumni.
In whatever ways you choose to stay in touch with Loughborough, thank you.
If you are interested in offering your time and expertise in the future, please contact the team.