Kicking off the conference, Executive Director of Sport John Steele OBE opened the day. He shared insights into his personal career as well as some top tips with students to encourage them to maximise their day.
A range of sessions were offered in each timeslot. Early on in the day, alumnus Jack Tompkins, a Sports Producer at Ben and Jack Studio, talked about sports media.
Suheil Tandon, Director-Founder of Pro Sport Development, joined a live online session to discuss experiences in the sport development sector. Talking about its niche nature, Suheil gave tips on how to network and discussed the benefits of development and holistic approaches to sport.
Academy Strength and Conditioning (S&C) Coach at Tottenham Hotspur Football Club, Adrian Van Der Ploeg, gave a session on S&C, whilst fellow alumnus Alastair Richards, Events Manager at the Lawn Tennis Association, delivered a talk on sports events and operations. Two recent graduates, who are trainee exercise psychologists at the University, Henry Edwards and Imogen Porter, talked about becoming exercise psychologists.
Following a break for lunch, two alumni joined fellow guest speaker Loris Vigiani of IMG to discuss sustainability in sport. A new session to Talk Sport, this Q&A panel was designed to align with the new areas of the University strategy, Creating Better Futures. Together. Professor Rob Wilby - who gained his PhD from Loughborough and is based in the Department of Geography and Environment - chaired the discussion. Alumni Chris Thair, CEO of Play it Green, and Sara Kassam, Sustainability Adviser at UK Sport, joined the panel. The panel shared thoughts, facts and ideas on the topic. They talked about the benefits of going green, making changes within organisations, and improvement via government buy-in.
Another set of sessions followed, including the women in sport panel chaired by the University's Director of Football, Rebecca Sawuik. She was joined by three alumnae: Clare Cunningham, Head of Athlete Services at the British Paralympic Association, Alice Reeves-Turner, Junior Assistant Producer at Sky Sports, and Simbi Sonuga, Senior Manager in Strategic Operations at Octagon. The group shared insights into their personal journeys in sport, covering Paralympic Games, sports administration, journalism, and marketing. They also discussed challenges faced and in contrast they looked into the improvements that they are seeing in the workplace.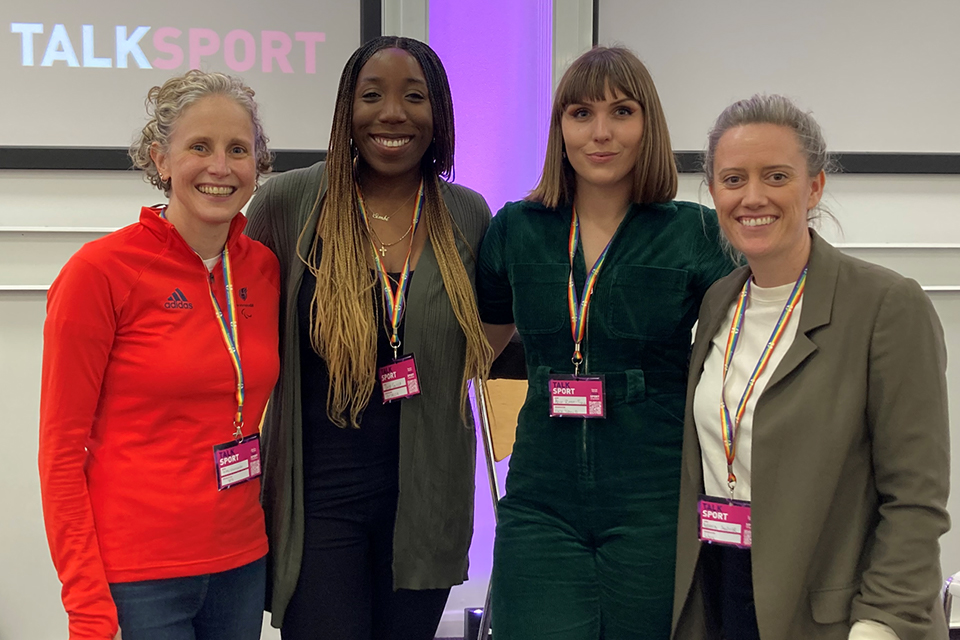 L-R: Clare Cunningham, Simbi Sonuga, Alice Reeves-Turner, Rebecca Sawuik
Another online session took place, with alumni from IMG joining from the UK and China. Khalid Savage, Rebecca Fieldus and Yi Chen contributed, talking about the international business and their roles across sports marketing.
Alumnus Tom Joel, in his tenth season with Leicester City Football Club, talked about sports science and performance support in his guest lecture.
Rounding off day one, two further activities took place. The School of Sport, Exercise and Health Sciences held a session on furthering careers via a master's route, supported by recent graduate, Jess Flint. Jess works on campus as a Senior Athlete Support Coordinator for the Paralympic Programme at UK Athletics.
Speakers from throughout the day supported the finalist mentoring session, conducting speed mentoring sessions with students, giving top tips, answering questions, and conducting mini-interviews. More alumni joined the session to support. They were Mike Cavendish, Adam Douglas, Lewis Garner, Noam Gur, Alasdair Donaldson, Kate Shone, Alex Turnbull and Amy Ward.
In addition to the range of guest lectures, panels and mentoring on offer, even more alumni were supporting the conference through their organisations, talking to students about job opportunities at the careers exhibition. They represented organisations including Hashtage Sport, Nottingham High School, and Add-Victor.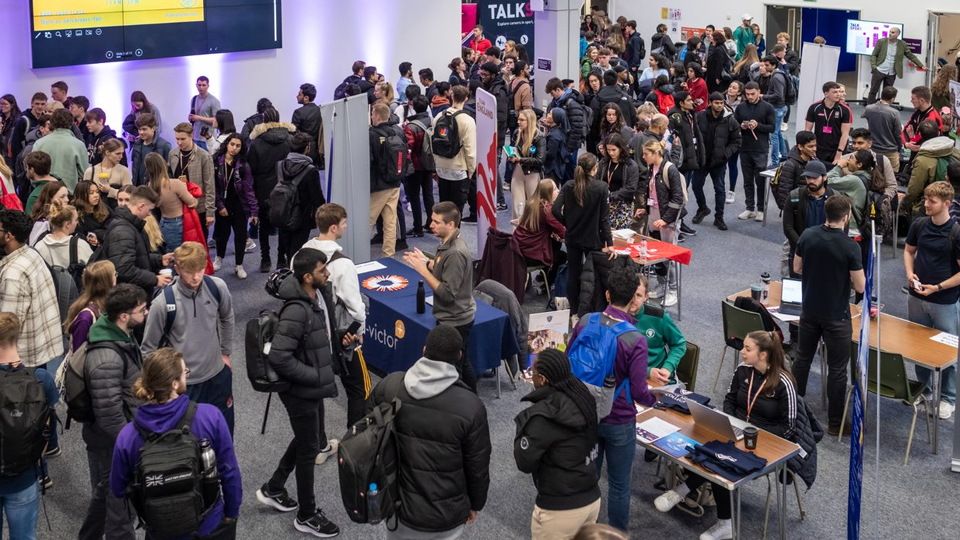 Following a busy and popular first day of the conference, more alumni headed to the Loughborough University London campus on the Queen Elizabeth Olympic Park.
A number of exciting activities were available to attendees, including a Sports Interactive Studio Tour, a tour of BT Studios, and CV checking.
Guest panel discussions were themed around the power of sport, sustainability, and women in sport. Alumna Harriet Eastham joined the women in sport session. She is a two-time Loughborough graduate, having studied at Loughborough and London, and she is now a Data Analyst and Executive Director of Girls and Women's football at Southampton Football Club. Alumni also enjoyed the day as conference delegates.
Across the two days, many other friends of the University supported, discussing themes such as physical activity and health, performance analysis and sports nutrition.
Thank you to everyone who contributed to this years' two-day conference, supporting students who are interested in a career in sport.
If you are interested in finding out more about how you or your organisation might be able to support Talk Sport in the future, please get in touch.