The Personal Best series has been running for several years and encourages students to engage with holistic development. The My Story series offers students the opportunity to hear from alumni who can offer their experiences in the workplace and beyond to discuss how different skills help them to succeed, overcome challenges, and approach life in a well-rounded fashion.
Aisha graduated just over seven years ago. Initially spending her career in Banking, she has recently embarked on a new adventure. During the session, she talked about experiences in the workplace, and in particular how she wants to work to inspire and encourage people to create their own "seat at the table".
Sharing an insight into her journey, she talked about establishing her career, venturing into the world of YouTube, and co-founding her business, The Hustle Table.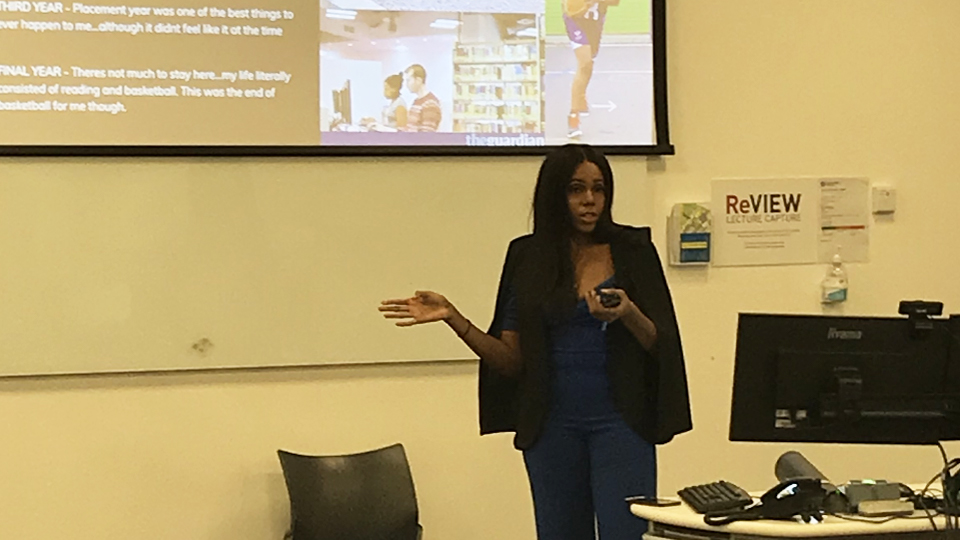 Aisha covered several of the Personal Best themes in her guest lecture, which took place on the Loughborough University campus. She talked about workplace skills, digital fluency, goalsetting and planning, and global citizenship.
On digital fluency, she said:
"It is important, because whether you want a job or whether you want to be an entrepreneur, technology is going to impact you in some way, so make sure that you are fluent in some way."
Aisha also gave examples of her experience from working in different countries, having worked in the UK, Nigeria, South Africa and Abu Dhabi.
The Banking, Finance and Management alumna discussed the benefits of networking and growing social media contacts. She was very passionate about reaching out to people: "make sure that they remember that you're there", she added.
Combining the Personal Best elements, Aisha summarised by discussing how to develop a career in finance in the digital age before talking about possible goals for the future and looking forward.
Students had the opportunity to ask questions and they covered topics such as mentoring, working in different places, dual citizenship, and managing time as an entrepreneur.
Thank you to Aisha for volunteering. If you are interested in finding out more about how you could support the Personal Best programme in the future, please get in touch.