What is Feedback?
Feedback is essential to your learning whilst at University; it helps you understand what you are doing well and how you might improve.
During your degree, you will receive lots of feedback of different types and in different ways - to benefit from it you need to be able to recognise, digest and act upon it. Sometimes it will be obvious that you're getting feedback (i.e. comments and a mark on a coursework assignment) but other forms of feedback may be less obvious.
This resource has been developed to help you to understand more about the various forms and means by which you'll receive feedback and empower you to make best use of them all. Using and engaging with feedback will help you to make the most out of the various forms of support you receive and help you to fulfil your potential.
What are the benefits of Feedback?
In summary, feedback is designed to help:
you to understand how well you are doing, including what your strengths as well as areas for improvement are.
inform your future assessments and pieces of work
enhance your learning, progress and performance
Obvious Sources
Overall mark for an assignment or exam
Written comments on a submitted assignment or generic written comments on an exam
Written or audio comments through Learn (e.g. Grademark/Turnitin)
Written comments via a feedback form
Verbal individual feedback via face-to-face/in person discussion (e.g. with your lecturer)
Feedback tick-sheets
Verbal group feedback via face-to-face/in person discussions (e.g. with your lecturer)
WebPA
Less Obvious Sources
Generic whole class explanations (e.g. assignment debriefing)
Model answer solutions, which provide an opportunity to compare or check your work/answer to the model/correct answer
Informal conversations with staff regarding your performance
Assessment criteria and grade descriptors, which outline what is expected to achieve a particular grade
Responses to questions or enquiries via Learn
Generic feedback available on Learn module pages
Multiple Choice Questions and Learn Quiz feedback
Question and answer opportunities during taught sessions (e.g. verbal or via Vevox)
This flowchart outlines the steps to take when you receive feedback on your work.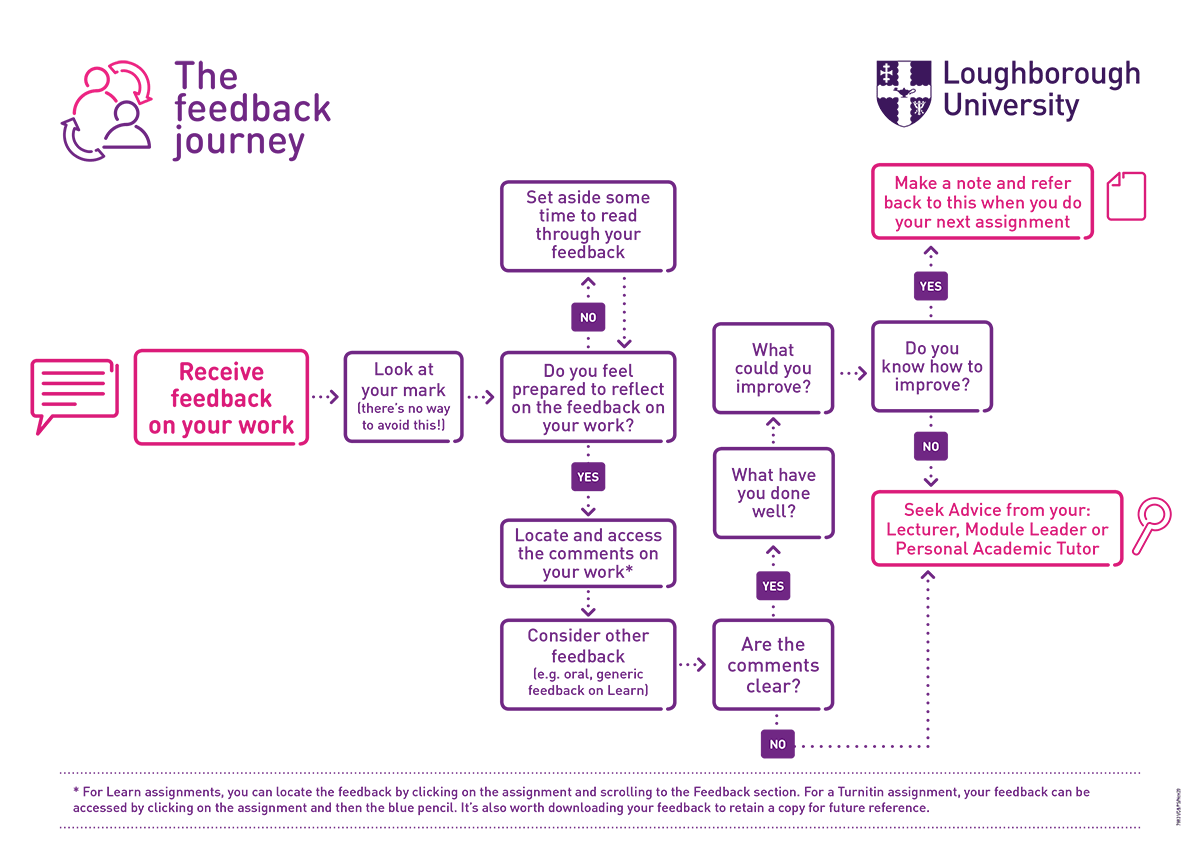 What does the feedback I've received actually mean?
You may see some of the following phrases included in the feedback you receive on your work.
Below are some helpful definitions or explanations for each. If you're not sure, ask for clarification from your Lecturer or Module Leader for specific advice, or speak to your Personal Academic Tutor for more general advice.
Make sure you directly answer the question being asked. Ensure what you write is relevant to the question and that you are not just writing everything you know about the topic.
You're on the right lines, you just need to give more explanation, support or reasons to your claim.
It is important to take a stance, but be sure to present and provide evidence for other sides of the argument.
Give a more precise and detailed account of what is being described, using particular examples.
Look at and reflect on the strengths/advantages and weaknesses/disadvantages to explain or debate issues within an argument or study. Using academic evidence and your own ideas, come to a supported conclusion.
A way of organising and presenting your work so the reader can follow the argument. Make sure your paragraphs are in a logical order and have clear opening and ending sentences which link from the previous or to the following paragraph respectively.
Make sure the reader can easily understand the points you have made by writing clearly, and explaining, with evidence, why you have made them.
Show how different sources and theories go together to make a good argument.
Try to use more than just the material provided by the lecturers and include appropriate references from different sources to back up your points.
Try to create a coherent argument by connecting points in a logical order to ensure the work is easy to follow.
Reading your own work back carefully to yourself or out loud to check it for spelling, punctuation and grammar mistakes and to ensure that your arguments make sense and flow.
Demonstrating your own thinking and using research beyond the reading list to make an argument or point that other students may not have thought of.
Explain ideas clearly with fewer words. Avoid waffle or using overly long or complicated words and phrases.
Need more advice?
If you're not sure how to access and download feedback on your work in Learn or Turnitin, then this tutorial will guide you.
If, following reading and reflecting on your mark and feedback, you have any questions about these, then contact your Lecturer. You can also discuss any recurring comments across your assignments with your Personal Academic Tutor.
If you need further support with improving a particular aspect your work, then we would recommend accessing the Library Learning Support resources or the Academic Writing Support service.