About us
Professor Andy Harland BEng DIS PhD CEng MIMechE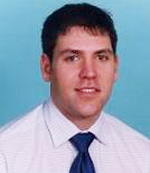 Institute Director
Associate Dean Enterprise
01509 564802
Office LP1.1.03, Sports Technology Institute, Michael Pearson East
Research Interests
Professor Harland is active in research across a broad range of topics related to sport, including measurement and instrumentation in sport, product design and development, injury prevention and simulation.
A number of projects have been concerned with sports footwear, apparel, protective gear and hard-goods, with particular focus on a wide range of hollow and solid sports balls. He has supervised over 20 PhD students.
Professor Harland's research in soccer balls has been applied by adidas in tournament balls used in FIFA world cups since 2006 and UEFA European Championships since 2004 and his research in cricket helmet impacts underpinned the revision of the British Standard 7928:2013; Specification for Head Protection for Cricketers.
Professor Harland has partnered with a wide range of industrial, commercial and charitable bodies, including adidas, FIFA, England and Wales Cricket Board, International Cricket Council, BISFed and FIH.
Professor Harland has also supported a number of start-up businesses including Alcuris, Incus, Nymbl and Shot Scope and is keen to support ideas through to commercialisation.
Teaching Interests
Module leader for Part B "Measurement and Experimental Design"
Module leader for Part B "Applied Sports Technology"
Final year and MSc projects are offered on topics related to research interests.
External Roles
Loughborough University Sports Committee
Loughborough University Enterprise Committee
Referee for various Engineering, Technology and Sports Journals
Consultant to various industrial and commercial partners and sports governing bodies.