Sculpture
Our campus has over forty sculptures across its 438 acres, including works by Lynn Chadwick, Bernard Schottlander, Margaret Traherne and Willi Soukop.
Information about some of the highlights of our collection can be found below. New works are regularly added, so do keep checking back. Alternatively, you can click through to our map, which shows the location of works on our campus. Clicking on any of the markers will bring up information about that work. The map also includes a suggested walking route, which cuts through the heart of the campus to take in many of our most interesting works. It's a around 3km long (with nearby bus stops at either end) and is step-free.
Michael Dan Archer - Per Saeculi Quartum
Bronze and Cadeby limestone, 1991
Location (google maps)
Per Saeculi Quartum ('Through a Quarter of a Century') was commissioned by the University in 1991 to celebrate the 25th anniversary of the granting of a Royal Charter, which transformed Loughborough College of Technology into Loughborough University of Technology (the 'of Technology' was dropped in 1996). The winning entry from an open competition, Archer described the fractured circular stone base as representing a hundred years. The bronze sits on the second segment to symbolise the next the next quarter of a century, 'with all the intentions and possibilities for the future implicit in this.' Now extant for more than quarter of a century, the piece replaced a previous work on this site: Man and Child by Ralph Brown, which was vandalized beyond repair in the 1980s.
Archer taught at Loughborough College of Art and Design, which was amalgamated into the University in 1998; and along with colleagues including John Atkin and Paul Wager was part of 'The Loughborough Group' of sculptors. He retired from the University in 2019. Other notable commissions include the Ouseburn Lock Gates in Newcastle-upon-Tyne; and sculptures in London, Cardiff and Cambridge.
Donald Brook - The Wall
Fibreglass reinforced concrete, 1961


Location (google maps)
This is one of many artworks in our collection purchased under the auspices of Stewart Mason, who was Leicestershire's Director of Education from 1947-71. He strongly believed that educational environments should be populated with challenging works of contemproary art, and worked closely with a team of advisors and contemporary art galleries to select works. Situated in the student village, this imposing 3-and-a-half metre work is moulded with a variety of mechanical tools, as if produced by some future archaeologists of the (then) Loughborough College of Technology (one of the four colleges which formed the core of the present-day university). Once coated in a cream colour substance, the work now blends subtly into its surroundings, but can still alarm the unsuspecting viewer making their bleary-eyed way to or from the library/hall of residence/students' union bar. Installed in 1961, its subject matter suggests it may have been commissioned specifically for the site, rather than an existing work that was purchased, as with many of its contemporaries.

Brook was born in Leeds and made a number of sculptural works in the 1950s and 60s, although The Wall is the only known work extant in the UK. In the late 60s he moved to Sydney, where he was appointed as one of the inaugural academics in the Power Institute of Fine Art at the University of Sydney. Well-known as a theorist and critic of art, he was integral to early debates about conceptual art; and adapted the concept of the 'meme' to outline his approach to art history.
Emlyn Budds - Truth, Labour and Knowledge
Ancaster stone and bronze, 1999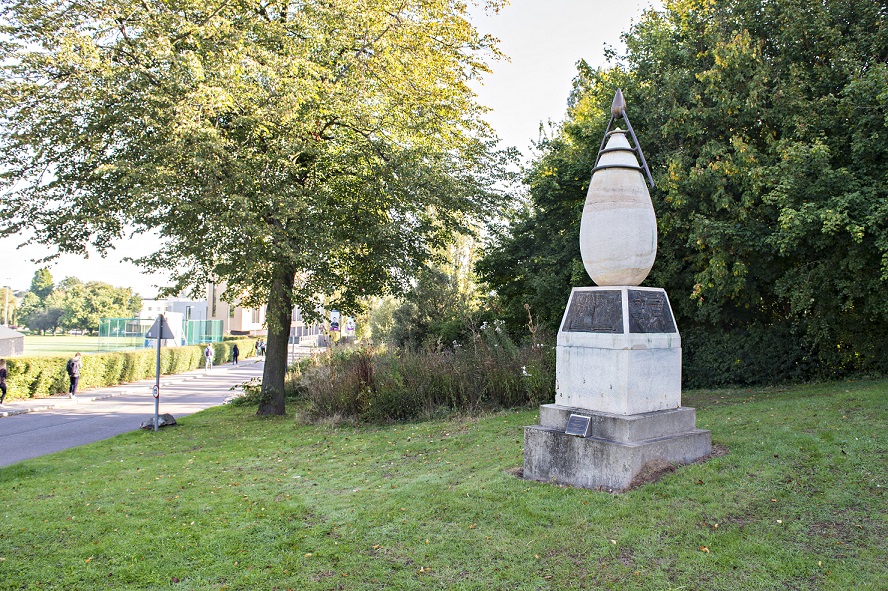 Location (google maps)
This grandly titled work (often referred to as 'The Easter Egg') was selected from a student competition to commemorate the integration of Loughborough College of Art and Design into the University. The 22-year old Budds was a student at the College and produced a design celebrating various forms of learning associated with the history of the University: engineering, electrics and science all feature in the bronze reliefs, echoing the reliefs on the nearby Brockington Building by Willi Soukop. The work was funded by the College's Past Students' Charitable Trust.
Budds went on to study Sculpture at the Royal College of Art and the Henry Moore Institute. After periods making furniture and film props (including for Ridley Scott's Robin Hood), he now lives in his native Norwich where he produces carved oak memorials.
Lynn Chadwick - The Watchers
Bronze, 1960 (installed 1966)
‌
Location (google maps)
By far the most well-known work in the University's collection, The Watchers was cast by Chadwick in 1960. A casting was purchased by Stewart Mason for £3,500 in 1966, bought ostensibly to commemorate the three men responsible considered most important in the early history of what is now Loughborough University: Herbert Schofield (Principle of Loughborough College, 1915-50); Sir Robert Martin (Leicestershire County Council chairman, 1924-60); and Sir William Brockington (Mason's predecessor as Director of Education, 1903-47).

Chadwick, of course, did not have these men in mind when producing The Watchers, and was in fact inspired by the Moai statues (the so-called 'Easter Island Heads'). The critic Herbert Read, meanwhile, associated Chadwick's work with the brooding menace of the Cold War and the memory of the holocaust. Are these figures anxiously watching over history? Are they some dystopian power watching us? Or do they represent the benign gaze of three educationalists watching over the institution they helped found?

Other editions of The Watchers can be found at Roehampton University, London; the San Diego Museum of Art; and Nordjyllands Kunstmuseum in Aalborg, Denmark.
Geoffrey Clarke - Battersea I
Aluminium, 1962
Location (google maps)
This is one of three sculptures produced by Geoffrey Clarke for the then annual Battersea Park open air sculpture exhibition in 1963 (the other two are held by Gallery Pangolin in the Cotswolds). Recalling a plough, and with a hint of violence, it was cast in aluminium from an expanded polystyrene model: a highly experimental method, which allowed for work to be produced quickly and cheaply whilst giving it a rough-hewn, organic appearance.
Along with Lynn Chadwick, Clarke was one of eight sculptors who showed work at the Venice Biennale's British Pavilion in 1952 (others included Eduardo Paolozzi and William Turnbull). In a review of the Pavillion, Herbert Read described their work as creating a 'geometry of fear' and for a short period the group were considered the cutting-edge of contemporary British sculpture. Clarke produced work for a variety of contexts: a large, aggressive aluminium wall-mounted work for Nottingham's Playhouse Theatre (which survives to this day), relief panels for the ocean liner SS Canberra, fittings for banks, a tapestry for a Kuwaiti sheikh, works for two Cambridge colleges, and the altar and three stained glass windows for Coventry Cathedral. Yet as the 'geometry of fear' went out of fashion Clarke fell from the public eye, and the Battersea Park Series, of which this is one, were among the last of his sculptural works to receive significant attention. The Guardian obituary on his death in 2014 notes that they have 'a rough-hewn, bark-like quality that gives them the look of a medieval take on Anthony Caro's contemporaneous Early One Morning', but that this 'did not serve Clarke well' in an era of pop art slickness. History has been a little kinder, however, and there was renewed interest in his work by the 2010s.
Anne-Marie Culhane - Fruit Routes
Fruit trees and edible plants (2011-)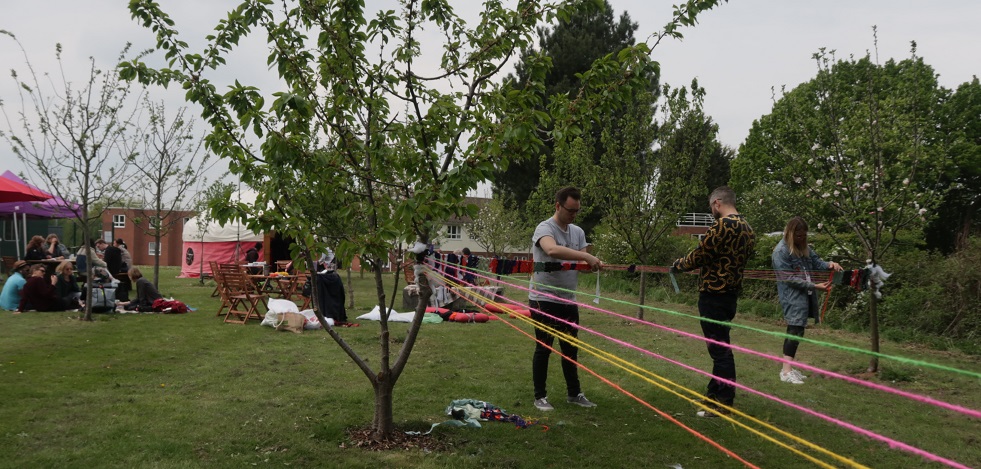 Click here for trail (google maps)
Fruit Routes is a work of eco-social sculpture by the artist Anne-Marie Culhane, managed and maintained by University Sustainability's Grounds and Gardens team. Combining art, the everyday and ecological landscaping, it consists of an edible route of hundreds of fruit and nut trees and bushes, including six discrete clusters of trees. Fruits grown include cooking, eating and cider apples; pears; cherries; apricots; greengage; plums; almonds; walnuts; sweet chestnuts; mulberries and quince. Contributing to the campus environment, improving conditions for wildlife and enabling the foraging of free food, the work is intended to spark conversations about the politics, economics and ecologies of food production, distribution and consumption. Two events are organised annually to mark the season, including a 'harvest festival' with a mixture of performances, walks, talks, workshops, harvesting and fruit pressing. More information can be found on the project's dedicated website.
Picture: 'Cropweave', Spring Harvest 2019, Anne-Marie Culhane.
Ernest G. Fowler - Schofield Weathervane
Metal, 1938 (original), 1960s (current replica)
‌
Location (google maps)
Not strictly a sculpture, but an object of such quirk that it can't be missed out! It depicts the charismatic Herbert Schofield, Principal of Loughborough College (the University's precursor institution) from 1915-50, rushing to catch an ocean liner to the US, where he had a number of professional connections. He's being waved off by a gaggle of students, two of whom have been overwhelmed by their emotions and turned away in anguish.
Amerjit Kalwan & Lorraine Young - Dialogue
Ancaster Stone, 2001
Dialogue was commissioned by the School of Engineering's Alumni Association in 2001. Its form was inspired by research into the history of Engineering at Loughborough University, and the ground-breaking work the School was conducting on fuel storage for Airbus at the time. The Ancaster stone was carved on site, with each sculptor working on their individual piece: the two came together for the first time on the day of installation.
Both sculptors graduated from Loughborough College of Art and Design in 1997. Amerjit Kalwan (now Young) continues to work as an independent artist, with several works sited throughout the country: two distinctive stone works can be found locally in Quorn's sensory garden. Lorraine Young works as University Tutor in Fine Art here at Loughborough.
Bryan Kneale - Standing Figure
Painted steel, dustbin lid, 1961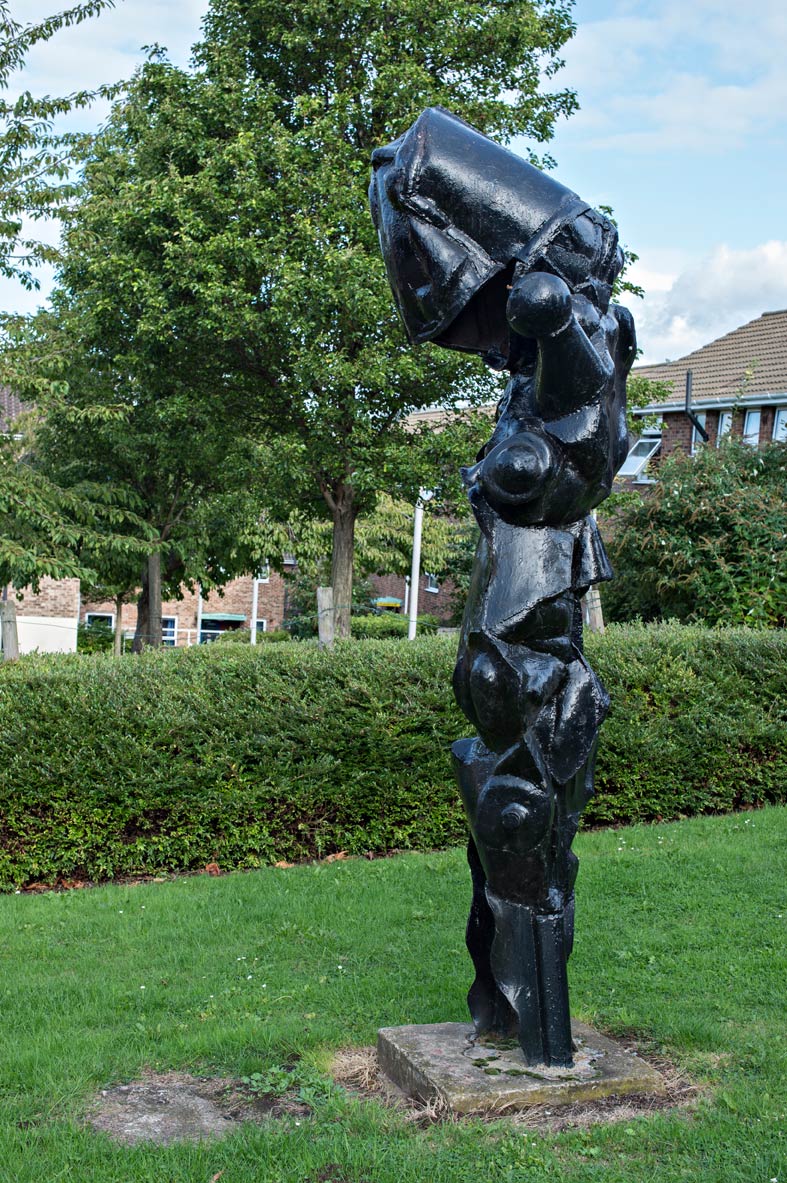 ‌
Location (google maps)
If The Watchers are keeping an eye out for nefarious goings-on across campus then they might want to have a look here. This grotesque horror/science-fiction figure has been occupying its plot outside Royce Hall since 1963 when it was purchased under the auspices of Stewart Mason. Its 'head' (or helmet?) is a reformed dustbin lid and the rest of the body is welded steel.

The work recalls the Cold War anxieties expressed through a peculiarly British form of horror/science-fiction, and such links are strengthened by the fact that Bryan Kneale's brother Nigel was the screenwriter of the BBC's Quartermass series. Bryan also illustrated the cover for the Penguin paperback editions of the scripts, whilst the Martians in Quatermass and the Pit were based on a painting he'd done of a lobster. Kneale's output is more varied than this might suggest, though: across his long career in sculpture and painting he displayed an 'innate fear of repetition' and a rejection of the 'traditional sculpture of carving, casting and modelling', as the blurb for a 2015 retrospective exhibition at Pangolin London put it.

This piece is almost certainly painted in the wrong colour and we're researching its original finish with a hope to restoring it to that condition. Earlier records also note that it's been a popular site for student posters, graffiti and cone-balancing pranks.
Robert Orchardson - We Are the Sky
Steel, brass, mirrored glass; 2015


‌‌
Location (google maps)
We Are the Sky was the winning entrant in a public competition to design an artwork for the atrium of the redeveloped Schofield Building in 2015. Inspired by images of early aviators and scientists, it draws on the pioneering structures of early kites. Each element of the work is suspended in air, and it can be viewed from different angles as the stairs are ascended or descended.

Orchardson draws on the imagery of science-fiction and utopian modernism in his work, which is often constructed from lo-tech materials such as wood and resin. He has held solo exhibitions at NOW Gallery, London; Ikon, Birmingham; and Monitor Gallery, Rome.
Peter Peri - The Spirit of Technology
Dyed concrete and steel, 1961
Location (google maps)
You'll have to look up to see this one: a (nearly) naked figure protruding almost horizontally from the wall of the Rutherford Hall dining room in Peri's signature style. It was commissioned by the building's architects, Harry S. Fairhurst and Son, in 1958, who would have been familiar with Peri's work from a number of similar works at educational establishments across the country. Installed as the dining hall was built in 1961-2, it is made from 'pericrete'—a pigmented concrete that Peri would mix and work with on site. The metal loop held by the figure was formerly a much more elaborate structure suggestive of a complex aerial. When taken together with the title this gives the work an almost evangelical zeal, as if the figure is preaching the virtues of the modern world to the sky.

Peri's story is an interesting one, and offers a fascinating connection between a radical European avant-garde and the more genteel British variety of social democracy that informed public collections such as Loughborough's. He was born Ladislas Weisz in Budapest in 1899, and at his insistence the family changed their names to help avoid antisemitism. In 1919 he supported the short-lived Hungarian Soviet Republic (the second Communist state in Europe), and had to flee upon its collapse later that year—moving to Vienna, Paris and finally Berlin. Whilst there he became part of the burgeoning constructivist movement alongside figures such as László Moholy-Nagy, and was an active member of the Association of Revolutionary Visual Artists. This was banned upon the Nazi's rise to power in 1933 and after his (English) wife was arrested for possession of communist propaganda they moved to London, where Peri became an active member of the communist and anti-fascist Artists International. By this time Peri had left behind his more avant-garde methods in favour of a 'proletarian' realism, albeit that a constructivist interest in movement, rhythm and space can still be discerned in the warmly human figures he tended to produce.
George Pickard - Triptych
Stainless steel, 1988


‌‌‌
Pearce Committee Room, Hazelrigg Building - viewable by appointment only. Please email LUArts@lboro.ac.uk to request.
This modernist relief was donated to the University by Herald and Joan Goddard in memory of Professor J.G. Phillips, Loughborough's fourth Vice-Chancellor, who died just a year into his office in 1987. Professor Phillips was a noted biologist, and also served as Secretary of the Zoological Society of London.
George Pickard trained at Leicester School of Architecture in the early 1950s, then served in the army as a Regimental Artist, producing murals, magazine illustrations and camoflauge designs. From 1957 he practised architecture and developed skills in ceramics and metalwork. From 1966-88 he was a senior lecturer in interior design at Leicester Polytechnic, during which time he took to producing sculpture and founded the Architectural Sculptors Group. He produced a number of scultpural works, including another piece similar to this which was featured in a 2018 episode of Antiques Roadshow, before his death in 1993.

Herald and Joan Goddard were longstanding patrons of the arts, primarily in their home city of Leicester.
Bernard Schottlander - Abstract

Steel, 1971
‌‌‌
Location (google maps)
One of two works installed at Loughborough in the final year of Stuart Mason's tenure as Leicestershire's Director of Education, Schottlander's steel Abstract was purchased for Loughborough College of Education for £375 (the College of Education shared the campus with the University, but was not formally integrated until 1978). The following year Mason was one of two people who selected sculptors for the ambitious 'City Sculpture Projects', which saw large-scale contemporary sculptures installed in 14 cities across the UK including, famously (and controversially) a giant King Kong in Birmingham.

Abstract is typical of Schottlander's work: the cylinders appear solid if approached from one angle, but open up to reveal differing internal colours when the viewer moves around the work. Born in Mainz in 1924, the Jewish Schottlander arrived in Britain as a refugee from Nazi Germany in 1939. He worked as a welder during the war, before training in Sculpture at Leeds College of Art. He combined his sculptural works with works of interior design, most notably the 'Mantis lamp'. Historically there was an edition of his 3B Series No.2 close-by to, but this was removed c.1985. The original casting of that work can be found at Bosworth Academy in Desford, for where it was purchased under Mason's guidance.
Willi Soukop - The Spirit of Adventure
Concrete, 1958
‌‌‌‌
Location (google maps)
Dating from 1958, this concrete work is one of the first purchased for Loughborough during Stewart Mason's tenure as Leicestershire's Director of Education (1947-71). A semi-abstract piece, it brings to mind an aeroplane when viewed from some angles, whilst others are more suggestive of an organic form. On viewing it in 2011 the artist and poet Wayne Burrows ascribed it 'the presence of an artifact from a lost civilisation, part of a modest civic vision of the future whose potential has passed (perhaps only temporarily?) into a history that appears more remote than it actually is.' Prior to being installed in Loughborough it was exhicited at the Royal Academy of the Arts.

Willi Soukop was born in Austria and trained at the Academy of Fine Arts in Vienna. He moved to England in 1934 for romantic reasons, taking up a studio and teaching post at Dartington College in Devon; before moving on to Chelsea College of the Arts, the Royal Academy and the British School in Rome. Among his pupils was Elisabeth Frink, who would go on to be recognised as one of the country's most important sculptors.
Willi Soukop - Relief of a House Martin
Concrete, 1958
‌‌‌‌
Location (google maps)
Stewart Mason ensured that a small portion of Building Capital Funds was put aside for artworks whenever new buildings were commissioned. A modest example is this pleasant relief of a house martin on Martin Hall: a very different style to The Spirit of Adventure. This was most likely installed during the building of Martin Hall in 1961.

The hall itself is not named for the bird shown, but for Sir Robert Martin (1874-1961). He was appointed a Governor of Loughborough College (a predecessor institution to the University) in 1922 and in 1924 Chairman of Leicestershire County Council and its Education Committee. He became Chairman of the Governors of Loughborough College in 1940 and of its successor Loughborough College of Education until his retirement in 1961.
Another Soukop relief can be found on the Brockington Building. It has three separate components showing students running and swimming; debating and studying; and undertaking wood- and metalwork.
Studio Weave - Bathaus
Reduced cottage, 2017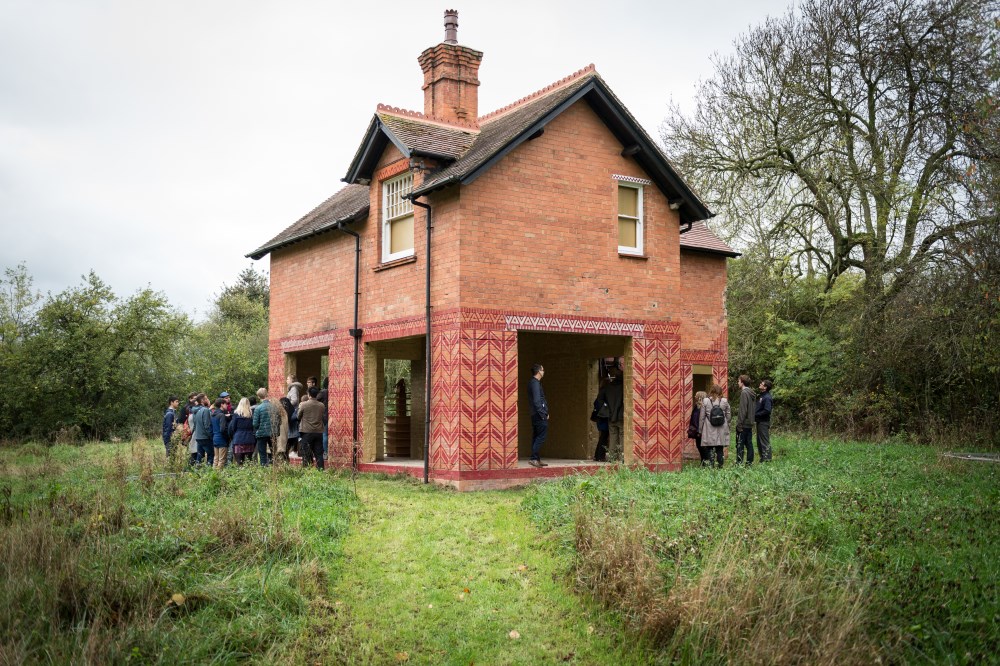 ‌‌‌‌‌
Location (google maps)*
Realised in 2017, Bathaus is a 'curated reduction' of an old cottage within campus grounds. Abandoned by humans, the building was discovered to play home to a summer maternity colony of brown long-eared bats. Arhictectural practice Studio Weave's subtly powerful design evokes both this current use and the traces of previous human habitation.

*To access the Bathaus head along Oakwood Drive and go past the Advanced Technology Innovation Centre on the right. You'll come to a track on the left, just wide enough for a car. Walk along here and the Bathaus is on the right. The ground is flat but a little bumpy, and may be muddy in wet weather.
David Tarver - Entrance Relief
Aluminium, 1968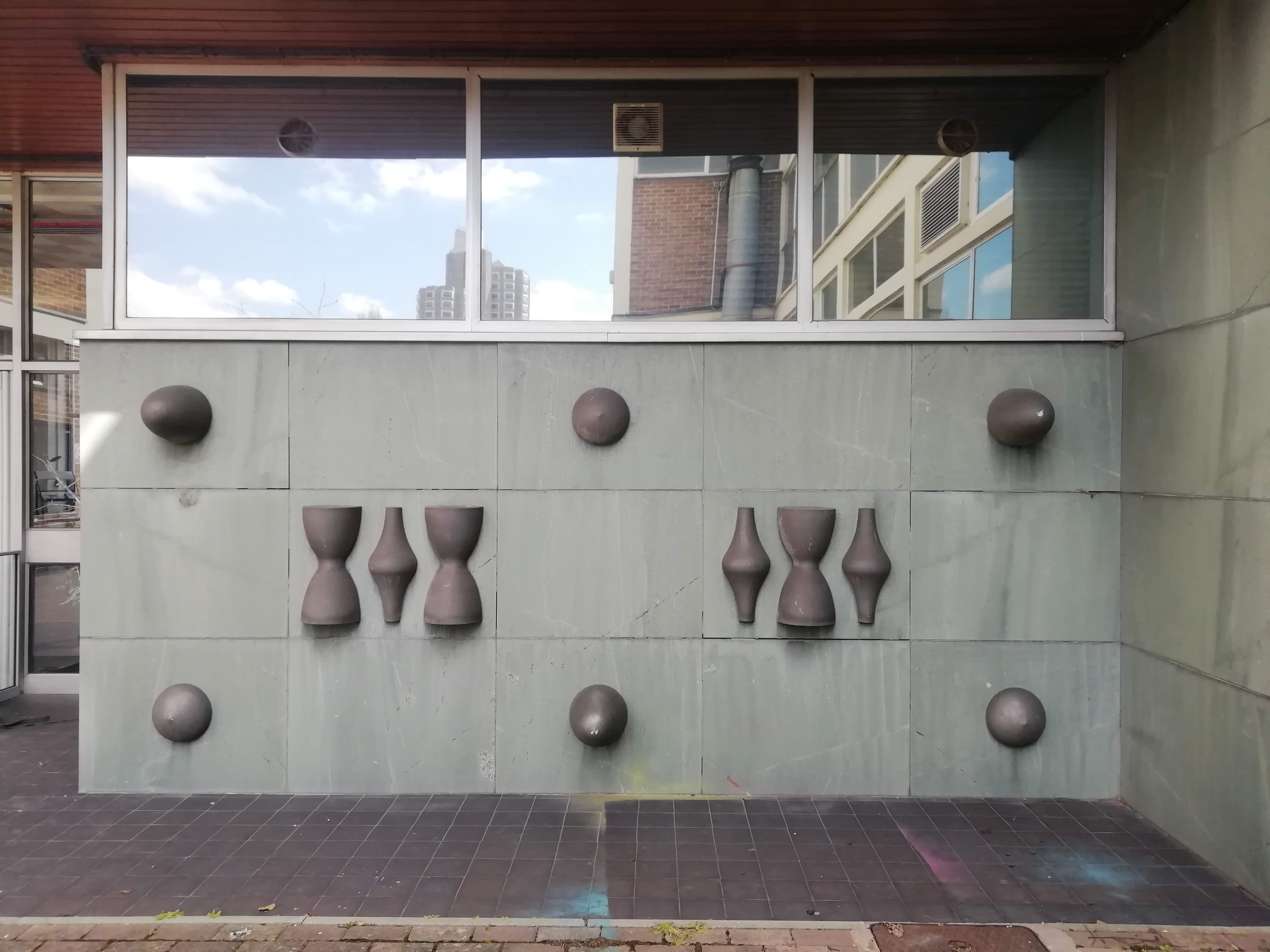 ‌‌‌‌‌
Location (google maps)
David Tarver was Head of Sculpture at Loughborough College of Art and Design from 1957-89, and produced this cast aluminium relief for the College entrance in 1968. The elements are arranged according to Brancusi's golden ratio. The College was incorporated into the University in 1998, a merger celebrated by Emyln Budds' sculpture Truth, Labour and Knowledge. Tarver has a number of sculptures throughout the town, including the Swan and its maze in Queen's Park, and the fountain at RNIB Loughborough College. He also renovated the Fearon Fountain in 1981.
Margaret Traherne - Standing Stones
Concrete, c1959
Location (google maps)
Where Kneale's Standing Figure injects a dose of sci-fi futurism into the gentle architecture of the student village, Traherne's Standing Stones appear as if a relic of some earlier inhabitants; albeit ones who could mould concrete. Occupying one of campus' more banal spaces—a storage area for the hall canteen—they're all the more powerful for their incongruity.

It's notable that Traherne is one of very few women whose work was purchased or commissioned by Mason (for Loughborough University of elsewhere), and the Independent's obituary on her death in 2006 notes that she 'was one of a group of gifted, highly professional women who turned, in a male-dominated fine art world, to the applied arts in the post-war period.' Indeed, neither the Independent nor The Guardian mention her sculpture in their obituaries and she remains best known for stained glass, which she contributed to a number of schools across Leicestershire; as well as to Liverpool's Roman Catholic Cathedral, Coventry Cathedral, the Royal Mosque in Riyadh, and the Temple Emmanuel Synagogue in Missouri. Her eclectic but thematically consistent repertoire also included light boxes and 3D banners for the Tate Gallery.
Paul Wager - Five Steel Sculptures
Steel, 1993-96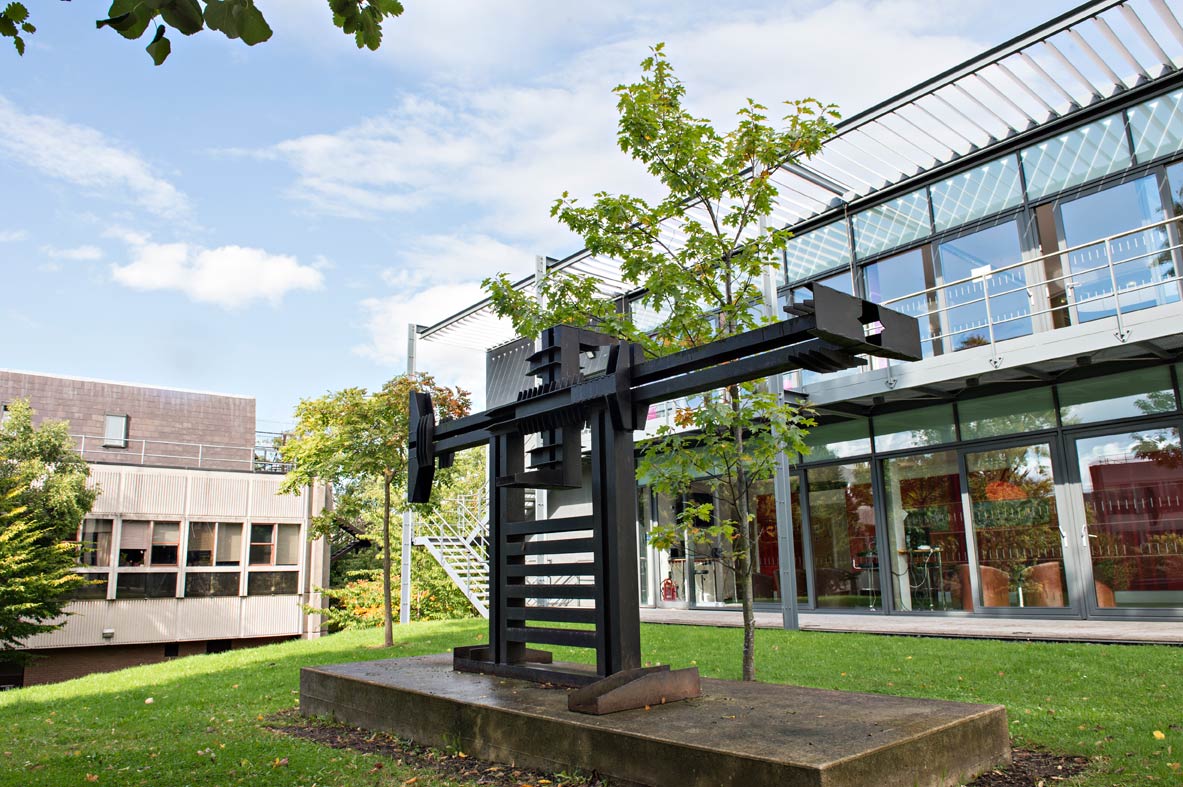 Pictured: Revolution
Paul Wager's five large-scale steel works are installed across our campus. Inspired by the labour processes, communities and struggles associated with heavy industry, and wrestling with its environmental legacies, they are uncompromising and perhaps rather bleak works that eschew simple nostalgism.
Wager was born in Hartepool in 1949 and served as an assistant to Lynn Chadwick for a number of years. After spells teaching at institutions including the Winchester School of Art and the Central School of Art & Design in London, he took a teaching job at Loughborough College of Art and Design, where he remained until the early years of the twenty-first century. Since then he has continued to produce sculptural and painted works tackling war, authority and decentralized economies.
Austin Wright - Fountain
Aluminium, 1971

Fountain is an aluminium work down which water gently cascades. A popular, calming feature on campus it is another work purchased under the direction Stewart Mason, and was erected in 1971.
Wright was highly regarded during his lifetime: he exhibited across the world alongside contemporaries including Eduardo Paolozzi, Elisabeth Frink, Lynn Chadwick and Geoffrey Clarke. In 1955 the Guardian art critic Charles Sewter stated that 'it would not be outrageous to claim that Wright is the most gifted sculptor working in Britain today', and two years later he won the acquisition prize at the São Paulo Biennial. He began working in aluminium in the early 60s, associating it with light and air, and
finding it a release from the 'earthbound' lead and concrete in which he had often previously worked. 'It projects its lightness...speak[ing] out to any form of light in the sky. Come out into the garden and it chirps in a startling way.'
By this time Wright was increasingly influenced by the landscape of his adopted home of Yorkshire, and it was his perhaps his preference for the region over London that lead to his relative neglection by the contemporary art world; though unsurprisingly he has work in the Yorkshire Sculpture Park. In an obituary upon his death in 1997, the Independent wrote that 'discovering Wright [is] like discovering evidence of a whole new school of art developing in parallel with the known world, a new country on a new morning.'