Paintings and Prints
The University has a rich and varied collection of paintings and prints which can be found on walls across our campus, including works by Bridget Riley, John Bratby, Zaid Salih and Neil Stokoe.
The collection is broad in age, style and subject matter, and reflects many of the stories which can be told about the University's history, and the development of public art in the UK.
Of particular interest are the works purchased by Stewart Mason during his tenure as Leicestershire's Director of Education from 1947-71, portraits of leaders throughout the University's history, and works by current and former staff and students. The former consists of works purchased from leading British experimental artists of the time, and is reflective of Mason's belief that challenging art should be made accessible to the public: pieces by Frank Avray Wilson, John Bratby, John Hitchens and Neil Stokoe are among those acquired in this manner.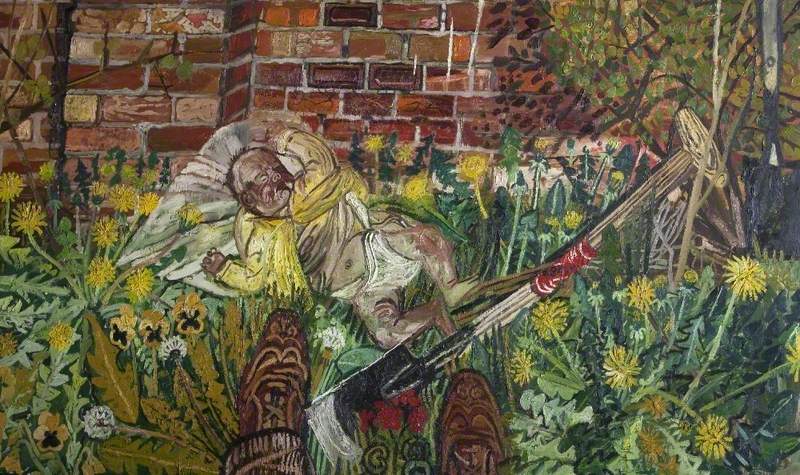 John Bratby - Baby Asleep in Garden, 1961, oil on board (currently in store)
Portraits of the University's earliest leaders are largely traditional in form, and include works by Oswald Birley (a favoured portrait artist of the Royal Family and Winston Churchill) and Lionel Brookes. Developments in British portraiture during the latter part of the twentieth-century are then reflected in the more adventurous portraits by Andrew Ratcliffe and Bryan Organ (known for his portraits of the Prince and Princess of Wales, Elton John and President Mitterand of France). Most recently, Alastair Adams has painted a portrait of Dame Shirley Pearce (Vice-Chancellor from 2006-12) against a backgrop of one of the Hazlerigg Building's stained glass windows, which were produced by students in the institution's earlier days.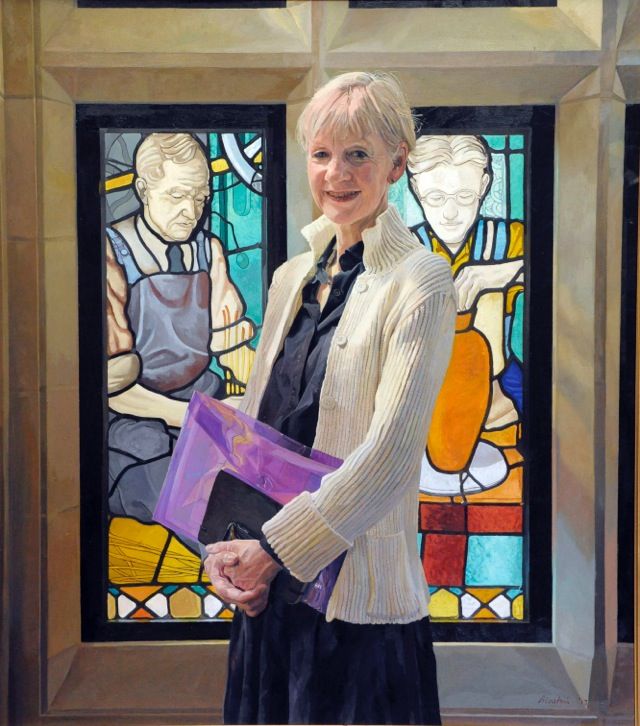 Alistair Adams - Shirley Pearce, 2014, oil on canvas (Hazlerigg Building)
Works by current and former students and staff include many paintings and prints purchased or commissioned through the Edward Sharp Prize. In addition to these, the University enjoys works by Bridget Riley, who founded the Printmaking course at what was then Loughborough College of Art and Design (now Fine Arts) in the late 1950s; Zaid Salih, who who studied Automotive Engineering at Loughborough in the 1940s, before returning to Iraq where he became a prominent member of the important Al-Ruwad (The Pioneers) collective; and Colin Saxton, the former Head of the College of Art and Design.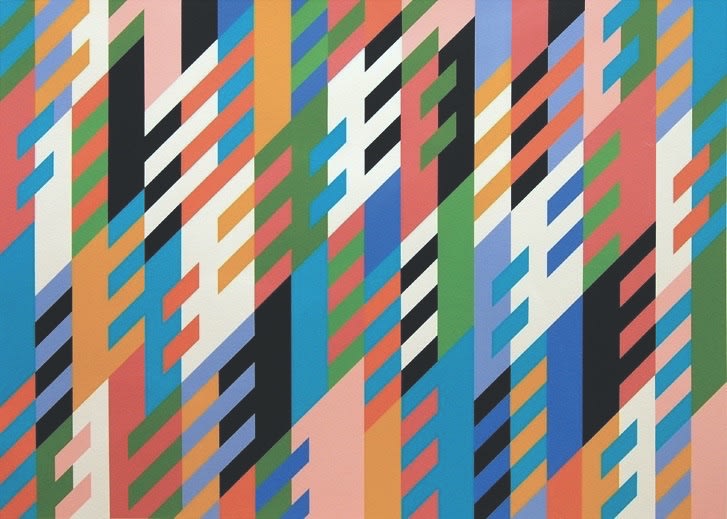 Bridget Riley, New Day (1988), ltd. edition signed print (Rutland Building)

Other paintings and prints in the collection include a commissioned study of the Pilkington Library by Brendan Neiland; Richard Paul's Radar commissioned lenticular print of diatoms, taken through an electron microscope in the University's Department of Materials; and Raoul Dufy's La Fée Electricité. A near-complete record of the University's oil paintings can be found on ArtUK, but all catalogued paintings and prints will be available for members of the University community to view through our forthcoming online catalogue.