Big Booker Read at Loughborough
In 2019, Loughborough University launched a new partnership with the Booker Prize Foundation by hosting a Big Booker Read event on campus.
The Booker Prize Foundation's university initiative was launched in 2009 to encourage first year students at universities across the UK to appreciate and engage with leisure reading and the very best in contemporary literary fiction.
The scheme is jointly funded by the Booker Prize Foundation and the individual universities. Authors involved include Julian Barnes, Sebastian Barry, Jim Crace, Emma Donoghue, Mohsin Hamid, Kazuo Ishiguro, Deborah Levy, Hilary Mantel, Yann Martel, Ian McEwan, Ali Smith, and Sarah Waters.
Regardless of their chosen field of study, students at participating universities are given a winning or shortlisted Booker Prize novel to read and discuss, followed by a visit from the author who takes part in a combination of workshops, lectures and reading groups.
Speaking about Loughborough's partnership with the scheme, Dotti Irving from the Booker Prize Foundation said: "Our scheme has been working with universities all over the UK, bringing excellent fiction and brilliant writers to thousands of students, for over a decade. We are delighted to welcome Loughborough University this year and very much look forward to working with them in the years to come."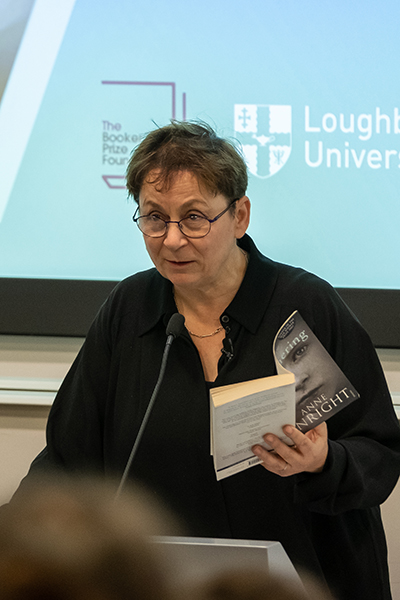 Meet the Author: Anne Enright
To mark Loughborough's membership in the scheme first years at the University were offered a copy of The Gathering as well as the chance to meet its author, Anne Enright. Enright visited campus in October 2019 to read extracts from the book, followed by a Q&A book signing.
Enright drew us into the world of her gripping Booker Prize-winning novel, raising important issues about mental health, family structures, how we remember things, and what to do in moments of crisis. The prose is light and lyrical, and the story is full of surprising twists and turns.
Loughborough's Dr Clare Hutton, a Senior Lecturer in English, is leading the University's involvement in the Booker Prize Foundation scheme. She said: "It was remarkable to hear Anne Enright read from The Gathering. She is in a moment of deep and realised creative power, in strong and assured command of her vision. She connected brilliantly with the audience and revealed her very deep commitment to the value and power of literature and creative writing. Staff and students are already looking forward to the next Big Booker Read."
Anne Enright: In Conversation
Anne Enright in discussion with Dr Clare Hutton about the process of becoming a novelist.
In which Enright talks of creativity, Waveney Terrace at UEA, of dreaming about Beckett, the roll of the book, the role of the teacher, Theo Dombrowski, Nicky Grene, paying for the goddam disposable nappies, Wellington in the Guildhall etc.