Research News
Latest news from
Articles by Loughborough academics featured on The Conversation
Why the UK should stay within the EU's asylum system after Brexit
Until recent media coverage of an increase in people crossing the English Channel by boat, Brexit debates have largely overlooked the future of asylum and international protection after the UK leaves the EU on March 29. The UK's options are challenging – and the risks for current and future asylum seekers are real and serious, particularly if the UK were to leave without a deal.
Complications will stem from the UK's involvement in the EU's international protection and asylum governance structures, known as the Common European Asylum System (CEAS). This determines who qualifies as a refugee, the minimum rights of asylum seekers waiting for the result of their application and the procedures relating to seeking asylum. The UK has so far opted out of the directives that regulate higher common standards for asylum procedures so it can keep only minimum standards.
CEAS also oversees implementation of the Dublin regulations, governing which member state should be responsible for processing an asylum claim. The current rules mean that member states can return asylum seekers to the member state where they first entered the EU. Eurodac, an EU-wide database of fingerprints of asylum seekers, is key in determining the country of first entry of asylum seekers.
Although there has been opposition from member states such as Italy, Hungary, and Greece on the EU's external borders, others, including the UK, have supported the system. This is because it has allowed them to return asylum seekers to the EU country where they first sought asylum.
Should the UK leave the EU without a deal, its rule-making power in CEAS would end. It will be out of the Dublin regulations, will lose the right to return asylum seekers to other EU member states and will have no access to Eurodac. This means a consequence of a no-deal Brexit might be an increase in number of irregular arrivals as the UK will be unable to return them to another EU member state.
Should the UK leave the EU with a Brexit deal and a transition period in place, this could protect the status quo for a short period, providing an opportunity to negotiate a new system without generating a legal vacuum.
---
Read more: Brexit transition: what will and won't change for Britons after March 2019
---
Options for the future
There are three routes available for the UK, and none of them are without hurdles. The first is to negotiate bilateral arrangements with individual EU states, including France, in the case of a no-deal scenario. However, since asylum governance is highly harmonised in the EU, despite political differences, it's unlikely that member states and EU institutions will agree to this.
Second, regardless of the deal with the EU, the UK can pursue bilateral agreements with non-EU countries such as Turkey, Egypt, Libya, Senegal, Iraq, and Afghanistan. Currently, the UK benefits from the arrangements the EU has with such countries such as the EU-Turkey deal. Such negotiations will not only take the UK time, but any agreements will not necessarily prevent irregular crossings from Europe.
In the meantime, the UK might deploy more naval ships in the Channel, although even a small operation has recently caused a disagreement within the cabinet regarding its finances. However, as shown in the Mediterranean, highly expensive military operations hardly stop boat crossings, but divert the boats to less monitored but more dangerous areas of the sea.
The third option would be to negotiate a version of the arrangements Norway, Switzerland, Iceland and Liechtenstein have with the EU during a transition period. These non-EU countries are members of the Dublin system, which requires them to be part of the Schengen free movement area too. But they don't have the right to participate in negotiations of new EU rules and must make significant financial contributions to the Schengen and Dublin system. In other words, they accept to be "rule takers" in exchange for comprehensive economic relations and an asylum system integrated with the EU so they can take part in burden-sharing arrangements.
Protecting the most vulnerable
Through Brexit, the UK is voluntarily withdrawing from the rule-making position it held within CEAS without replacing it. As a recent study published by the European Parliament warned, there is no time to formulate and agree a new asylum mechanism before the end of March 2019. The difficulty ahead for the UK is that, because of its geographical position and the fact that many asylum seekers will transit EU member states before arriving in the UK, it must engage with the EU.
The UK should find a way to be part of CEAS so that it isn't considered by the EU as a third country outside the EU's asylum governance structures. To do this, it needs to leave the EU with a deal and negotiate a version of staying within the EU's existing asylum framework beyond any transition period. This might be the only realistic way to protect the existing rights and entitlements of asylum seekers in the UK.

Ali Bilgic is Prince Claus Chair 2017-19 in 'Migration and Human Security' at International Institute of Social Studies, Erasmus University Rotterdam.
Knife crime: children are not the problem, they are part of the solution
Within the first few hours of 2019, two people in London had been stabbed to death. This came just after the Metropolitan Police revealed 134 people had been killed in the capital in 2018, with just over half the victims of knife crime.
The spate of knife crimes in London has whipped the media and politicians into a frenzy. Knife crime is now described as an "epidemic" that's spiralling out of control. Its impact on victims and communities is horrifying and the police and courts are seemingly powerless to address it.
The typical perpetrator, allegedly, is young and working class, part dangerous, part feckless. This new breed of violent child offender seemingly cannot control themselves, and can barely be controlled by others. The result is a society that feels impotent and is growing fearful of its children.
But in reality, the UK is witnessing the construction of a moral panic about knife crime: the problem is politically constructed, its causes falsely identified, and the "solution" ineffectively articulated.
Research into knife crime, and government strategies aimed at tackling it typically adopt an "epidemiological" approach that treats knife crime as an individual pathology or disease which requires medical treatment. Alternative approaches focused on public health centre on the causes of knife crime – such as exposure to psychological and social risk factors from family, peers, or at school.
Either way, knife crime is committed by a broken child in need of fixing. But both these approaches are counter-productive and harmful.
Toxic environments
To counteract the moral panic and identify appropriate solutions to children carrying and using knives, society urgently needs to bring the issue into its proper perspective. Knife crime is a complex social problem. It is a symptom of the toxic environments that adults create around children, who then become both perpetrators and victims. These toxic environments can leave children disaffected, fearful and vengeful. They are scared and provoked into carrying knives, joining gangs and committing violent acts.
It is no coincidence, therefore, that the vast majority of knife crime takes place in neighbourhoods suffering from huge social disadvantage and disinvestment.
Children pass through many different environments in their daily lives relating to their families, education, neighbourhood, employment and recreation. Environments become toxic, harmful and can cause crime when children's relationships and experiences fail to meet their basic needs, in particular, their right to be protected, nurtured and enabled to achieve positive outcomes.
Work with children living in toxic environments often focuses exclusively on preventing negative behaviours and their effects, such as crime, substance use and school exclusion, protecting adults, and controlling children's behaviours, choices and opportunities. Such efforts treat children as little adults with adult capacities, development and foresight – contrary to evidence indicating that this is patently untrue.
Toxic environments are not created by children – who are the victims in these environments – but by politicians and by the politics of austerity. Local council estates have been hollowed out by a decade of austerity which has ripped away funding for basic services for young people.
Let's be clear, austerity is a deliberate political choice, it is not inevitable – but it has consequences. Austerity abrogates the responsibility to care for, to nurture and to lead children into positive lifestyles, shifting this responsibility to criminal gangs and drug dealers.
Children first
Responses to knife crime must be focused on the child and the adult environments that shape them. And they must involve partnerships between a variety of children's services, such as youth offending teams and youth work, and other relevant organisations such as police, schools, and housing authorities.
These partnerships should prioritise positive behaviours and outcomes. Children need access to services, guidance and opportunities that build their strengths, capacities and aspirations, and develop their pro-social relationships with adults. Our own research indicates that this approach increases children's achievements and successes, while decreasing negative behaviours and outcomes.
Children must be diverted away from toxic environments such as the youth justice system, into positive, nurturing ones. These environments should provide appropriate education, social care that meets children's needs, effective youth services and training and employment opportunities. This is an approach that we've proven can improve children's lives and their chances at school, finding work, and relationships with professionals, while reducing criminal and antisocial outcomes.
Engaging with children is sustainable and productive. Imposing interventions on children is short-term and destructive. It can make a bad situation worse.
Knife crime is a social problem – its causes, not its symptoms, must be treated, and austerity is one of its causes. The UK needs to refill local communities with positive services and activities for young people. Children are part of the solution to knife crime, not part of the problem.

The authors do not work for, consult, own shares in or receive funding from any company or organisation that would benefit from this article, and have disclosed no relevant affiliations beyond their academic appointment.
'Strong is the new skinny' isn't as empowering as it sounds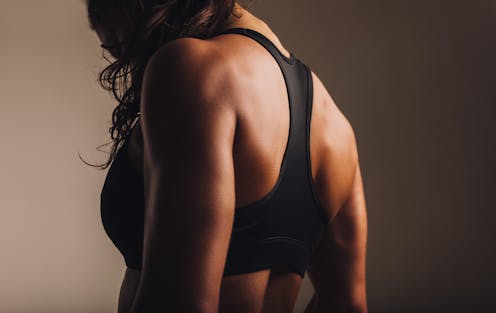 Women have long been subject to powerful social pressures to look a certain way. The "feminine ideal" – a svelte female figure – has dominated film, television and magazine culture.
The result is a narrow idea of what feminine beauty should look like and an associated crisis in body satisfaction.
In recent years an "athletic ideal" – characterised by muscle tone and power – has emerged as an alternative conception of beauty. Female bodies on the track are as appealing as those on the catwalk.
This might be considered a good thing – a broader definition of beauty is more inclusive. More accepted body types, more body satisfaction, right?
From the perspective of former athletes, it's a little more complicated than that.
Athletes are a useful population to explore in terms of the relationship between "athletic" and "feminine" ideals – they are exposed to both more than most women.
A recent study of 218 former athletes showed they found body image a difficult terrain to navigate. Gymnasts and swimmers, retired for between two and six years, were asked to identify what body changes they noticed, how they felt about them and how they coped.
Some former athletes embraced a new, less muscular body that emerged due to the retirement-induced reduction in training load.
Chelsea, a 26-year-old retired swimmer, commented:
Lost most of the heavier muscle I gained while training in college about six months after I stopped swimming. Due to the loss, I dropped about 15–20 pounds… I was surprised at how baggy my clothes felt and was pleasantly surprised that I could fit in smaller sizes. I didn't feel as bulky or broad-shouldered.
With bulk and brawn confined to her former life, Chelsea rejoices in her increased sense of femininity. This suggests traditional conventions of feminine beauty remain the preference even for former athletes who often take pride in their physical strength and muscularity.
---
Read more: Size is largely in the mind: how your body image can change in two minutes
---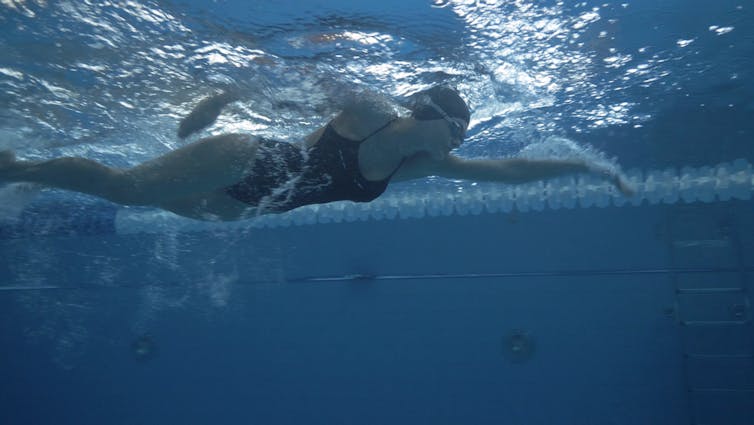 So, perhaps statements such as "strong is the new skinny" are overplayed and the feminine ideal remains powerful and difficult to resist.
Another finding was that the athletic ideal may be the alternative ideal, but it's not necessarily a healthier ideal or one that will lead to a more positive body image.
Retired swimmer Abbey, 26, illustrated this point when she stated:
It took me a long time to realise that my body would never be what it was when I was an athlete… I still think back and use that image as a gauge to how I could look, but also know that my life does not revolve around working out 20-plus hours a week or needing to be in top shape to be successful. I still want to be as lean and as strong as I used to be.
Although Abbey remains committed to an athletic ideal, she is unable to fulfil it now she is no longer an athlete. Accepting this is a difficult process and she still pines for her former body.
An athletic ideal may not exclusively focus on thinness but it still demands stringent diets and training regimes and it has been linked to disordered eating and exercise behaviours.
---
Read more: Social media can damage body image – here's how to counteract it
---
Ideals, by definition, aren't healthy because they demand the unachievable: perfection.
Some athletes were torn between the athletic ideal and the feminine ideal, identifying with both and attempting to walk a tightrope between a sporty look and a feminine one.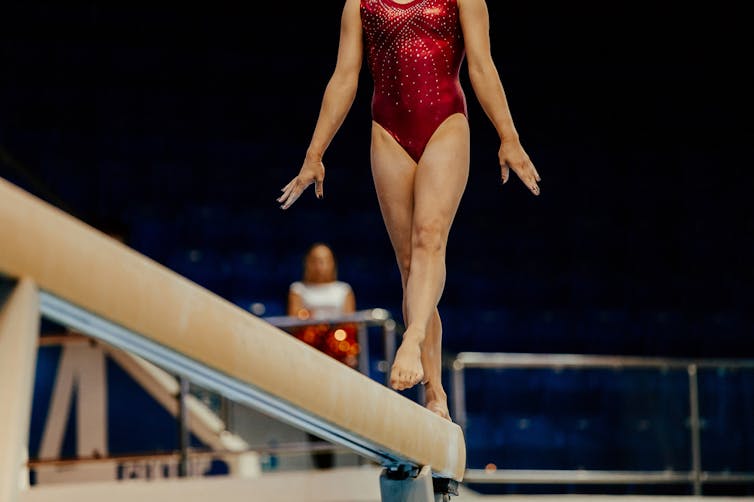 For example, former swimmer Simone, 26, reflected:
My weight is pretty much the same as when I was swimming, but I am significantly less muscular. I'm glad I am not as muscular as I was when I was swimming and that my shoulders shrunk to a size that would fit into clothes, but I would like to be a little more muscular/toned than I am now.
And 25-year-old Carrie, a retired gymnast, echoed the "toned but not too toned" mantra:
I am less muscular and my butt has gotten a little saggy. I feel OK because I am still thin and feel energetic, but I would like to be more toned but not as bulky (muscular) as I was when I was competing in my sport.
Carrie and Simone desired athletic tone but not at the expense of conventional femininity. At the same time, they sought the thin ideal but not at the expense of an athletic look.
The athletic and feminine ideal represent two contradictory masters; to serve one is to reject the other. Finding the middle ground necessary to appease both is an almost impossible task.
---
Read more: Children with facial difference have a lot to teach us about body image
---
It is naïve to view the athletic ideal as simply providing women with a different or new way to love their bodies; it might also provide a new way to hate them. The more ideals there are, the more ways there are to fall short.
Strong isn't the new skinny quite yet. And, if it were, it would be nothing to brag about.

Anthony Papathomas does not work for, consult, own shares in or receive funding from any company or organisation that would benefit from this article, and has disclosed no relevant affiliations beyond their academic appointment.
An introduction to the Centre for Research in Communication and Culture
Hear from Director, John Downey about the broad spectrum of communication and culture research expertise at the CRCC.
SBE Impact Innovators: Professor Tom Jackson & Dr Martin Sykora
In this video, Tom and Martin discuss the way in which emotions are expressed via social media and how with super-fast processers, they can analyse these emotions to assess the mood of a nation.
Research Rising Star – Dr Marco Bohr
His work primarily explores the histories, theories and practices of photography, but his interests extend to cinema and its relationship with photography, and the globalisation of photography via the Internet.
Latest news from
The latest posts from Loughborough University's Research Blog