Research News
Latest news from
Articles by Loughborough academics featured on The Conversation
How a no-deal Brexit may affect each part of the traditional Christmas dinner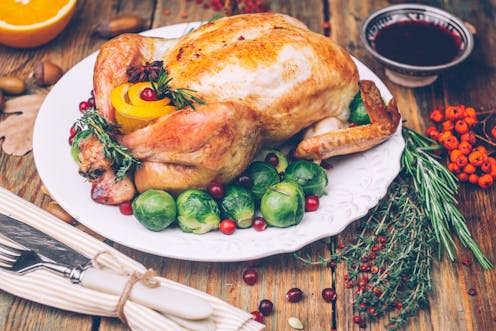 The traditional Christmas dinner in Britain is commonly roast turkey, roast potatoes, parsnips and carrots, Brussels sprouts with chestnuts, cranberry sauce, and pigs in blankets (sausages wrapped in bacon). Here's how a no-deal Brexit could bring some bah humbug to the table. Items that are grown in the UK won't be affected, but those that are imported will become more costly as they will be subject to tariffs and other expensive trade barriers.
Parsnips and carrots
Let's start with the good news. Parsnips and carrots are grown in abundance in the UK. They are available throughout most of the year and are rarely imported from abroad. So even a Brexit as hard as a raw parsnip is unlikely to affect this popular Christmas side dish.
Brussels sprouts
People with the Brussels sprouts-hating TAS2R38 gene are out of luck. Brussels sprouts are so abundant in the UK that they are actually exported around the world. The topical Christmas cracker joke, "How will Christmas dinner be different after Brexit? No Brussels" is unlikely to be true for the actual vegetable.
Potatoes
Although the UK is a major potato producer, some potatoes and potato products still get imported to meet UK demand. This mainly applies to frozen or processed potato products such as frozen fries. Due to a large harvest in 2016-17, the UK is expected to be a net exporter of fresh potatoes in 2017-18. Fresh potato imports have been predominantly from EU countries, but traditional suppliers such as France appear to have found other markets. UK fresh potato exports are predominantly to the EU (98%).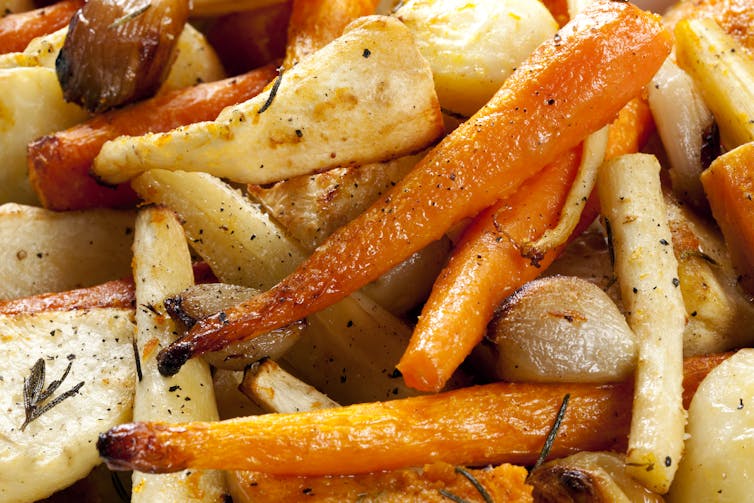 So as long as growing conditions are favourable, there ought to be sufficient fresh UK potatoes to roast for Christmases to come.
Chestnuts
It is thought that sweet chestnut trees were brought to Britain by the conquering Romans and, like many other immigrants, they have naturalised and become an important part of the food chain. In most years the nuts grow to a reasonable size in the south-east of England. But in other areas it is unusual for more than one of the fruits in each husk to reach full size. They are generally not harvested in time for Christmas, but can be preserved by boiling and freezing.
The fresh chestnuts you see at Christmas in the UK are mostly sourced from elsewhere in Europe. This is because sweet chestnut trees in the UK are threatened by both fungal blight and, more recently, the oriental chestnut gall wasp.
If having reasonably priced quality fresh sweet chestnut imports is important to you at Christmas, Brexit could be a problem.
Cranberries
Cranberries provide a splash of colour at the Christmas table. They also make a good option for retaliatory tariffs against the US, the world's largest cranberry producer. The EU took more than 50% of US cranberry exports in 2018, with the UK leading the way.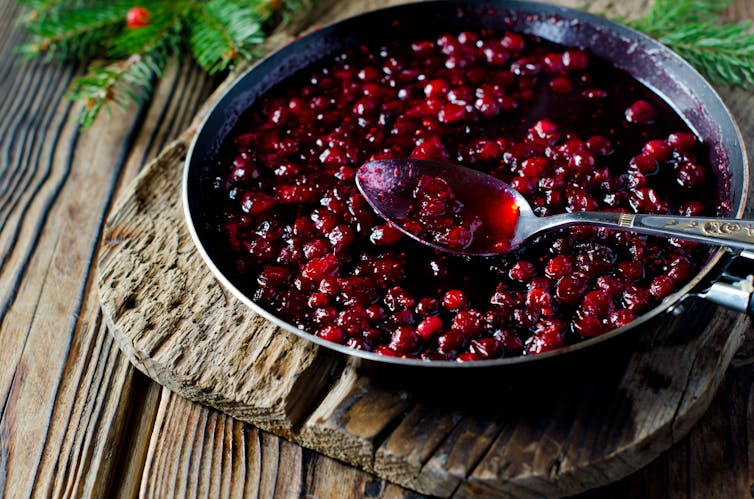 That is not to say the UK does not have its own cranberries. The two native cranberry species in the UK are Vaccinium oxycoccus (the Northern Cranberry) and Vaccinium microcarpus (the Small Cranberry). Wild harvesting used to take place in Scotland but, due to habitat loss, this is no longer done. As a consequence, the cranberries bought in UK stores are the species Vaccinium macrocarpon. These are harvested in North America and eastern Europe using a method that involves flooding the land which is impractical in the UK.
Vaccinium macrocarpon is also grown commercially on Terschelling, an island belonging to the Netherlands. The Netherlands is also a global trade centre for fresh fruit and vegetable imports and exported about €6m worth of cranberries in 2017 (many of which were grown elsewhere).
So the availability of cranberries in the UK is largely dependent on shipments from the EU. This supply chain arrangement may have to change after Brexit, particularly if the UK were to decide not to follow EU trade legislation. Depending on the flavour of Brexit, the costs of establishing a new supply chain independent of EU trade hubs and losing the economies of scale that the EU enjoys as a whole could lead to shortages initially and increased costs in the future.
Turkey
The majority of UK families opt for roast turkey on Christmas day. This will cost them more if there's a hard Brexit.
Turkeys are becoming more expensive to produce in the UK. Turkey producer Kelly Bronze's prices, for example, are up by about 5.4% this year and have warned that a hard Brexit will affect their business by 70%.
A significant cost of producing turkeys in the UK is related to the labour cost of hand plucking. This relies on EU migrant labour and staffing for the Christmas peak and is a real concern. Brexit scenarios considered by farmers' groups indicate that any deal which affects the labour pool is likely to lead to increased prices.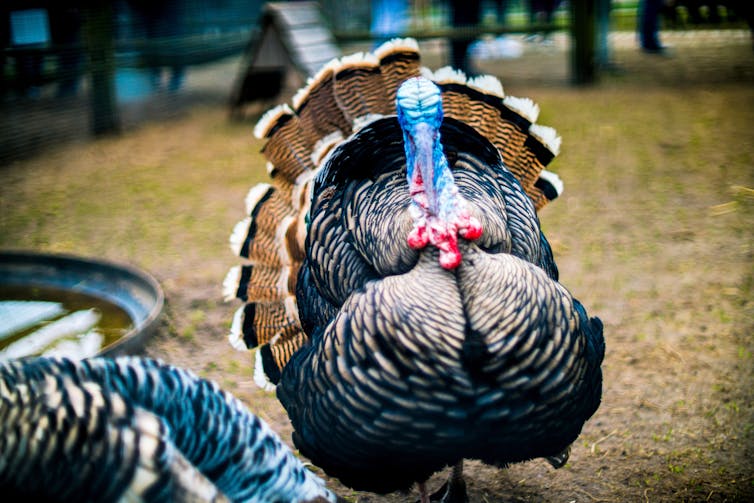 For those not paying a premium for hand-plucked turkeys, any Brexit trade deals imposing tariffs or import restrictions on cheaper turkeys from the EU would not make them cheaper for the consumer. A trade deal with the US might provide the option of turkey meat marinated in chlorine – not necessarily to everyone's taste.
The average number of turkeys slaughtered in the UK per week in December 2017 was half a million birds or about 2m over the month. Allowing for the additional 1.6m from November, the figure is still more than 6m short of the estimated 10m consumed at Christmas.
Pigs in blankets
The cost and availability of sausages wrapped in bacon is dependent on pork supplies. British farmers currently produce only 40% of the pork eaten in the UK. The other 60% comes from EU countries such as Denmark, Germany and the Netherlands. So, as with turkey, a hard Brexit would lead to a rise in the cost of sausages and bacon due to either import costs or supply and demand issues.
Christmas might only come once a year but Brexit is likely to make it even more expensive.

Hana Trollman does not work for, consult, own shares in or receive funding from any company or organisation that would benefit from this article, and has disclosed no relevant affiliations beyond their academic appointment.
Steve McQueen's Widows: heist movie feels like a strange move for this director – but it isn't
At first glance, Widows feels like a strange pick for a director like Steve McQueen. His first film Hunger (2008) was a sensitive drama about a hunger striker nearing the end of his life. He followed this with Shame (2011), an equally sombre narrative of a man living with sex addiction in New York. Third in the sequence was 12 Years A Slave, the celebrated account of a free African American taken into slavery which won the Oscar for Best Picture in 2014. So what's next for McQueen? A heist movie.
In Widows, McQueen adapts Lynda La Plante's 1983 ITV series of the same name – much to the surprise of La Plante herself. The movie condenses the original series' six hours into 129 minutes and relocates the action from a downbeat London to contemporary Chicago.
Since McQueen is noted as a director of contemplative arthouse films, his venture into an action mode such as the heist movie comes initially as a shock. It is as if James Joyce had followed up his fictional experiment in Ulysses by writing a thriller, or Henry James had topped off his complex novels of moral exploration with a western.
Some thought, however, discloses connections between Widows and McQueen's earlier directorial work. To be sure, the new movie is louder, brasher and more densely plotted – but it's possible to identify continuities, both formal and thematic, with his other films.
McQueen as auteur
Auteur theory, emerging in the 1950s during the "New Wave" of French cinema, proposes that film directors be considered as equivalent to literary creators. Just as authorship of Emma is ascribed to Jane Austen, so, broadly speaking, authorship of a film should be credited to its director.
And in the same way that Austen's distinctive authorial personality is also to be observed in Pride and Prejudice, a given director's particular practices and preoccupations bind together the films they have made. The Coen Brothers, for example, have made westerns, screwball comedies, gangster movies and film noirs. Unifying their work, however, are features such as stylised dialogue and playful experiment with genre conventions.
Viewed from this perspective, Widows is still recognisably "a Steve McQueen film" in having a rapport with his three previous features. Thematically, it is another in his series of explorations of characters who in various ways are on the edge. Here, four women find themselves not only bereaved following their husbands' deaths in a heist gone wrong, but facing violence and ruin.
Stylistically, too, some of McQueen's signature strategies are apparent in Widows. Running counter to action cinema's hectic movement, his camera here is sometimes still – as in the previous three features. Like Shame's opening shot of its sexually addicted protagonist (played by Michael Fassbender), Widows begins silently in a bedroom of subdued colour. The static image again allows reflection on detail. A daring long take later in the film, featuring the mercenary politician Jack Mulligan (Colin Farrell), reveals American racial and class hierarchies as effectively as does the painfully sustained shot of the protagonist's near-lynching in 12 Years a Slave.
The filmmaker and the system
On Armistice Day a small commemoration, important to cinema, took place. November 11 2018 marked the 60th anniversary of the death of the influential French film critic André Bazin. Mentor to the young filmmakers of the "New Wave", Bazin had also a tempering effect upon their wilder enthusiasms. In particular, he had sober things to say about film authorship that should prompt us to look again at McQueen's Widows.
In his 1957 essay, La politique des auteurs, Bazin resists the cult of the director. He warns against assessing any new movie in terms of "the aesthetic portrait of the filmmaker deduced from his previous films". What matters for Bazin is "not only the talent of this or that film-maker", but the larger "tradition" or "system" within which their work takes its place. This is an insight spurring us to think less about the relationship between Widows and previous movies Hunger or Shame than about how it relates to the heist genre – not least the 1983 TV series it adapts.
To watch La Plante's original now is potentially to be lulled into nostalgia, with period details extending from new-fangled jacuzzis to pubs filled with cigarette smoke. But at the same time it is apparent that the template of the heist drama is being used in order to trace and evaluate social changes. Most important of these is the emergence of Thatcherism. The women at the centre of the series are not only feminist heroines, but Thatcherite examples of self-reliant entrepreneurs going their own way.
McQueen's adaptation similarly finds in the heist narrative openings for social exploration. The African American neighbourhood where much of the action takes place resembles what sociologist Loïc Wacquant calls "the hyperghetto", characterised by a lack of economic opportunity and the decay of former moral centres (such as the black church). Similarly, Marcus, the son of the central figure in Widows Veronica Rawlings (Viola Davis), is the victim of a police shooting – aligning the film with the timely and urgent concerns of #BlackLivesMatter. The women's energy and power rebuke the sexist America of Donald Trump and Harvey Weinstein.
Observing such things in this recasting of Widows frees us from worrying narrowly about how it adds to the canon of McQueen's films and permits us instead to think of it enriching a genre. Like La Plante and many others before him, McQueen raids the heist drama for political commentary as well as for dynamic action.

Andrew Dix does not work for, consult, own shares in or receive funding from any company or organisation that would benefit from this article, and has disclosed no relevant affiliations beyond their academic appointment.
Happy birthday Mickey Mouse – animation's greatest showman is 90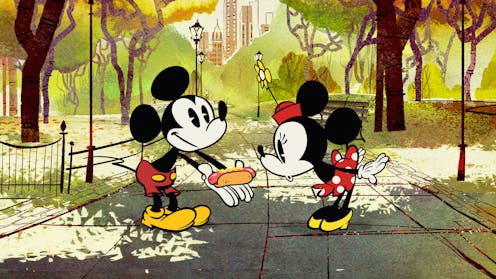 Manchester United manager Jose Mourinho recently criticised his players for not having the courage to take penalty kicks, declaring: "I don't like Mickey Mouses." His choice of words made him surely just the latest to misunderstand one of the most significant icons of our times.
The term "Mickey Mouse" is often used as a term of dismissal – for watches, academic courses dealing with the media and popular culture, and other apparently "non-serious" practices. But its continued use actually displays Mickey's longstanding social influence.
Celebrating his 90th birthday this year, the Disney cartoon character has far outgrown his role as erstwhile straight man to funnier companions such as Goofy, Pluto and Donald Duck. His everyman persona is now linked to a range of complex values in global culture.
Nine decades ago, surely nobody would have imaged when Walt Disney invented Mickey (he was initially named Mortimer Mouse), the mischievous rustic mouse of early black-and-white cartoons such as Steamboat Willie and Plane Crazy, that he would become such a powerful brand.
Easily identified by nothing more than a white glove or those famous ears, he has come to represent the core principles of what it is to be American. He epitomises the ultimate triumph of late industrial capitalism and corporate identity.
Disney's critical currency was almost untouchable in the 1930s and 1940s, as Mickey was embraced by both the general public and the intellectual cognoscenti. After Walt died in 1966, the "death of the author" only strengthened the long reach of his symbolic son.
Mickey the wide eyed rodent was never really seen as a mouse. The scientist Stephen Jay Gould suggested he provoked empathy in audiences simply because of his resemblance to a baby or young child. But it was Mickey's starring role in Fantasia in 1940, as The Sorcerer's Apprentice, which moved him beyond associations with the Great Depression, and into more progressive times.
Gone was the barnyard imp, replaced by a curious, energised figure literally containing the powerful forces of the universe. After that it was but a small step to world domination. But it was a domination which provoked a mixed response.
Cultural critic Henry Giroux worried about an end to innocence in the manipulation of the Disney ethos embodied in Mickey. Film writer Douglas Brode later argued that Disney was far more radical than we think, and actually a defining player in 20th-century consciousness.
Disney champion and film-maker Sergei Eisenstein saw Mickey's cartoon form as a liberating force for change, loosening the straitjacket of modern American culture while ironically being one of its defining forms. (Yet Eisenstein took little note of Mickey's already dominant presence in merchandising. As historian Gary Cross points out, by the 1930s, Mickey's figure was already being imprinted on "blankets, watches, toothbrushes, lampshades, radios, breakfast bowls, alarm clocks, Christmas tree lights, ties and clothing of all kinds".)
Of mice and men
The discussion – and Mickey's cultural dominance – has been widespread. The book How to Read Donald Duck, for example, offers a Marxist perspective on Disney comics, where Mickey is on the front line of American cultural imperialism.
In the art world, Andy Warhol created the Mickey Mouse Myths series in the early 1980s, street artist Keith Haring made images of Warhol as the famous rodent. Satirical cartoonist Robert Grossman fused Mickey with Ronald Reagan and designer Rick Griffin drew him as a protest singer – a sort of Disneyfied Dylan.
Digital artist John Craig "proved" Mickey's existence through geometry, and graphic designer Seymour Chwast summed up the simplicity of his construction in How to Draw Seven Circles.
At 90 years of age, Mickey – those seven circles – now stands astride popular culture and politics, embodying all its contradictions and ambiguities, pleasures and pains, past and present. He can be hugged in theme parks, enjoyed on screens, and admired for his sheer longevity.
And while Mickey may represent multiple meanings, notions of nostalgia and utopia remain embodied in his simple form. At one time this might have seemed backward looking and naive – but it has now made him a reassuring presence, as the world seems to slide unerringly into chaos and decline.
Little wonder then, that Mickey's whistle from Steamboat Willie in 1928 is now used as a prologue to Disney Pixar Films. As Walt always reminded everyone: "It started with a mouse." And as yet, much to the relief of those who embrace the House of Mouse (and there are many), there is no ending in sight.

Paul Wells does not work for, consult, own shares in or receive funding from any company or organisation that would benefit from this article, and has disclosed no relevant affiliations beyond their academic appointment.
An introduction to the Centre for Research in Communication and Culture
Hear from Director, John Downey about the broad spectrum of communication and culture research expertise at the CRCC.
SBE Impact Innovators: Professor Tom Jackson & Dr Martin Sykora
In this video, Tom and Martin discuss the way in which emotions are expressed via social media and how with super-fast processers, they can analyse these emotions to assess the mood of a nation.
Research Rising Star – Dr Marco Bohr
His work primarily explores the histories, theories and practices of photography, but his interests extend to cinema and its relationship with photography, and the globalisation of photography via the Internet.
Latest news from
The latest posts from Loughborough University's Research Blog