Research News
Latest news from
Articles by Loughborough academics featured on The Conversation
Are self-driving cars safe? Expert on how we will drive in the future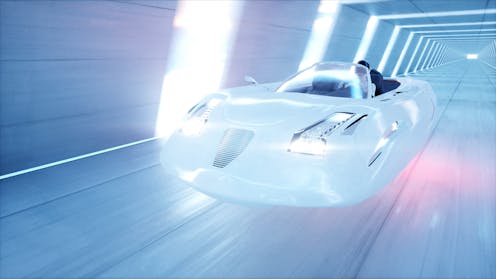 Cars are changing – fast. But are innovations such as autonomous and flying cars a bright new dawn, or just a wild pipe dream? And if they become the future's way of getting from A to B, can we trust them to take us there safely? Here are five key questions answered by an expert.
Are self-driving cars safe?
At present, the general public doesn't trust the concept of autonomous vehicles. In a recent survey, 15% of the US public said they don't believe there will ever be an autonomous vehicle on the market, and 42% said they would never ride in a fully automated vehicle. In addition, 56% of those surveyed would demand 100% safety before they would take a ride, and 60% said they'd demand the same level of safety – 100% – before letting a family member step into a fully autonomous vehicle.
But is this fair? The Eno Center for Transportation, a non-profit, independent think tank in Washington DC, has commented that "driver error is believed to be the main reason behind over 90% of all crashes". Replacing driver-controlled cars with autonomous ones could result in far safer road travel.
---
Read more: Driverless cars: once they're on the road, human drivers should be banned
---
To get to this point, however, all the vehicles on the road would have to be autonomous. It may be many years before this is the case, with a survey claiming that by 2034, autonomous vehicles will make up just 10% of all vehicles being bought and sold.
So, we know that this will take some time and, in the interim, there will be a mix of fully autonomous, partially autonomous and non-autonomous vehicles on the roads. This has the potential to cause problems. For example, cyclists or pedestrians crossing the road may make misplaced assumptions about a vehicle's capability to detect them.
We need to be certain that autonomous vehicles will be safe and reliable, and there is still some way to go. There have already been a handful of cases where autonomous vehicles have killed or seriously injured other road users when they did not act as predicted in certain traffic scenarios.
Autonomous vehicles will also only be able to operate on certain roads where appropriate infrastructure is in place – for example, road markings and signs – so that the vehicle can "read" the road and know what to do in different situations.
Without these, the vehicle will either give up and shut down altogether (leaving its occupants stranded), hand control to the driver (thereby defeating the object of vehicle autonomy), or do something entirely unpredictable and possibly disastrous.
Will cars change shape?
Vehicles may become multi-purpose spaces in the years ahead, enabling occupants to perform a number of different tasks while being transported from one place to another.
It's possible to imagine situations where cars become "offices on wheels" in which the occupants can work normally, hold meetings in transit, or even relax and recline during breaks. This will mean that the entire interior space will need to be redesigned to allow these types of activities. In turn, this could mean wider, taller and bigger vehicles, which will have further implications for road design.
What about flying cars?
There is plenty of space above us that is not currently used by aircraft, so the concept of flying cars has some merit. After all, it would potentially prevent many of the conventional problems associated with road traffic, especially congestion.
It could also be a very fast form of mobility. Flying vehicles would not be constrained by traffic controls, junctions and roundabouts. Another significant consideration would be financial; if all vehicles could fly, theoretically we would need far fewer roads, saving building and maintenance costs.
But the whole concept of flying cars would have to be regulated, or there would be no end of mid-air collisions. The consequences of these would potentially be much worse than crashes on the ground since debris falling from the sky would injure and kill people. Indeed, every mid-air collision would almost certainly have fatal implications.
Perhaps we could imagine dedicated "air corridors" controlled by on-ground traffic controllers who would work in the same way as traditional air traffic controllers. Regulation in this scenario would be essential, and it could be that the whole concept is limited to private professional operators running sky-based taxi services or transporting goods around cities. Numbers, after all, would have to be tightly controlled.
It is hard to see how members of the public would be allowed to simply purchase a flying car and drive it off the showroom forecourt. Finally, there are environmental issues, as some of the vehicles are likely to be powered by fossil-based fuels in order to achieve the necessary thrust – although the potential for electric-powered vehicles is also being explored.
And how about future driving tests?
As the motorist's task will change from driver to monitor, it's possible to envisage that the whole task will need to be regulated by some form of vehicle controller licence. "Controllers" (as opposed to "drivers") will need to learn much more about the vehicle's capabilities and limitations and will need to know what to do in emergency situations in which they may need to assume control. So, the task of controller might require twice as much knowledge as a conventional driver and the driving tests will need to evolve to reflect this.
Will all cars soon be computer-controlled?
All new cars are already computer-controlled to some degree. When a modern car has a defect, the normal procedure for finding out what is wrong involves a diagnostic test. This test relies on a computer system that links to the vehicle's computer processor, sensors, and microchips, logging any problems or issues. It can reveal flaws including problems with the exhaust, transmission, oil tank and other systems.
It is only a relatively small step from vehicle diagnostics to vehicle control and computing capability is already present on many vehicles for functionalities such as automatic cruise control, auto-parking, and advanced or autonomous emergency braking systems. The computer systems on future cars are likely to become extremely sophisticated.
As a result, autonomous vehicles are going to be very expensive compared to non-autonomous vehicles for the first few years after introduction. This may impede widespread uptake, as is presently the case with electric vehicles.

Andrew Morris receives funding from Research England, and the European Commission.
Climate change: six positive news stories from 2019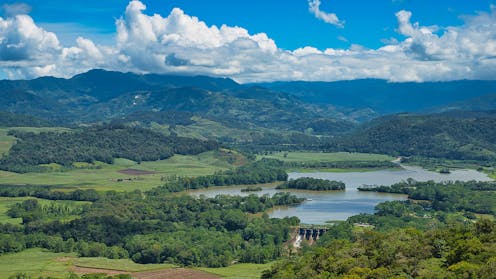 The climate breakdown continues. Over the past year, The Conversation has covered fires in the Amazon, melting glaciers in the Andes and Greenland, record CO₂ emissions, and temperatures so hot they're pushing the human body to its thermal limits. Even the big UN climate talks were largely disappointing.
But climate researchers have not given up hope. We asked a few Conversation authors to highlight some more positive stories from 2019.
Costa Rica offers us a viable climate future
Heather Alberro, associate lecturer in political ecology, Nottingham Trent University
After decades of climate talks, including the recent COP25 in Madrid, emissions have only continued to rise. Indeed, a recent UN report noted that a fivefold increase in current national climate change mitigation efforts would be needed to meet the 1.5℃ limit on warming by 2030. With the radical transformations needed in our global transport, housing, agricultural and energy systems in order to help mitigate looming climate and ecological breakdown, it can be easy to lose hope.
However, countries like Costa Rica offer us promising examples of the "possible". The Central American nation has implemented a refreshingly ambitious plan to completely decarbonise its economy by 2050. In the lead-up to this, last year with its economy still growing at 3%, Costa Rica was able to derive 98% of its electricity from renewable sources. Such an example demonstrates that with sufficient political will, it is possible to meet the daunting challenges ahead.
Financial investors are cooling on fossil fuels
Richard Hodgkins, senior lecturer in physical geography, Loughborough University
Movements such as 350.org have long argued for fossil fuel divestment, but they have recently been joined by institutional investors such as Climate Action 100+, which is using the influence of its US$35 trillion of managed funds, arguing that minimising climate breakdown risks and maximising renewables' growth opportunities are a fiduciary duty.
Moody's credit-rating agency recently flagged ExxonMobil for falling revenues despite rising expenditure, noting: "The negative outlook also reflects the emerging threat to oil and gas companies' profitability […] from growing efforts by many nations to mitigate the impacts of climate change through tax and regulatory policies."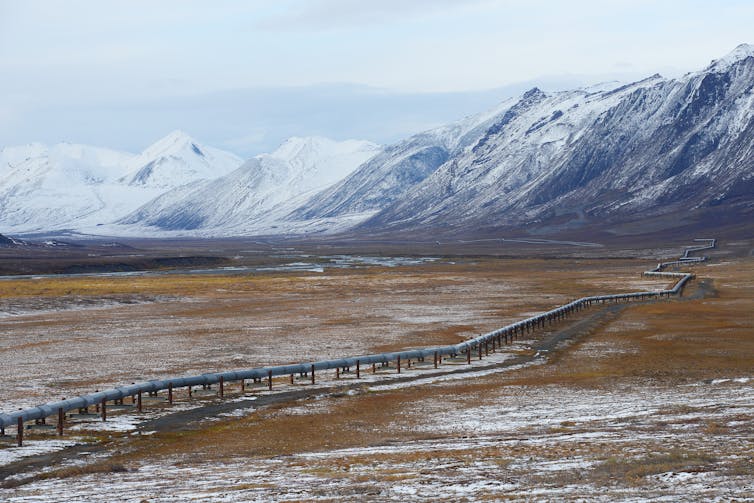 A more adverse financial environment for fossil fuel companies reduces the likelihood of new development in business frontier regions such as the Arctic, and indeed, major investment bank Goldman Sachs has declared that it "will decline any financing transaction that directly supports new upstream Arctic oil exploration or development".
We are getting much better at forecasting disaster
Hannah Cloke, professor of hydrology, University of Reading
In March and April 2019, two enormous tropical cyclones hit the south-east coast of Africa, killing more than 600 people and leaving nearly 2 million people in desperate need of emergency aid.
There isn't much that is positive about that, and there's nothing new about cyclones. But this time scientists were able to provide the first early warning of the impending flood disaster by linking together accurate medium-range forecasts of the cyclone with the best ever simulations of flood risk. This meant that the UK government, for example, set about working with aid agencies in the region to start delivering emergency supplies to the area that would flood, all before Cyclone Kenneth had even gathered pace in the Indian Ocean.
We know that the risk of dangerous floods is increasing as the climate continues to change. Even with ambitious action to reduce greenhouse gases, we must deal with the impact of a warmer more chaotic world. We will have to continue using the best available science to prepare ourselves for whatever is likely to come over the horizon.
Local authorities across the world are declaring a 'climate emergency'
Marc Hudson, researcher in sustainable consumption, University of Manchester
More than 1,200 local authorities around the world declared a "climate emergency" in 2019. I think there are two obvious dangers: first, it invites authoritarian responses (stop breeding! Stop criticising our plans for geoengineering!). And second, an "emergency" declaration may simply be a greenwash followed by business-as-usual.
In Manchester, where I live and research, the City Council is greenwashing. A nice declaration in July was followed by more flights for staff (to places just a few hours away by train), and further car parks and roads. The deadline for a "bring zero-carbon date forward?" report has been ignored.
But these civic declarations have also kicked off a wave of civic activism, as campaigners have found city councils easier to hold to account than national governments. I'm part of an activist group called "Climate Emergency Manchester" – we inform citizens and lobby councillors. We've assessed progress so far, based on Freedom of Information Act requests, and produced a "what could be done?" report. As the council falls further behind on its promises, we will be stepping up our activity, trying to pressure it to do the right thing.
Radical climate policy goes mainstream
Dénes Csala, lecturer in energy system dynamics, Lancaster University
Before the 2019 UK general election, I compared the Conservative and Labour election manifestos, from a climate and energy perspective. Although the party with the clearly weaker plan won eventually, I am still stubborn enough to be hopeful with regard to the future of political action on climate change.
For the first time, in a major economy, a leading party's manifesto had at its core climate action, transport electrification and full energy system decarbonisation, all on a timescale compatible with IPCC directives to avoid catastrophic climate change. This means the discussion that has been cooking at the highest levels since the 2015 Paris Agreement has started to boil down into tangible policies.
Young people are on the march!
Mark Maslin, professor of earth system science, UCL
In 2019, public awareness of climate change rose sharply, driven by the schools strikes, Extinction Rebellion, high impact IPCC reports, improved media coverage, a BBC One climate change documentary and the UK and other governments declaring a climate emergency. Two recent polls suggest that over 75% of Americans accept humans have caused climate change.
Empowerment of the first truly globalised generation has catalysed this new urgency. Young people can access knowledge at the click of a button. They know climate change science is real and see through the deniers' lies because this generation does not access traditional media – in fact, they bypass it.
The awareness and concern regarding climate change will continue to grow. Next year will be an even bigger year as the UK will chair the UN climate change negotiations in Glasgow – and expectation are running high.
---


Click here to subscribe to our climate action newsletter. Climate change is inevitable. Our response to it isn't.

Dénes Csala receives funding from The Faraday Institution.
Hannah Cloke works with local flood groups and advises local and national government on flood emergencies. Her flood research is funded by the Natural Environment Research Council, the European Commission's Horizon 2020 programme.
Marc Hudson is the social media editor for the academic journal Environmental Politics. He is a member of Climate Emergency Manchester, which is trying to get Manchester City Council to implement its many fine words on the climate emergency.
Mark Maslin is a Founding Director of Rezatec Ltd, Director of The London NERC Doctoral Training Partnership and a member of Cheltenham Science Festival Advisory Committee. He is an unpaid member of the Sopra-Steria CSR Board. He has received grant funding in the past from the NERC, EPSRC, ESRC, Royal Society, DIFD, DECC, FCO, Innovate UK, Carbon Trust, UK Space Agency, European Space Agency, Wellcome Trust, Leverhulme Trust and British Council. He has received research funding in the past from The Lancet, Laithwaites, Seventh Generation, Channel 4, JLT Re, WWF, Hermes, CAFOD and Royal Institute of Chartered Surveyors.
Heather Alberro and Richard Hodgkins do not work for, consult, own shares in or receive funding from any company or organisation that would benefit from this article, and have disclosed no relevant affiliations beyond their academic appointment.
Election coverage: thanks to Brexit, Labour had a media mountain to climb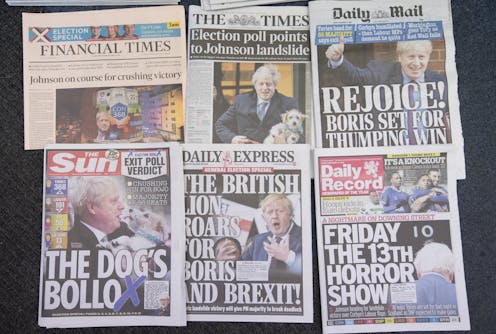 You don't have to deny the growing political significance of social media to accept that the mainstream media continue to play a vital role in informing and priming public opinion during elections. Moreover, both worlds are deeply connected. Fewer people are buying newspapers but plenty are accessing the same content online.
Broadcast and newspaper content is recirculated constantly via social media platforms and TV news remains the principal source of political information for most UK adults.
Crucially, it is professional journalists who, through their privileged access, provide the news and insight about political elites that provide so much of the basis for social media commentary (and complaint).
Loughborough University has been conducting a news audit of the 2019 general election throughout the campaign and our final report has just been published. Our analysis focused on election coverage in weekday TV evening news and the national paid-for press. It provides an empirical basis for testing some of the claims and counterclaims made about the media's performance during this vital political period.
A Brexit election?
One of these is the assumption that Brexit would dominate the media campaign. This had major party political implications, as the Conservatives, and to a lesser extent the Liberal Democrats, sought to bring the issue to centre stage and Labour aimed to shift the agenda onto other matters – in particular, healthcare provision.
Our research shows that the 2019 media election was initially about Brexit, then it wasn't about Brexit, and then it was again. Figure 1, below, compares the weekly trajectory of the issue in comparison to the other dominant issues in the media agenda. Brexit was the most dominant theme at the start and end of the campaign but in the intervening periods its prominence lessened, to the point that in week four it fell behind the two other substantive policy themes of the campaign: "health/healthcare" and "business/economy/trade".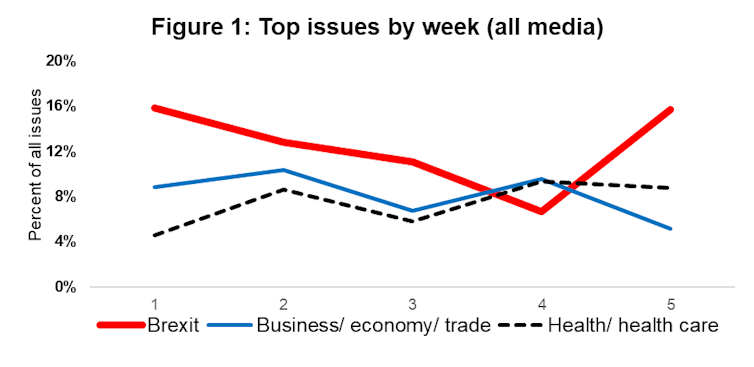 This dramatic decline in the penultimate week needs some interpretation. Brexit haunted the hustings throughout the election – but by that stage it had started to become part of the background context of the campaign rather than its focal point. This seems to have been noted by the prime minister, Boris Johnson, who voiced his concerns at the time that "people have slightly lost their focus on the political crisis that we face … And I think maybe we need to bring that back".
His mantra-like reiteration of the "Get Brexit Done" soundbite in the final days of the campaign undoubtedly fuelled the final rush of Brexit coverage.
But even when Brexit was reported, there was a lack of fiscal analysis as to what implementation might mean. This contrasted with the detailed appraisals frequently applied to other manifesto commitments. For example, the Institute for Fiscal Studies gained considerable media exposure on the basis of its analyses of parties' spending pledges and projections.
---
Read more: UK election 2019: why the BBC's approach to the IFS is a threat to its impartiality
---
Our research shows that 53% of these appearances linked to taxation related coverage and 46% to business and economy coverage. Only 8% connected to Brexit. (NB these percentages are separate and do not add up to 100).
Partisan press
We also monitored the scale of press partisanship in the campaign. That the national press in the UK is habitually pro-Conservative is news to nobody – but it is the scale of this partisanship rather than the fact of it that requires analysis.
In the immediate post-mortems after Labour's substantial defeat, some commentators have argued that the party should not seek to attribute its failure – even partly – to the hostility of the national press. Anti-Labour newspaper editorialising is just part of the electoral landscape that the party needs to work around or push through.
Our research is solely focused on content and offers no basis for drawing conclusions about cause and effect. That said, our analysis challenges the view that 2019 was "business as usual" in partisanship terms. Figure 2 shows the week-by-week totals and demonstrates how substantial the negative coverage of Labour was throughout the formal campaign and how it intensified. It is important to appreciate that this count was not entirely comprised of overt editorialising. It also included more factual news coverage that reported upon issues that had obviously negative implications for a party. ​
Figure 3 compares the aggregate trends found in 2019 with those we identified, using identical measures, in the 2017 general election. The results show that newspapers' editorial negativity towards Labour in 2019 more than doubled from 2017. In contrast, overall press negativity towards the Conservatives reduced by more than half.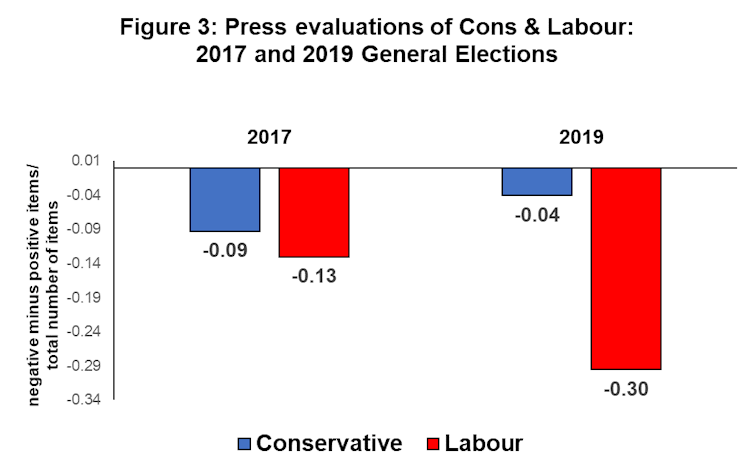 We must rightly be cautious about overly media-centric explanations for political outcomes, but this is not the same as saying the media's role was insignificant. In 2019, the Conservatives ultimately wrested control of the issue agenda in TV and press coverage and secured a far more emphatic newspaper endorsement than during the previous campaign. These factors cannot have helped Labour's cause.
​

David Deacon has received funding from The Economic and Social Research Council, the Leverhulme Foundation, the British Academy, the BBC and the Electoral Commission
Dominic Wring has previously received funding from the Leverhulme Foundation, the British Academy, Guardian, the BBC and the Electoral Commission
David Smith does not work for, consult, own shares in or receive funding from any company or organisation that would benefit from this article, and has disclosed no relevant affiliations beyond their academic appointment.
An introduction to the Centre for Research in Communication and Culture
Hear from Director, John Downey about the broad spectrum of communication and culture research expertise at the CRCC.
SBE Impact Innovators: Professor Tom Jackson & Dr Martin Sykora
In this video, Tom and Martin discuss the way in which emotions are expressed via social media and how with super-fast processers, they can analyse these emotions to assess the mood of a nation.
Research Rising Star – Dr Marco Bohr
His work primarily explores the histories, theories and practices of photography, but his interests extend to cinema and its relationship with photography, and the globalisation of photography via the Internet.
Latest news from
The latest posts from Loughborough University's Research Blog