Research News
Latest news from
Articles by Loughborough academics featured on The Conversation
Facebook's cryptocurrency: a financial expert breaks it down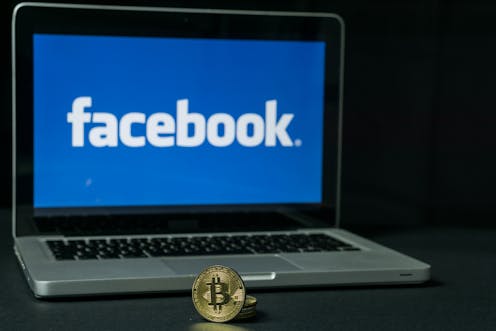 Facebook is reportedly preparing to launch its own version of Bitcoin, for use in its messaging applications, WhatsApp, Messenger and Instagram. Could this "Facecoin" be the long-awaited breakthrough by a global technology giant into the lucrative market for retail financial services? Or will it be yet another exaggerated "crypto" project, buying into the continuing excitement about decentralised peer-to-peer exchange but, in the end, not delivering very much? Time will tell, but my two decades of research into the economics of payments makes me sceptical.
We know little about Facebook's plans. So far there is just one company statement about a new group set up to look into cryptocurrencies reported by Bloomberg: "Like many other companies, Facebook is exploring ways to leverage the power of blockchain technology. This new small team is exploring many different applications. We don't have anything further to share."
Some investigative journalism from Bloomberg and the New York Times reveals a little more. Facecoin (and the similar "Gram" cryptocurrency being developed by the privacy focused messaging app Telegram) will apparently be a "stablecoin". Rather than having a fixed amount of currency that fluctuates in price, depending on demand, Facecoin will have a fixed price and the amount of it in circulation will vary. So unlike Bitcoin it will not be a vehicle for speculation.
What will the fixed price be? Bloomberg reports it will be fixed against the dollar. The New York Times says that it will be against a combination of dollar, euro and yen. Who will use it? Facebook is apparently focusing on providing a technology solution for the large and lucrative remittance market for payments into India. Will transactions in Facecoin be anonymous like those in Bitcoin? No, they will be associated with Facebook accounts, so they won't be an easy means to avoid laws and regulations.
Reasons to be sceptical
While this is a fascinating development, some scepticism is in order. If there is one common feature to the many hundreds of crypto and blockchain finance projects announced over the past four years, it is exaggerated early claims. In one ongoing research project, I have found that of 103 projects announced since 2015 applying so-called blockchain technologies to financial services, all but a handful have quietly disappeared. None have yet been taken through to commercial-scale launch (although around half a dozen may achieve that by 2021).
Is there anything about Facebook's plans to suggest a different outcome? The obvious parallel is with the Chinese payment solution WeChat Pay, globally the largest mobile and internet payment solution used by "900 million active users". In Beijing and Shanghai "even beggars have QR codes" that allow passers by to scan and give them money using their smart phones. The integration into the WeChat messaging system is what gave WeChat Pay the critical mass to achieve widespread acceptance. Facecoin's integration with WhatsApp and other Facebook services could support a similarly rapid take-off.
But WeChat Pay doesn't involve cryptocurrency. It uses established server technologies to enable people to transfer money in and out of conventional bank accounts as well as to other users.
The New York Times reports, rather surprisingly, that Facecoin (unlike WeChat Pay) will be based on integration with cryptoexchanges, which trade conventional money for digital currencies, rather than with the conventional banking system. But given that cryptoexchanges are coming under increasing regulatory pressure because of their lack of transparency and irregularities in how they operate, linking with them is hardly likely to encourage people to adopt Facecoin.
It is also difficult to make sense of the intended use of Facecoin for remittances. Major banks already send dollars virtually instantaneously and costlessly from one country to another. Costs and inefficiencies arise in the final mile when converting funds to local currency and allocating them to a local bank account or for cash collection. The Facecoin technology will do nothing to address these problems.
Who pays out?
Another question mark is about the backing for Facecoin. Unlike Bitcoin, which is not pegged to any other currency, Facecoin will need the backing of real money to maintain its fixed price. The safest approach will be full reserving: for every $1 of Facecoin issued, Facebook could hold $1 of reserves in a segregated account.
Fractional or partial reserving is also possible but who then guarantees the safety of those reserves? If reserves do not cover withdrawals, who is then responsible and what compensation is there for holders of Facecoin? Facebook would need a banking licence and subject itself to the full burden of banking regulation. Ideally, reserves would be held with a central bank. But central banks will be reluctant to support a private currency.
Perhaps the biggest reason for scepticism comes from the challenges Facebook already faces over user data, privacy and authenticity. If Facebook takes as big a role in daily payments as it already has in personal communications and social media, then it will become an even bigger target for the growing anti-trust movement that seeks to break up the tech giants.
Fundamental change is possible. Cryptocurrency technologies could be used to eliminate the instability of fractionally reserved banking. But this will have to be through a state currency replacing fractionally reserved bank transaction accounts and not through a private currency.
It would probably be wiser for Facebook to outsource Facecoin to an established international bank. But then, of course, this wouldn't be such a major disruption of established financial services.

Alistair Milne has recieved funding for research related to this article from RCUK, the Swift Institute, the Sloan Foundation and the Government Office for Science
Barbie at 60: instrument of female oppression or positive influence?
Barbie Millicent Roberts, from Wisconsin US, is celebrating her 60th birthday. She is a toy. A doll. Yet she has grown into a phenomenon. An iconic figure, recognised by millions of children and adults worldwide, she has remained a popular choice for more than six decades – a somewhat unprecedented feat for a doll in the toy industry.
She is also, arguably, the original "influencer" of young girls, pushing an image and lifestyle that can shape what they aspire to be like. So, at 60, how is the iconic Barbie stepping up to support her fellow women and girls?
When Barbie was born many toys for young girls were of the baby doll variety; encouraging nurturing and motherhood and perpetuating the idea that a girl's future role would be one of homemaker and mother. Thus Barbie was born out of a desire to give girls something more. Barbie was a fashion model with her own career. The idea that girls could play with her and imagine their future selves, whatever that may be, was central to the Barbie brand.
However, the "something more" that was given fell short of empowering girls, by today's standards. And Barbie has been described as "an agent of female oppression". The focus on play that imagined being grown up, with perfect hair, a perfect body, a plethora of outfits, a sexualised physique, and a perfect first love (in the equally perfect Ken) has been criticised over the years for perpetuating a different kind of ideal – one centred around body image, with dangerous consequences for girls' mental and physical health.
Body image
Toys have a significant influence on the development of children, far beyond innocent play. Through play, children mimic social norms and subtle messages regarding gender roles, and stereotypes can be transmitted by seemingly ubiquitous toys. Early studies in the 1930s by Kenneth and Mamie Clark showed how young black girls would more often choose to play with a white doll rather than a black doll, as the white doll was considered more beautiful – a reflection of internalised feelings as a result of racism.
The same supposition – that girls playing with Barbie may internalise the unrealistic body that she innocently promotes – has been the subject of research and what is clear is that parents are often unaware of the potential effects on body image when approving toys for their children.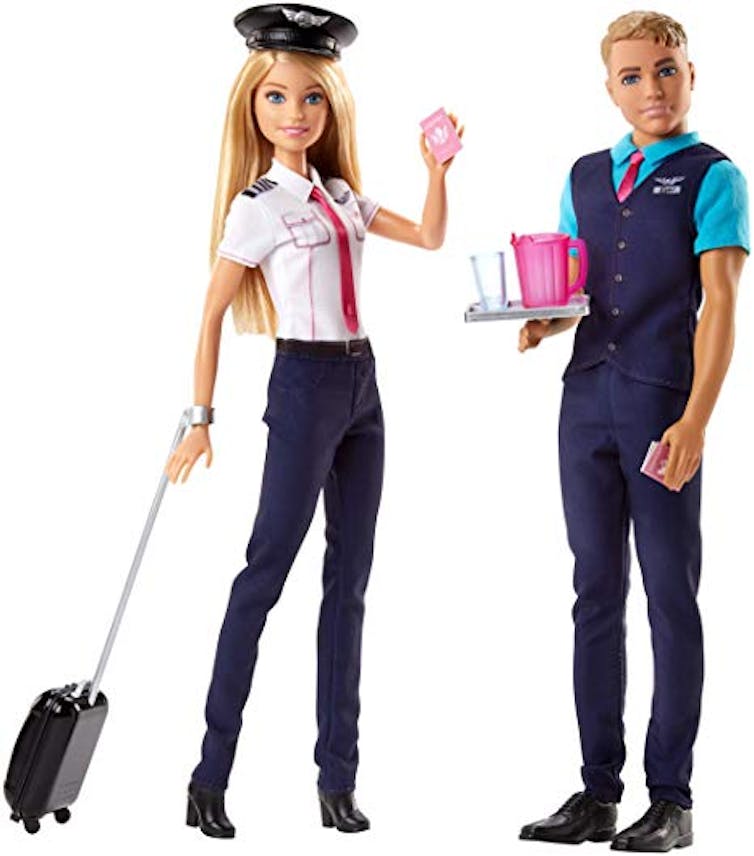 A group of UK researchers in 2006 found that young girls aged between five-and-a-half and seven-and-a-half years old who were exposed to a story book with Barbie doll images had greater body dissatisfaction and lower body esteem at the end of the study compared to young girls who were shown the same story with an Emme doll (a fashion doll with a more average body shape) or a story with no images.
More worrying, there were no differences between groups of girls aged five-and-a half and eight-and-a-half years of age, with all girls showing heightened body dissatisfaction. Another study ten years later found that exposure to Barbie dolls led to a higher thin-ideal internalisation, supporting findings that girls exposed to thin dolls eat less in subsequent tests.
Exposure to unhealthy, unrealistic and unattainable body images is associated with eating disorder risk. Indeed, the increasing prevalence of eating disorder symptoms in non-Western cultures has been linked to exposure to Western ideals of beauty. Barbie's original proportions gave her a body mass index (BMI) so low that she would be unlikely to menstruate and the probability of this body shape is less than one in 100,000 women.
Changing shape
With growing awareness of body image disturbances and cultural pressures on young girls, many parents have begun to look for more empowering toys for their daughters. Barbie's manufacturer, Mattel, has been listening, possibly prompted by falling sales, and in 2016 a new range of Barbies was launched that celebrated different body shapes, sizes, hair types and skin tones.
These have not been without criticism; the naming of the dolls based on their significant body part (curvy, tall, petite) is questionable and again draws attention to the body, while "curvy" Barbie, with her wider hips and larger thighs, remains very thin. Despite this, these additions are a welcome step in the right direction in allowing girls to play with Barbie dolls that provide more diversity.
More than a body
If Barbie was about empowering girls to be anything that they want to be, then the Barbie brand has tried to move with the times by providing powerful role playing tools for girls. No longer is Barbie portrayed in roles such as the air hostess – or, when promoted to pilot, still dressed in a feminine and pink version of the uniform. Modern pilot Barbie is more appropriately dressed, with a male air steward as a sidekick.
Such changes can have a remarkable impact on how young girls imagine their career possibilities, potential futures, and the roles that they are expected to take. Mattel's move to honour 20 women role models including Japanese Haitian tennis player Naomi Osaka – currently the world number one – with her own doll is a positive step in bringing empowering role models into the consciousness of young girls.
Children who are less stereotyped in their gender and play are less likely to be stereotyped in their occupations and are more creative. But of course, society needs to mirror this. In the week when Virgin Atlantic abolished the requirement to wear make up for female cabin crew, the arduous journey away from constraining female body and beauty ideals could slowly be taking off. But in a culture where female ageing is now an aesthetic pressure felt by many, perhaps Mattel will show us diversity in age and womanhood? Happy 60th birthday to the still 20-year-old looking Barbie.

Gemma Witcomb does not work for, consult, own shares in or receive funding from any company or organization that would benefit from this article, and has disclosed no relevant affiliations beyond their academic appointment.
Honda closure: Brexit is tipping the UK's car industry over the edge
Britain's car industry has faced a barrage of bad news in 2019. Honda is the latest casualty, announcing it will close its Swindon car plant, which employs 3,500 people, in 2021. It follows notice from Nissan that it is withdrawing investment from its Sunderland plant and the announcement of job cuts by Jaguar Land Rover and Ford.
There are lots of reasons for this retrenchment. Globally, there has been a stall in car sales combined with a glut in production. Then there's the turn against diesel – once seen as a climate-friendly alternative to petrol. The VW emissions scandal has seen sales of diesel cars plummet.
So there are clearly bigger, longer-term trends at play than Brexit. But, for the UK car industry specifically, there are no positives in Britain leaving the EU. What's more, the government's handling of Brexit is making it easy for global car manufacturers to decide to leave the UK.
How did we get here?
Japanese cars first came to Britain in the 1970s when demand started to surge. With the domestic car industry unable to increase production and meet this demand, Datsuns (now owned by Nissan) became popular – not least because of their superior build quality.
Japanese car makers went on to establish a position in the market in the UK and across Europe and opened purpose-built plants in the UK, which became some of the most efficient in the world. When Margaret Thatcher was prime minister in the 1980s she promoted Britain as a gateway to Europe. Honda set up shop in Swindon and Nissan in Sunderland to avoid the 10% tariff on car imports from outside the single market.
Honda's announcement that it is closing its highly efficient Swindon plant is a fascinating, albeit sad, example of how companies and politicians attempt to rationalise their decision making. Honda has come out and said that Brexit was not the cause of the decision to close the plant in 2022. This has been jumped on by Brexiters attempting to either justify their position on leaving the EU or distance themselves from the ongoing negotiations taking place over the terms of Britain's exit. But it's incredibly hard not to see this decision, at this time, as a consequence of Brexit.
With Theresa May refusing to rule out a no-deal Brexit, it is incredibly difficult not to see it as a major factor pushing Honda to this conclusion. Honda is intent on developing its electric car range and is currently faced with the decision of where to do it. Why not do so at its existing factory? Swindon is based on the M4 corridor, which includes the towns of Reading and Bracknell, an area often described as Briton's Silicon Valley – so the technology infrastructure would undoubtedly be available.
But a UK outside of the EU is not an attractive option for future investment, especially as Japan now has its own trade deal with the EU, which includes the phasing out of tariffs on cars over the next eight years. This is a benefit that will not include the UK if there's a hard Brexit, which is still a possibility. So this uncertainty over the Brexit negotiations makes Honda's decision totally logical.
---
Read more: UK's post-Brexit trade with Japan in jeopardy while uncertainty persists
---
It is also why Japan's politicians have pressed for a soft Brexit ever since the referendum result. This has been increasingly vocal as the Brexit date approaches. Shinzo Abe, the Japanese prime minister, has told Theresa May that the "whole world" wants to avoid a no-deal Brexit in January.
As well as Honda and Nissan, Toyota is the third big Japanese car maker with UK operations. It has not made any Brexit-related announcements yet and this could be linked to the fact that it has concentrated on hybrid technology since launching the Prius in 2000. This means it has been more immune from shifts in environmental thinking and has just launched production of the new Corolla at its Burnaston plant in Derbyshire. Toyota has said that decisions are not being made beyond the next five to six years.
So despite attempts to downplay Brexit as the reason for the break up of motor manufacturing in the UK, there is ample evidence that Brexit – and the uncertainty that dogs the UK's future relations with Europe – is the last straw. Car makers across the world face myriad challenges to stay profitable; they don't need Brexit to add to their troubles.

Prof Jim Saker is a Vice President of the Institute of the Motor Industry.
An introduction to the Centre for Research in Communication and Culture
Hear from Director, John Downey about the broad spectrum of communication and culture research expertise at the CRCC.
SBE Impact Innovators: Professor Tom Jackson & Dr Martin Sykora
In this video, Tom and Martin discuss the way in which emotions are expressed via social media and how with super-fast processers, they can analyse these emotions to assess the mood of a nation.
Research Rising Star – Dr Marco Bohr
His work primarily explores the histories, theories and practices of photography, but his interests extend to cinema and its relationship with photography, and the globalisation of photography via the Internet.
Latest news from
The latest posts from Loughborough University's Research Blog