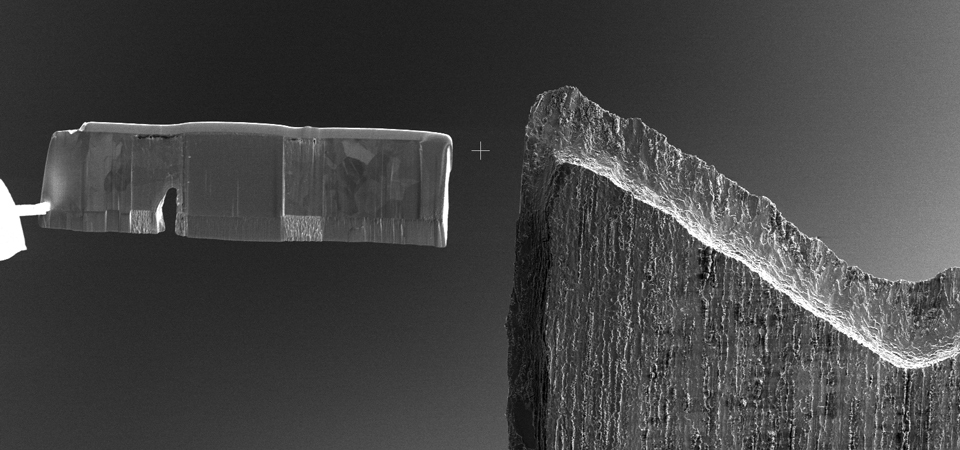 Loughborough Materials Characterisation Centre (LMCC) is a core research and enterprise facility at Loughborough University that has been recognised as a Centre of Excellence. The centre enables researchers at Loughborough University to carry out high quality characterisation of materials down to the atomic level.
In addition to the £6M of high value characterisation equipment the centre is supported by a team of 8 specialist staff who have a combined experience of more than 100 years in the field. As a core facility we provide support to all researchers at Loughborough University.
Maximise your Research Outputs
Academic support
LMCC would like to collaborate with academics across Loughborough University, to help you maximise your research outputs. If you would like to discuss how the facilities within LMCC could benefit your research, please get in touch and we would be delighted to arrange a tour of the facilities.
The staff within the centre can either carry out analysis on your behalf or alternatively, if you have a researcher working on the project, we can provide bespoke training so they can carry out the analysis independently.
Researchers are asked to contribute to the maintenance costs of keeping equipment operational. Further information about the costs of using equipment located within the centre can be found on the Intranet Here.
We strongly encourage all academics to factor LMCC costs into grant proposals, which LMCC staff are more than happy to provide support with.
Researcher Support
LMCC supports all researchers at Loughborough University. If you are a researcher at Loughborough and would like to access the facilities within the centre, we suggest you first discuss the aims of your work with a member of the team. We will then be able to advise on the training requirements, turnaround time and budget implications. You will then be required to set up an account on our booking system. Further information is available on the intranet.
If you are interested to know more about the equipment located within LMCC and how this could benefit your research further information is available on our online training platform.
Hand's on Training
Publications
One of the key aims of the centre is to help researchers maximise their potential and enable high quality publications. If you would like assistance with generating data for a publication, specialist staff can provide input and can also help review manuscripts prior to submission. To ensure the sustainability of the centre it is vital that any data generated from LMCC used in publications must be acknowledged.
View Publication Policy
Talk to Us
All the staff within the centre are here to support academics and researchers from all departments at Loughborough University. Please do not hesitate to get in touch. We will be more than happy help you maximise your research.
01509 223348
lmcc@lboro.ac.uk