Intelligent automation
The competitiveness, resilience, and productivity of high value manufacturing is increasingly dependent on the ability to embed intelligence within manufacturing processes and systems, such as smart machines, robotics, and human-machine collaborative systems.
Our Intelligent Automation Centre is at the forefront of the development of intelligent manufacturing processes and advanced autonomous machines and technologies for processes that have previously been considered too difficult to automate. These solutions are transforming manufacturing, improving production efficiency and increasing flexibility while maintaining high levels of quality.
A human centric approach is taken in our research, considering the important role people will play in future highly automated manufacturing environments. We are leading research at the cutting edge of safe collaborative autonomous systems, and taking a holistic approach to ensuring successful deployment.
Industrial Robots-as-a-Service
We lead a major collaborative industry project to investigate the means to reduce the effort of deploying and repurposing generic off-the-shelf robots and mobile autonomous platforms and provide them with the ability to work in teams with people and other robots. The Industrial Robots-as-a-Service model aims to deliver resilient and responsive manufacturing systems enabled by rapidly deployable mobile robots, enabling more economic and sustainable manufacturing.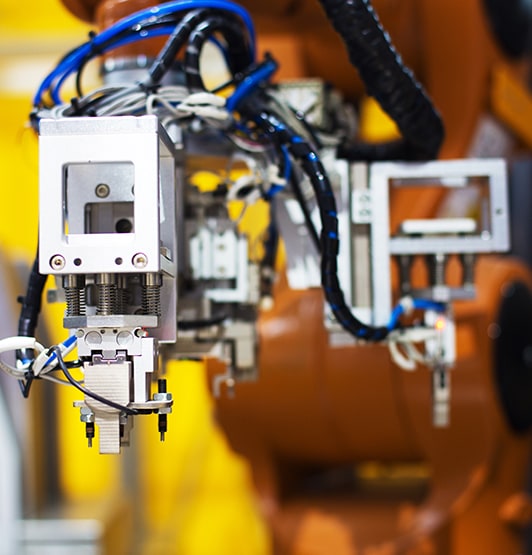 Reconfigurable robotics for responsive manufacture
We are part of a cross-disciplinary robotics, AI and control and automation research project developing game changing approaches to resilience in manufacturing. Together with industrial partners we are developing new algorithms that can automatically generate programme and configuration data from CAD and process data that eliminates the need for significant human input. The project also considers how to automatically configure the safety system so that it is safe and legally compliant but also implement a flexible framework.
Digital Toolkit for optimisation of operators and technology
We are part of a collaborative project that aims to develop a Toolkit to optimise productivity and communication between human workers and robots. The DigiTOP project aims to deliver an open-access suite of digital tools to enable real-time capture and prediction of impact, allowing digital technologies to be optimised for manufacturing system performance
Goal-oriented control systems
An EPSRC Established Career Fellowship award in control (£1.6m, 2020-25) is enabling the development of a new fundamental theory and design tools for the emerging field of Goal-Oriented Control Systems (GOCS) to underpin efficient and safe operation of highly automated systems in public spaces. The research aims to build up safety cases, and to provide both assurance and support to industry and to regulatory bodies.
Lifelong learning for autonomous systems
We are part of an international project that aims to give the artificial intelligence systems behind autonomous systems the ability to learn new tasks and preserve experience without losing or displacing previous learning—features not possible with current AI systems. Part of the Lifelong Learning Machines (L2M) program launched by the Defense Advanced Research Project Agency, the Super Turing Evolving Lifelong Learning ARchitecture (STELLAR) project is now building novel AI with durable layers of training and experience.
Openly accessible plug-and-produce (P&P) system
As part of the major European project openMOS (Open dynamic Manufacturing System for Smart Plug-and-Produce Automation Components), we created a new cyber-physical system standard for skill-based automation to help companies manufacture faster, at a consistently higher quality and lower cost, in an agile environment in partnership with industry and academia. The openMOS solution allows quick and efficient integration of machines and automation systems within production environments - a prerequisite for the implementation of Industry 4.0 solutions.
Adaptive automated TIG welding
We are working in partnership with industry to develop an adaptive and automated closed loop controlled TIG welding system. In this Innovate UK project, sensors are being used to establish welding paths and vision systems are used to collect and analyse images of the weldpool for real time adaptive control. The innovative approach of combining sensor data and process knowledge aims to provide a solution to overcome the barriers to robotic TIG welding enabling a demonstration system to address, monitor and control the full welding process leading to a high-productivity and low-defect rate TIG welding process.