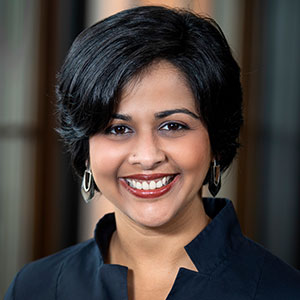 Ruki Neuhold-Ravikumar
Ias Spotlight Series: Design Leadership Summit: Applied Storytelling
Acting Under Secretary for Education, Smithsonian Institution, USA
Neuhold-Ravikumar is the Smithsonian's Acting Under Secretary for Education. She is responsible for defining the Smithsonian's educational priorities. She concentrates her efforts on Institution-wide educational initiatives, communication strategies and funding for programs that benefit learners of all ages, and focusing on sharing the vast resources of the Smithsonian with the education community to support the needs of K–12 teachers and students at the local and national level.

Neuhold-Ravikumar previously served as the Interim Associate Provost for Education and Access. Prior to that, she was director of education at the Cooper Hewitt (2017–2019), where she continues to contribute to the museum's education program. Neuhold-Ravikumar draws from her international experiences as a designer and educator to inform her human-centered approach to reimagining education at the Smithsonian.

Originally from Chennai, India, she holds a bachelor's degree in the history of fine art and drawing and painting from the Stella Maris College (India), a Master of Fine Arts in graphic design from Iowa State University and an executive education certificate in business from Yale University. Before joining the Smithsonian in 2017, Neuhold-Ravikumar, an award-winning designer, was an associate dean and professor of design at the University of Central Oklahoma in Edmond, Oklahoma. She has served in leadership roles at all levels of the American Institute of Graphic Arts (AIGA), and in 2015, was awarded the prestigious title of AIGA Fellow for her advocacy and leadership as a design educator.