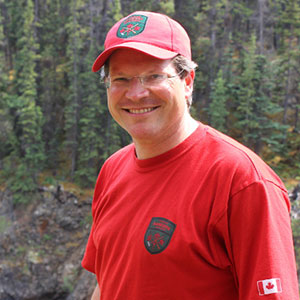 Professor P. Whitney Lackenbauer
IAS Spotlight Series: Arctic Geopolitics
Trent University, Canada
P. (Paul) Whitney Lackenbauer (pronouns he/him) is Canada Research Chair (Tier 1) in the Study of the Canadian North and Professor in the School for the Study of Canada at Trent University. He was Honorary Lieutenant-Colonel of 1st Canadian Ranger Patrol Group based in Yellowknife, Northwest Territories from 2014-2020.

He is also a Fellow with the Bill Graham Centre for Contemporary History at the University of Toronto; the Arctic Institute of North America; the Centre for Military, Security and Strategic Studies at the University of Calgary; and an adjunct professor with the Brian Mulroney Institute for Government at St. Francis Xavier University and the Department of Homeland Security and Emergency Management and the Center for Arctic Security and Resilience, School of Management, University of Alaska Fairbanks. Whitney specializes in Arctic security, sovereignty and governance issues, modern Canadian military and diplomatic history, and Indigenous-state relations.

Whitney's recent books include Breaking Through? Understanding Sovereignty and Security in the Circumpolar Arctic (co-edited, 2021); On Thin Ice? Perspectives on Arctic Security (co-edited, 2021); Canada and the Maritime Arctic: Boundaries, Shelves, and Waters (co-authored 2020); Custos Borealis: The Military in the Canadian North (edited 2020); Governing Complexity in the Arctic Region (co-authored 2019); Breaking the Ice Curtain? Russia, Canada, and Arctic Security in a Changing Circumpolar World (co-edited 2019), China's Arctic Ambitions and What They Mean for Canada (co-authored 2018).