Changing environments and infrastructure
Our transdisciplinary research tackles the complex challenges to global economies and ecosystems presented by climate, land use and hydrological change. Our expertise spans the fundamental sciences of the natural environment, understanding and building resilience to natural hazards and the implementation of environmental technologies within developed and less developed economies. We work with industry, policymakers, including national and international government agencies and NGOs such as the World Bank, United Nations and Environment Agency to deliver sustainable solutions and far-reaching impact.
Environmental process and change
Terrestrial and aquatic environmental systems are under threat from anthropogenic disturbance and environmental change. We use fundamental science to advance understanding of the functioning and controls on physical, chemical and biological processes in a range of contemporary to palaeo environments across the globe.
We are also advancing knowledge of ecosystem processes and interactions within specific environments, to observe, characterise, predict and reconstruct the process-response of natural systems particularly in the context of a changing climate and other forms of environmental disturbance.
Measuring the weather on Everest
A climate scientist from Loughborough was part of a team led by the National Geographic Society and Tribhuvan University (Nepal) in partnership with Rolex, in what is believed to be the most comprehensive single scientific expedition to Mount Everest in history. Installing the two highest weather stations in the world informs understanding of how the jet stream may be changing as the climate warms, and how quickly high-altitude glaciers in the Himalayas – which store and supply water for hundreds of millions of people – may be retreating.
Environmental hazards and resilience
Escalation of urban development and intensive land use threatens natural resources and critical infrastructure in developed and developing economies.
We apply fundamental understanding of the geosphere, hydrosphere, atmosphere and biosphere to how buildings and infrastructure are affected by both constant environmental change and extreme events.
Advancing knowledge in these areas, we provide valuable insights that enable governments, asset managers and community organisations to develop and implement effective strategies for resilience in the face of environmental hazards. Our research activities also relate to secure and resilient societies.
Real-time, property-level flood forecasting
Two decades of Loughborough research has led to the launch of hyper-local surface water flood nowcasting enabling governments, emergency services, asset managers and humanitarian organisations to prepare and respond to flood events. The service, which is validated in 50 cities across 5 continents, was integrated in July 2020 into the UK Cabinet Office's ResilienceDirect – a world first for an emergency planning system. Previsico, Loughborough's insurtech spinout, is scaling up the technology for global impact.
Environmental technologies
We have an established track record of working with the private and public sector to deliver appropriate technological solutions to address local, national, and global challenges.
The Water Engineering and Development Centre (WEDC) builds on over 40 years of providing safe water and sanitation in low-and middle-income countries, to face the common challenges of water engineering in both developed and developing economies.
We apply transdisciplinary approaches to complex issues such as managing the life cycle of plastic from production to environmental fate. Our pioneering new developments in autonomous vehicles, artificial intelligence and environmental sensors provide real-time information of environmental conditions to tackle issues such as crop disease and water pollution.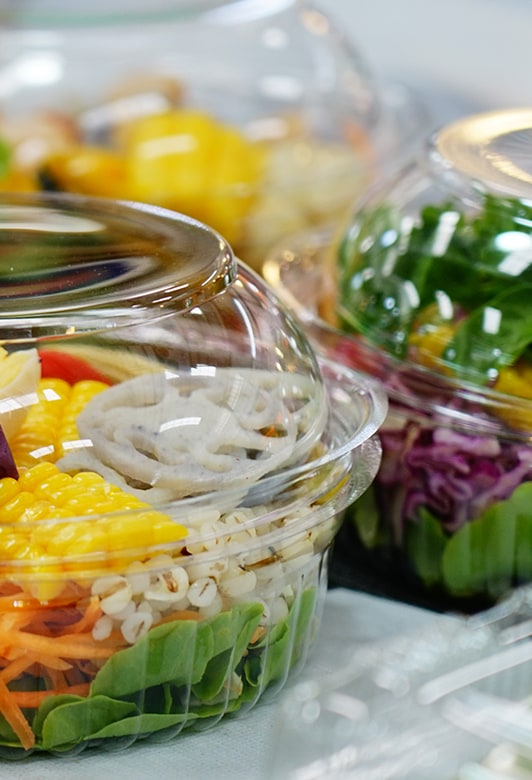 Tackling single-use waste plastic
The rise in convenience consumer lifestyles is driving the 'food to go' market which generates significant single-use plastic packaging waste. Loughborough is undertaking a £1M project as part of UKRI's Smart Sustainable Plastic Packaging Challenge to find alternatives to eliminate plastic waste. The project brings together experts in packaging technology, user behaviour, sustainable design and manufacturing, and polymer chemistry with project partners that represent the interests of all stakeholders and stages within the supply chain; from manufacturer through to retailer.
University-wide state-of-the-art laboratories reinforce our transdisciplinary capability and expertise. Here are some notable facilities.