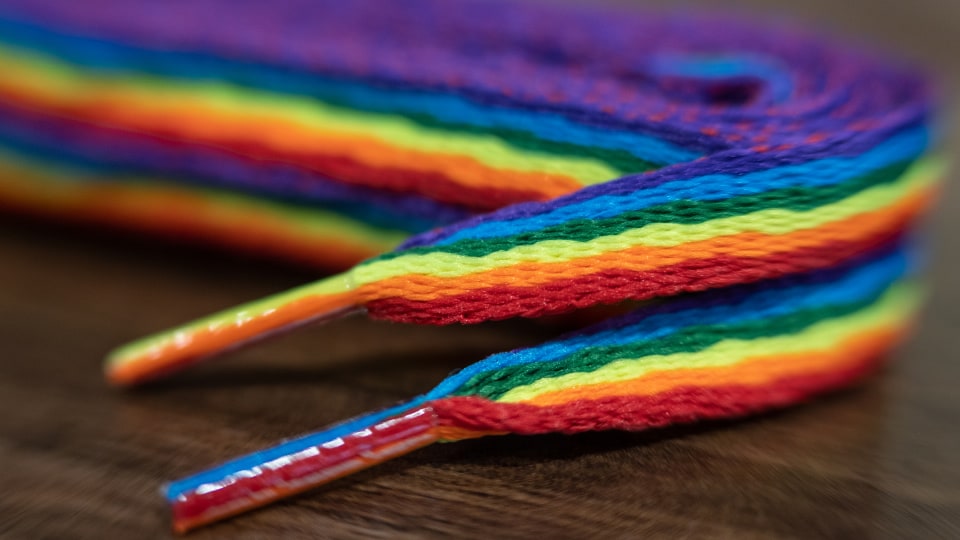 On 8th December 2021, we supported the Rainbow Laces campaign right here on campus. Following previous achievements in 2019 where we got behind the national Rainbow Laces campaign to help raise awareness and make a stand against homophobia, biphobia and transphobia in sport. In 2019 we sold 1,300 pairs of laces.
What's it all about?
Sport has the power to change lives, build friendships and confidence, as well as improve physical and mental health. It's an integral part of our DNA here at Loughborough University and within the #LboroFamily.
The Stonewall Rainbow Laces campaign is an effort to make sport more inclusive, leaving no room for hate. Whilst we have come a long way, there is so much more work to be done.
Rainbow Laces are a clear, physical way of showing support for LGBT+ people in sport, but also acts as a statement that sport should be for everyone. When you step up and play your part, others will follow.
How can I get a pair of laces?
Laces are a minimum of £2.50 per pair, and funds raised will be sent to a nominated charity. Watch out on our social media channels for further details! Please note, payment for these laces is by card.
Head to your nearest #LboroLaces venue, listed below, to grab a pair.
This year we have a variety of laces available featuring different LGBT+ identity flags including Trans, Non Binary, Bi, Pan, Ace and Lesbian.
Venues selling laces
Loughborough Student Union reception, Union Building
How can my team get involved?
So, you're part of an AU club or student group and you want to get involved in the #LboroLaces campaign – that's great! Here's our advice on how to get stuck in…
Take to social media, using our toolkit at the bottom of the page or your own words, and express yourselves! Videos explaining why the campaign is important using the stats at the top of the page, simple video messages of "we are supporting" / "I am supporting", team photos, photos of boots or equipment featuring the Rainbow Laces. Use #LboroLaces so we can see you!
Take time to learn about the cause. Use the Stonewall "Being an Inclusive Teammate" guide to understand how you can be a better teammate.
What can I do to support the campaign?
Buy a pair of Rainbow Laces and wear them on your shoes / trainers / sports boots / in your hair / on your sports equipment

.

Encourage your friends, flatmates, course friends, and teammates to get involved with the campaign. When you step up and play your part, others will follow.
Show your support on social media using #LboroLaces!