The event was held in the Sir Denis Rooke building on the Loughborough campus. Opening the evening was the Director of Rugby, Rhys Edwards. He talked about the successes of the club, some of its history, and also shared ways in which people can continue to get involved in the club.
Hosted by Rugby Programme Director and former Loughborough student, James Gallagher, a panel came together to share their personal experiences of rugby at Loughborough and beyond. Sharing their stories were Liza Burgess - a former Welsh Rugby star and Wales U20s coach, Nigel Gillingham OBE - President of the RFU, Sarah Hunter MBE - England Rugby Captain and Loughborough Lightning player and coach, and Alan Buzza - a former Director of Rugby at the University (all pictured below).
During the event a number of honorary life memberships were gifted to key members of the Loughborough Rugby community, recognising their contributions to the sport and the club.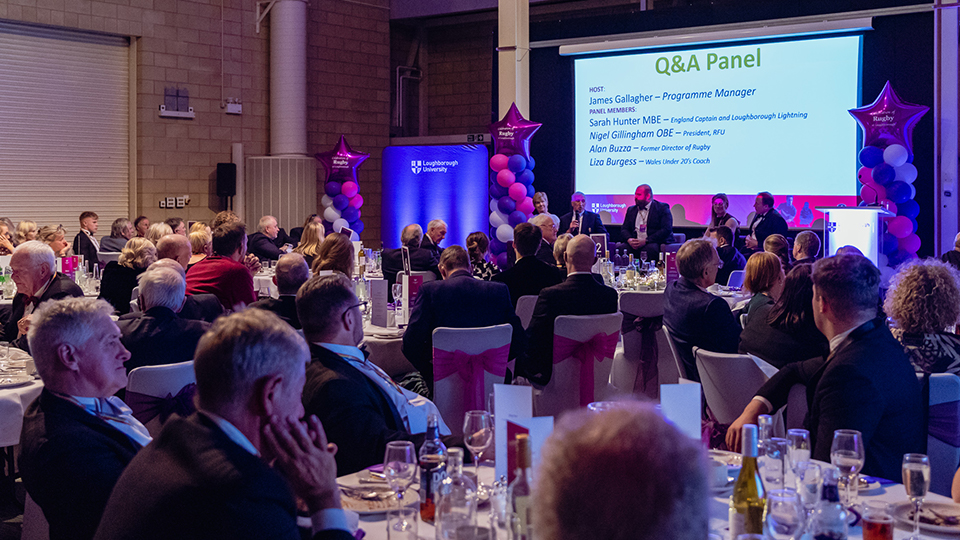 More than 60 people in attendance. Alumni who enjoyed rugby here at Loughborough during their studies came to celebrate and reminisce, with many people sitting in groups of former clubs – enjoying gatherings of old friends. Current students from the Rugby team also attended, bringing together people of all generations to celebrate such a special part of the Loughborough story.
Did you miss out this year? Make sure your contact details are up to date so that you receive invitations in the future.
Photographs of the event can be viewed online.