Assistant Headteacher and Rugby Coach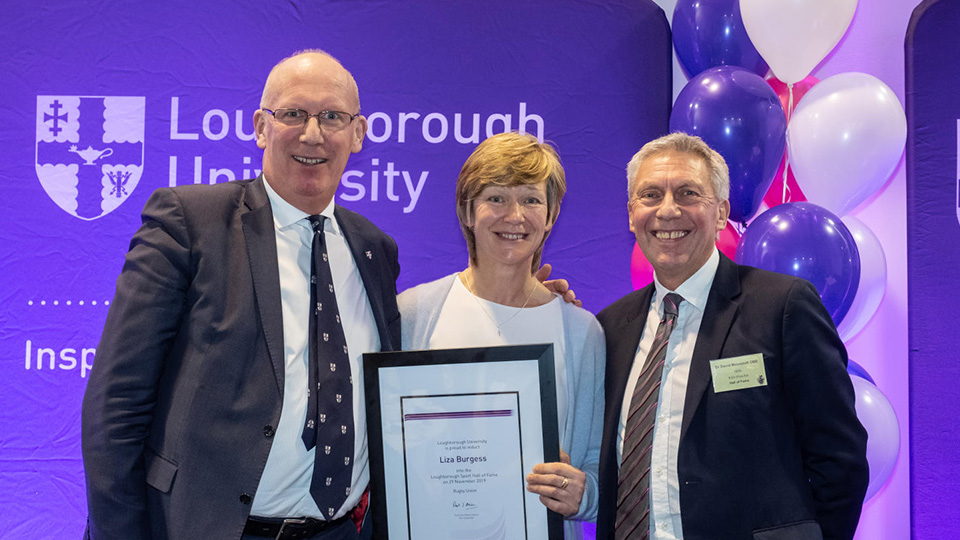 Liza Burgess studied Education and Physical Education at Loughborough University, graduating in 1987. In 2018 she was inducted into the World Rugby Hall of Fame, having been the first captain of the Welsh Women's Rugby team. Here we learn about her extensive involvement in women's rugby, founding a rugby team and her teaching career.
Why did you choose to study Education & Physical Education at Loughborough University?
I always had a passion for sport and wanted to have a career in sport. Initially I studied Recreation Management along with Physical Education and Sport. For me there was only one university that had a fantastic reputation for sport and once I had visited Loughborough I knew that was where I wanted to be.
In Y2 we were introduced to the 2 + 2 course as an option to follow. I had always really enjoyed working with children so I opted for this course so that I could also gain a teaching qualification as a possible career option.
How has Loughborough University inspired you and helped you to progress in your career?
The friends I made, the fantastic facilities and opportunities that it allowed alongside its ethos to be the best that you can and enjoy what you do, has stayed with me throughout my life.
Would there be one piece of advice that you would give to current or prospective students?
Loughborough is an amazing university with fantastic sporting facilities and clubs, inspirational people and a huge wealth, knowledge and connections in the sporting world and beyond. Its reputation precedes it, and even now when I mention that I studied Sport at Loughborough people rate it as among one of the top if not best universities for sport.
Enjoy every minute, train hard, work hard and party hard! Make sure you enjoy and use every opportunity that comes your way, your time there will pass quickly so enjoy….!
How did you establish your passion for sport and your Rugby career whilst studying at Loughborough University?
Whilst growing up, I had always been passionate about sport especially hockey, outdoor pursuits and basketball. Loughborough provided me with the perfect opportunity to participate, enjoy and receive top class coaching input. I had never played rugby prior to Loughborough but as a youngster growing up in Wales I had always wanted to play and so grabbed the chance when it was offered to me.
I was extremely lucky to have known and be coached by Jim Greenwood who was so insightful and passionate about rugby and a huge believer in women's rugby. He was a great friend, highly respected lecturer and coach and he remains the biggest influence on my rugby career.
Can you tell us about your career journey so far within teaching?
I started teaching nearly 30 years ago and moved to London working as a PE teacher after leaving Loughborough. I became Assistant Head of Girls PE and quickly progressed to Head of PE in my third year of teaching. I remained Head of PE in three different schools in London before a move ten years later to the West Country still as Head of PE. Then in 2010 I joined the Senior Leadership team and in 2012, I was appointed Assistant Headteacher and SENCo. In 2017 I then moved into a new role into a different school role where I remain Assistant Headteacher in charge of Inclusion.
How did it feel to be selected for GB's first Rugby women's team and later for the Wales Rugby team?
It was completely overwhelming and an unbelievable honour to represent both Wales and GB. Jim Greenwood was the GB coach and the whole squad respected him so much that we just wanted to learn and develop into the best rugby players that we could.
When I was selected to play for Wales and then made Captain I was elated and then realised I would be playing against all my Loughborough team mates who were mostly English! It didn't make any difference on the pitch they were the enemy in white!
My involvement in Rugby has included:
International Player 1986-2006
92 caps – 87 for Wales (Captain) and 6 for Great Britain (Vice Captain)
Wasps Club- Player
Saracens Club- Founder member, Captain, player and coach (10 years)
Clifton/Bristol player
How did your rugby coaching career develop?
I started coaching whilst I was still playing and enjoyed coaching a couple of English student regional teams before being made forwards coach to the Welsh students in 1989. I was assistant coach to the Welsh student forwards and Welsh U19s, touring Canada with them in 2005. Whilst playing my final years at Bristol I became a player coach. During this time I was also invited to become an attached coach to the Welsh National women's squad from 2007-2009. In 2010 I worked with the Dragon's Regional Boys U16 Development squad and also became the Welsh National Women's Assistant Coach from 2010 to 2012.
I have also helped coach Cardiff Metropolitan University women's squad from 2015-2016 and this year I have just accepted a position as assistant coach for the Women's Premiership team in Hartpury College for the 2017-18 season.
As a founder member of Saracens Women's Rugby what has been your journey with the UK's most successful women's club?
It has been a truly amazing journey….. from the first meeting with a group of 6 players in the front room of my house to start the process of setting up Saracens Women's RFC. Presenting to the men's committee and convincing them that a women's section would be a viable and hugely worthwhile venture for the club. Being made Captain and then being promoted in the first year to the Premiership.
Winning the Premiership title the following year, then in successive years winning major titles with the club including the first ever treble (Cup, League and Sevens), making it one of the most successful women's teams ever in the Premiership.
Also being able to sustain and set up a Second team and junior section in the club so that it is still a thriving environment today.
What have been the most enjoyable moments of being part of Saracens?
Serving the men's team as a waitress (one of the requirements to being accepted as a women's team initially with the club)! They waited on us soon after!
Having to go to the local council court to overturn an old by law that meant that no whistles could be blown on a Sunday!
Incredible team environment, hardworking ethos and expectations of players and coaches
The International players from all over the world that I played alongside at Saracens
Winning the first ever women's treble as Captain of Saracens (Cup, League and Sevens titles)
Being voted to become Runners Up in the Sunday Times Sports Team of the Year competition
Great coaches
The amazing friends that I still have!
How did it feel to be inducted into the World Rugby Hall of Fame?
I'm lucky to have played a sport I love and to be honoured in this way is unbelievable. It's genuinely difficult to put into words how I feel. All the other players being inducted are all phenomenal.
I'm just really honoured to be inducted alongside Stephen Larkham, Ronan O'Gara, Pierre Villepreux and Bryan Williams who are all legends of the game.
This award came out of the blue and something I would never have expected, but hopefully it shows that women's rugby is here to stay.
What does the future hold for you?
Continuing my work as Forwards Coach for Hartpury College Women's team, who compete in the Women's English Super League.
What has been the proudest moment of your career so far?
There have been many… but if I had to name one it would be winning the treble with Saracens.