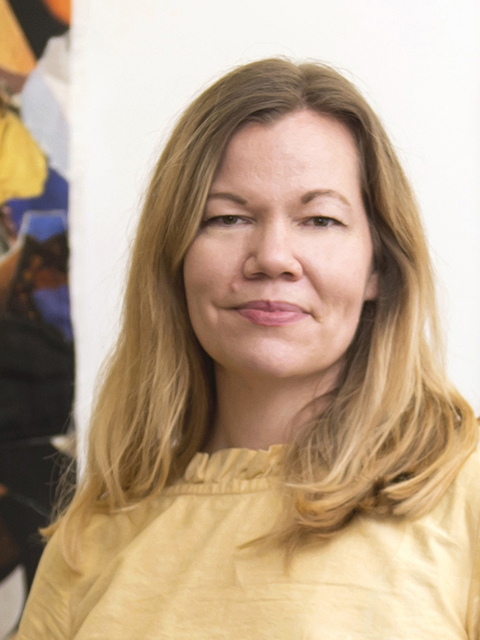 PhD Title: Tearing up Vogue and Mining the Detritus: A Montage-based Approach to Challenging Fashion Media's Racially Gendered Bodies
Ehryn Torrell joined the School of Social Sciences and Humanities in October 2019 with a Doctoral Fellowship from the Social Sciences and Humanities Research Council of Canada. She brings 20 years of experience as a practitioner and educator in the visual art sector, where she has received national and international recognition for her work in the form of public exhibitions, publications, residencies, and research grants from the Canada Council for the Arts, Ontario Arts Council and Joseph Plaskett Foundation.
This research interlaces issues of gender, race and representation with practices of fashion media, visual art and intermedia. It extends a visual art strategy initiated by German Dadaist Hannah Höch and progressed throughout the 20th and 21st century by artists like Kurt Schwitters, Romare Bearden, Martha Rosler, Linder, Lorna Simpson, Ellen Gallagher, and Wangechi Mutu, by which montage with fashion media images is used to examine representations of the body, identity and culture. This research is motivated by my long-standing practice of using photographic print images from Vogue as montage material and emergent critical race and feminist scholarship and activism that calls for deeper research into representation and authorship, control of narrative and aesthetic legacies.
Research questions:
How can the physical procedures of montage allow me to deconstruct and challenge the discursiveness of printed photographic images in fashion media, particularly the racially gendered bodies in Vogue?
How can a practice-based researcher appropriate existing fashion media without centring already dominant or normative viewpoints about representation, visibility and visuality?
PGR Supervisors: Professor Hilary Robinson and Professor Marsha Meskimmon
"Open Casket: Teaching Image-based Painting" (upcoming) in Teaching Painting by Cambridge Scholars Press; and the following art exhibition catalogues- Contemporary Masters from Britain (2017) by Jiangsu Art Museum, Yantai Art Museum & Jiangsu Arts and Crafts Museum, China; Self-Similar (2014) by St. Mary's University Art Gallery, The MacDonald Stewart Art Centre and Cape Breton University Art Gallery, Canada; The Painting Project. A Snapshot of Painting in Canada (2013) by Galerie de L'Université du Québec à Montréal; Some Kind of Wonderful (2009) by Kitchener-Waterloo Art Gallery, Canada; Carte Blanche Vol. 2: Painting (2008) by Magenta Foundation, Canada.