Siân Adiseshiah joined Loughborough University as Senior Lecturer in English and Drama in June 2018 as part of its Excellence 100 campaign. She was promoted to Reader in December 2020 and Professor in June 2023. She previously worked at the University of Lincoln (2004-2018), and has taught at the Open University and the University of Birmingham. Her PhD (on the plays of Caryl Churchill) was funded by the AHRB, undertaken at the University of Birmingham, and awarded in 2003. Her research interests lie mostly in contemporary theatre and literary studies, utopianism, and age studies.
Siân is Editor-in-Chief of the Open Library of Humanities journal C21 Literature, Editor of new book series 'Playwriting and the Contemporary: Critical Collaborations' (Liverpool University Press), and sits on the Editorial Boards of Cambridge University Press' Elements in Contemporary Performance Texts, Bloomsbury's book series New Horizons in Contemporary Literature, and the Journal of Gender Studies. She was appointed to the AHRC Peer Review College in 2020. She also co-founded the British Association for Contemporary Literary Studies (BACLS) and was an elected executive committee member of BACLS from 2016-2019.
Siân Adiseshiah's first book – Churchill's Socialism: Political Resistance in the Plays of Caryl Churchill (2009) – was based on her PhD. It examined Churchill's plays in relation to histories of socialist politics, theory, and activism from 1970s-2000. Her second, third, and fourth were co-edited volumes: Twenty-First Century Fiction: What Happens Now (2013); Twenty-First Century Drama: What Happens Now (2016); and debbie tucker green: Critical Perspectives (2020), the latter described as 'likely to remain the definitive and authoritative study of this major playwright and director for decades to come' and shortlisted for the Theatre and Performance Research Association Edited Collection Prize in 2021.‌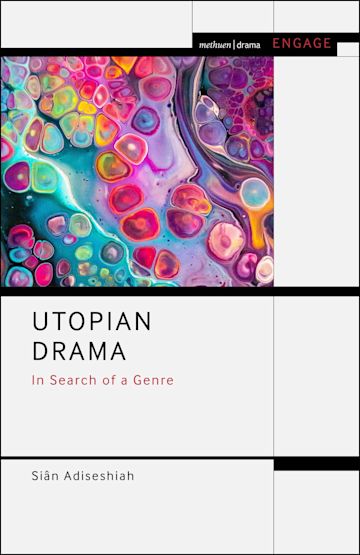 Her latest book is with Methuen Drama Bloomsbury: Utopian Drama: In Search of a Genre (2023). It stretches back to classical Greek comedy and includes chapters on early modern and early twentieth-century drama as well as utopian drama and performance from the contemporary period. The book has been reviewed internationally as a 'fine and nuanced study', 'carefully theorized, productively hopeful' (Jill Dolan), as the 'first to offer an insightful counter-narrative' (R. Darren Gobert), 'epic in historical scope and engaging with an array of interdisciplinary frameworks' (Elaine Aston), and as a 'breakthrough intervention that cracks open the scholarly paradigms of both theatre studies and utopian studies' (Tom Moylan).
Despite the historical span of Utopian Drama, Siân is primarily a scholar of contemporary theatre/literary studies and within this field she's particularly interested in political theatre, literature and politics, class studies, and feminist theatre, and has published many journal articles and book chapters in these areas.
In recent years she has worked on ageing, especially old age and performance. She recently published a chapter called 'Ageing as Crisis on the Twenty-First Century British Stage', in Clare Wallace, Clara Escoda, Enric Monforte, and José Ramón Prado-Pérez (eds) Crisis, Representation and Resilience: Perspectives on Contemporary British Theatre (Methuen Bloomsbury, 2022), and a journal article 'The Utopian Potential of Aging and Longevity in Bernard Shaw's Back to Methuselah', Age, Culture, Humanities: An Interdisciplinary Journal (May 2019). In her current work on ageing, Siân is exploring encounters between dominant framings of the contemporary and old age (particularly female old age) in 21st-century theatre, film, and fiction.
With colleagues from the Universities of Lincoln and Keele, Siân was co-exhibitor of 'What does growing older mean to us?' at the British Academy's Summer Showcase in June 2022, and Principal Convenor of the British Academy conference - 'Narratives of Old Age and Gender', which took place in London in September 2019. The conference brought together scholars from multiple disciplines, creative practitioners, and experts on ageing from third sector organisations to consider narratives of old age and gender, their limitations, and the potential for alternatives. Siân has co-edited a supplementary issue – 'Narratives of Old Age and Gender: Multi-disciplinary Perspectives' – of the Journal of the British Academy (forthcoming, 2023) based on research presented at the conference.
Siân has held two Arts and Humanities Research Council (AHRC) grants as co-investigator (PI: Leslie Hicks): (1) 'Telling Our Stories'. Support for Heritage Lottery Funded Community Groups £37,601 2013-14; (2) Connected Communities Research Development Award 'Looking Back for the Future: The Value of the Past in Developing the Lives of Young People' £19,543 2012.
Since joining Loughborough, Siân has taught 'Performance Philosophy', 'Theatre and Its Histories', and 'Class, Power and Performance on Stage and Screen' on the Drama programme, and 'Better Worlds? Utopian and Dystopian Texts and Contexts', 'Twenty-First Century Literature', 'Humanities 1', and been a Dissertation supervisor on the English programme.
Siân has recently led the validation of the MA in Contemporary Literature and Culture, delivered for the first time in October 2022.
She is a Fellow of the Higher Education Association.
Siân has supervised the following six PhD projects to completion:
Jennifer Hankin, 'Possible Worlds: Utopian Topographies in Contemporary Installation Art' (2023)
Thomas O'Brien, 'Social class in the novels of Patricia Highsmith' (2020)
Jessica Day 'Sexual Pleasure and Utopian Desire in Twenty-First Century Fictional Forms and Cultural Practice' (2019)
Andrew Rowcroft, 'After Post-Marxism: The Recuperation and Regeneration of Marxism in Contemporary British and American Fiction' (2018)
Catherine Parry, 'The Animal/Human Divide in Contemporary Fiction' (2016)
Emma Young, 'Contemporary Women's Short Stories and Feminism' (2015)
She is currently supervising three doctoral researchers:
Ahlam Maodah, 'Staging Black Female Voices: Transatlantic dramatisations of Silence, Anger, and Desire in Contemporary Black Theatre'
Matt Harrison, 'Fictions of Anxiety? Millennial Narratives in Contemporary American Literature'
Katie Mulhern, 'An ever-expanding community of struggle': Political Agency and Collective Subjectivity in Twenty-first Century Feminist Fiction'
She has examined eleven PhDs, two as Internal Examiner at the University of Lincoln, and nine as External Examiner (Chichester, Derby, Durham (twice), King's College London, Newcastle, Nottingham, and Queen Mary University of London (twice)).
Siân is keen to hear from prospective PhD students interested in working on contemporary theatre/literary studies, utopian and dystopian literature, ageing/old age/generations, class studies, and women's writing/feminism.
Utopian Drama: In Search of a Genre, London: Methuen Drama Bloomsbury, 2022
'Ageing as Crisis in Twenty-first-century British Theatre', in Crisis, Representation and Resilience: Perspectives on Contemporary British Theatre, ed. Clare Wallace et. al., London: Bloomsbury, 2022
debbie tucker green: Critical Perspectives(co-edited with Jacqueline Bolton), London: Palgrave, 2020 [*Shortlisted for the Theatre and Performance Research Association Edited Collection Prize 2021]
'The Utopian Potential of Aging and Longevity in Bernard Shaw's Back to Methuselah (1921)', Age, Culture, Humanities: An Interdisciplinary Journal, vol. 4, Jan 2020, pp. 1-26.
Twenty-First Century Drama: What Happens Now (co-edited with Louise LePage), London: Palgrave, 2016
'Spectatorship and the New (Critical) Sincerity: The Case of Forced Entertainment's Tomorrow's Parties', Contemporary Drama in English 4.1 (May 2016): 180-195
'The Revolution will not be Dramatized: The Problem of Mediation in Caryl Churchill's Revolution Plays', Hungarian Journal of English and American Studies, Special issue on Caryl Churchill 19.1 (2013): 377-393
Twenty-First Century Fiction: What Happens Now (co-edited with Rupert Hilldyard), Basingstoke: Palgrave, 2013