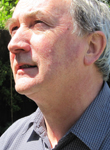 Michael joined the Department of Social Sciences in 1992, having previously taught at Massey University in Aotearoa/New Zealand, and at the University of Sunderland, and having been Research Officer at the Leicester University Centre for Mass Communication Research. At Loughborough, along with Graham Murdock, he was a founding member of the Communications and Media Studies section of the Department. Michael graduated from the University of Essex and received a Masters degree and subsequently a doctorate from the University of Leeds, having undertaken historical research in popular culture.
Over the past ten years he has acted as External Examiner at ten different universities in Britain and Ireland, and acted as External Examiner for doctoral theses at various universities, both in Britain and abroad. In 2006 he worked with Dan Hallin and others for the International Communications Association as a panel judge for Best Essay in Political Communications. Michael served two five-year terms as a member of the AHRC's Peer Review College, finishing in December 2012. He is a member of the editorial board of Memory Studies and the Folk Music Journal, and Reviews Editor for the European Journal of Communication.
Michael has published over a hundred articles and chapters in edited collections. These cover a number of areas including popular music, racism and popular culture, imperialism and theatrical history, Mass Observation, working-class writing, news and documentary, stereotyping and representation, humour and comedy, creativity and cultural production, media and memory, and historical hermeneutics.
As either author or editor, he has published eighteen books, and with Emily Keightley is currently working on a study of the role of photography and recorded music in everyday practices of remembering. A book on this topic will appear in 2015.
Overall Michael's work covers the fields of media and communication studies, social and cultural history, critical humour studies, the sociology of art and culture, music studies and memory studies. He has also written extensively on research methods, having edited collections on methods in cultural studies and memory studies, and been co-author of Researching Communications (Bloomsbury, 2007), along with David Deacon, Peter Golding and Graham Murdock. He has recently completed a major AHRC-funded research project on music in the workplace, with Marek Korczynski of Nottingham University and Emma Robertson of La Trobe University. Their book, Rhythms of Labour: Music at Work in Britain, is published by Cambridge University Press. It is accompanied by a double-CD of recordings associated with music at work, released by Harbourtown Records. With Emily Keightley, Michael has also recently completed a research project funded by the Leverhulme Trust on media and memory. Their book The Mnemonic Imagination, published by Palgrave Macmillan in 2012, provides the theoretical framework for their analysis of the data deriving from this research.
In the past, Michael has taught on various core modules in media studies and cultural theory, popular culture, research methods and critical analysis.
Currently, he teaches on the MA programmes and offers both undergraduate and postgraduate modules in popular music.
He was Programme Director of the BSc in Media and Communication Studies in the early 1990s when this new area of teaching in the Department was being established for the first time. Subsequently, with Graham Murdock, he designed and planned the MA in Media and Cultural Analysis, and acted as Programme Director of this programme in the early 2000s.