Electron Microscopy and Analytical Techniques Short Course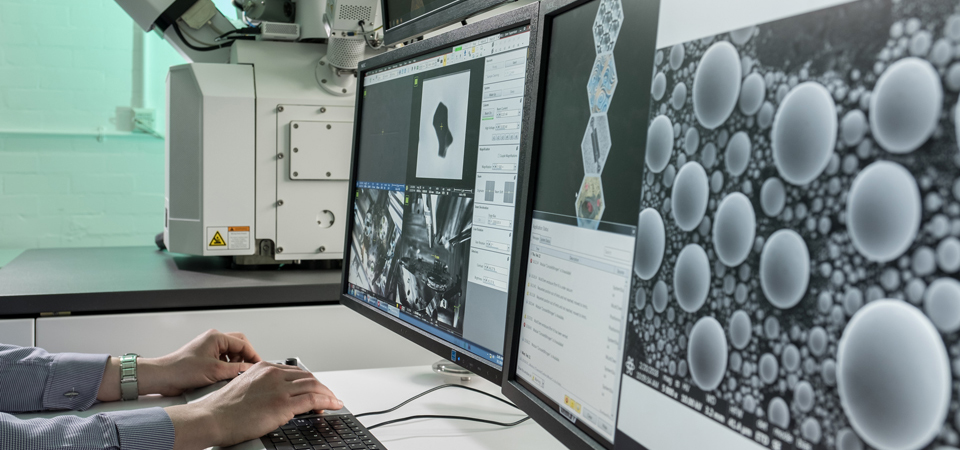 This is an intensive three-day course into electron microscopy and analytical techniques. The course is aimed at users from industry and will comprise of lectures and a significant amount of hands on practical sessions, (~50%) with the advanced instrumentation located in LMCC.
Overview
Frequency: Once per Year
Duration: Three Days
Date of next course: Monday 5 - Wednesday 7th February 2024
Venue: Loughborough University, LE11 3TU
Cost: £2250
Accommodation: Not included. (Recommended convenient hotels: Burleigh Court or The Link)
Attendance strictly limited to 7 delegates due to the hands-on nature of the course
The course covers a wide range of EM techniques, which includes; Scanning Electron Microscopy (SEM); Focused Ion Beam Microscopy (FIB); and; Transmission Electron Microscopy (TEM.) The course also covers a wide range of analytical techniques from Energy-dispersive X-ray spectroscopy to Electron Backscatter Diffraction (EBSD).
This course provides you with an opportunity to experience the capability of the centre. There will be an opportunity for you to characterise your own samples and have 1-1 sessions with a member of the LMCC team.
The aim is that the course will help you expand your knowledge in electron microscopy and help you appreciate how quickly advances in technology are developing. This will allow you to choose the appropriate instrument or technique(s) when dealing with a materials related issue in industry.
The course has been designed for a small number of delegates (approx.7). This allows us to provide engaging lectures and take delegates straight into a laboratory environment to demonstrate the technique. The key advantage of demonstrating techniques is that we can show you how to optimise the techniques and show you common pit falls. When we take you into laboratories, the instrument's interface is projected on a large TV screen to ensure the laboratory is engaging and accessible.
Provisional Programme
DAY 1
Welcome
Scanning Electron Microscopy Imaging Lecture
Scanning Electron Microscopy - Lab
Scanning Electron Microscopy Analytical Techniques Energy-Dispersive X-ray Spectroscopy (EDS) Lecture
Energy-Dispersive X-ray Spectroscopy (EDS) Hands on Lab
Energy-Dispersive X-ray Spectroscopy (EDS) Data Processing Computer Lab
DAY 2
Optimising Sample Preparation
Scanning Electron Microscopy Analytical Techniques Electron Backscatter Diffraction (EBSD) Lecture
Electron Backscatter Diffraction (EBSD) Lab
Electron Backscatter Diffraction (EBSD) Data Processing Computer Lab
EBSD, Texture Analysis
Workshop

1-1 Hand's on Instrument Operation (Flexible depending on the delegates interests)
DAY 3
Focused Ion Beam Microscopy Lecture
X-ray Photoelectron Spectroscopy Lecture & Tour
Transmission Electron Microscopy Lecture
Transmission Electron Microscopy Hands on Lab
Hands on Case Studies

Use your new knowledge obtained from the course to develop a bespoke characterisation plan. As a team you shall acquire the data from the instruments and carry out the data analysis.
Note: Course information may be subject to change due to unavoidable circumstances.
Delivery Style
This is not a traditional training course where you sit in the same training room for multiple days. Lectures are provided for individual modules. After these lectures practical demonstrations take place in the laboratories. We also utilise a computer lab so delegates can process data acquired in the laboratories. During the course there is also time to gain hands on experience using the instruments.
A range of presenters will be used to deliver this course, who have significant experience within the industry. The key presenters work within LMCC and use the facilities daily. We draw on the expertise of academic staff for specific modules to help tailor the course to the needs of delegates.
If you would like to register for the course, please email us using the email address below. We will be more than happy to discuss the course in more detail and ensure your requirements are captured.
We have several payment methods available depending on your requirements.
Do you have Further Questions? Talk to Us
Dr Stuart Robertson
Telephone: +44 (0)1509 222456
Email: S.Robertson@lboro.ac.uk
Disclaimer - Whilst every effort has been made to ensure the details of this course are accurate, Loughborough University Department of Materials and the Loughborough Materials Characterisation Centre reserve the right to alter the course content and/or lecturers if the need arises.