Low voltage DC microgrid technology for sustainable energy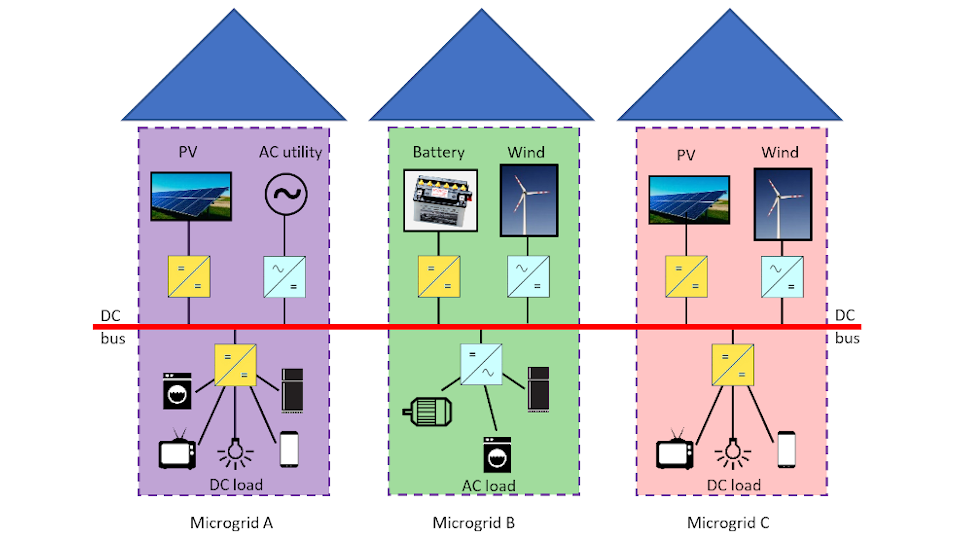 Low-voltage DC microgrids are one of promising technologies to support the clean growth industrial strategy set by the UK government, and the sustainable development goals by United Nations.
Our Aim
Microgrid is the key technology to allow the power grid to accept more clean distributed renewable energy generations. Compared to alternating current (AC) power systems, direct current (DC) power systems has the advantages of simpler control, higher reliability and efficiency. However, challenges to employ LVDC microgrid technologies in our current power networks remains largely open.
Collaborating with UK industries and international partners, this project aims to address the following key challenges:
Stability plug-and-play low voltage DC microgrids
System optimisation of DC microgrids with time-variant configurations
Safe operation of Low voltage DC microgrids
New business case of DC microgrid in industrial and building applications
This project will build on the strengths of the Power Electronics group and the Centre for Renewable Energy Systems Technology (CREST), including power converters, energy storage, smart grid, energy network, and renewable energy generations.
Our Research
Our research has received funding support from UKRI EPSRC and EU Horizon 2020 programme, and has established strong international and industrial links. Research facilities include a hardware-in-loop simulation platform for computational studies, a reconfigurable DC microgrid research and demonstration platform for experimental evaluation, and a LabVIEW-based control and monitoring system for DC microgrid control, data analysis and system optimization.
Our Outcomes
The team have already made great progress in the research of DC microgrid stability, control, and system management and optimisation, which are key elements of the project.
A list of relevant publications can be downloaded from the EU H2020 and Loughborough University repositories.