Because of the pandemic, sadly our wonderful community cannot be together in person this year to recognise the diversity of our staff, student and alumni community. However, in recent years the University and Students' Union has achieved many milestones for the LGBT+ community – many of which have been initiated by the Staff Network and Student Association.
Here, we proudly take a look back at some of these accomplishments that have made the Loughborough Family a more inclusive group to be part of.
Over 100 staff members have attended LGBT+ awareness training
In the last year, more than 100 University staff have attended our LGBT+ Awareness training course to learn about the experiences of this group, get up to speed with the correct language and terminology and feel more confident in discussing LGBT+ issues and supporting our students.
The course is a safe space to ask questions, explore our own identity and re-examine the way we think about gender and sexuality. The next course will be taking place on 25 February, and those who are interested can book their place online.
The Library proudly displays the Progress Pride flag
In October 2020, as part of Loughborough's commitment to being a safe space for the LGBT+ community, the Library showcased two new Progress Pride flags on the entrance and exit to the building.
The Progress Pride flag was designed in 2018 by designer Daniel Quasar to highlight the extra levels of marginalisation faced by the trans community, LGBT+ people of colour and those who live with, or have died from, AIDS.
By showing visible signs like this, the University hoped it symbolised the fact that everyone is welcomed and celebrated at Loughborough.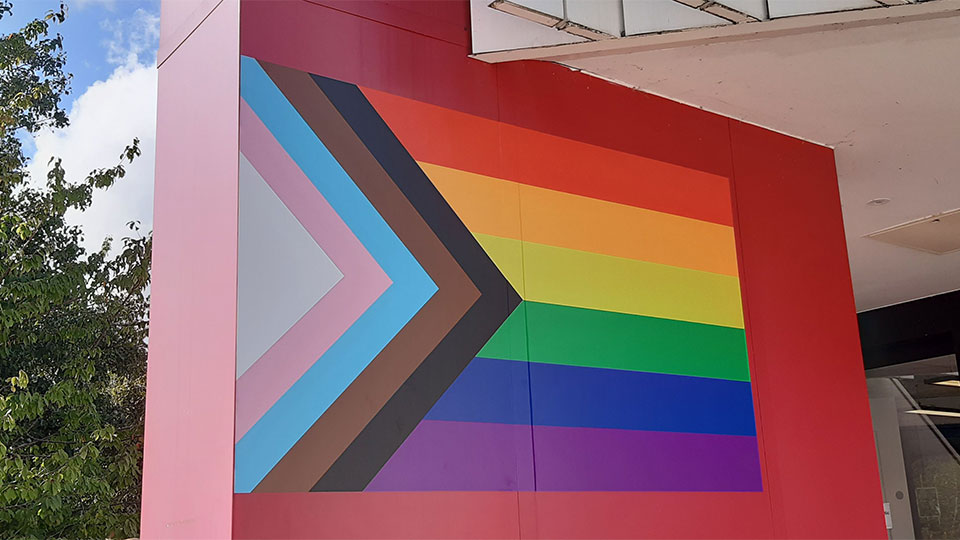 The University pledged to support the transgender community
Loughborough joined some of the most prominent organisations in the UK in September 2020 as it signed up to the Trans Rights Are Human Rights campaign, which pledges to value and support the trans community.
At the time, the LGBT+ Staff Network commented: "It is tremendously meaningful to a relatively small community - who face daily marginalisation and even violence - when businesses, local government and institutions such as universities speak up and show their support."
Our fundraising efforts raised awareness as staff and students supported #LboroLaces campaign
Over 1,300 pairs of rainbow laces were sold to staff, students and campus partners as part of an important national campaign to make sport inclusive to all and to allow no room for discrimination.
Led by the LGBT+ Network – and with the invaluable support of AU Clubs, Halls of Residence and Loughborough Sport – the University was also able to donate money to Stonewall to fund their efforts in eradicating homophobia and transphobia in sport.
LU Arts provided a platform for our LGBT+ community with a special exhibition
To mark LGBT+ History Month, LU Arts worked with photographer Ming de Nasty and 14 staff and students from the LGBT+ community to take their portraits, providing an intimate insight into their identities and how it shapes their life.
These portraits were displayed as part of an exhibition throughout February 2019 in the Martin Hall Exhibition Space, as well as online.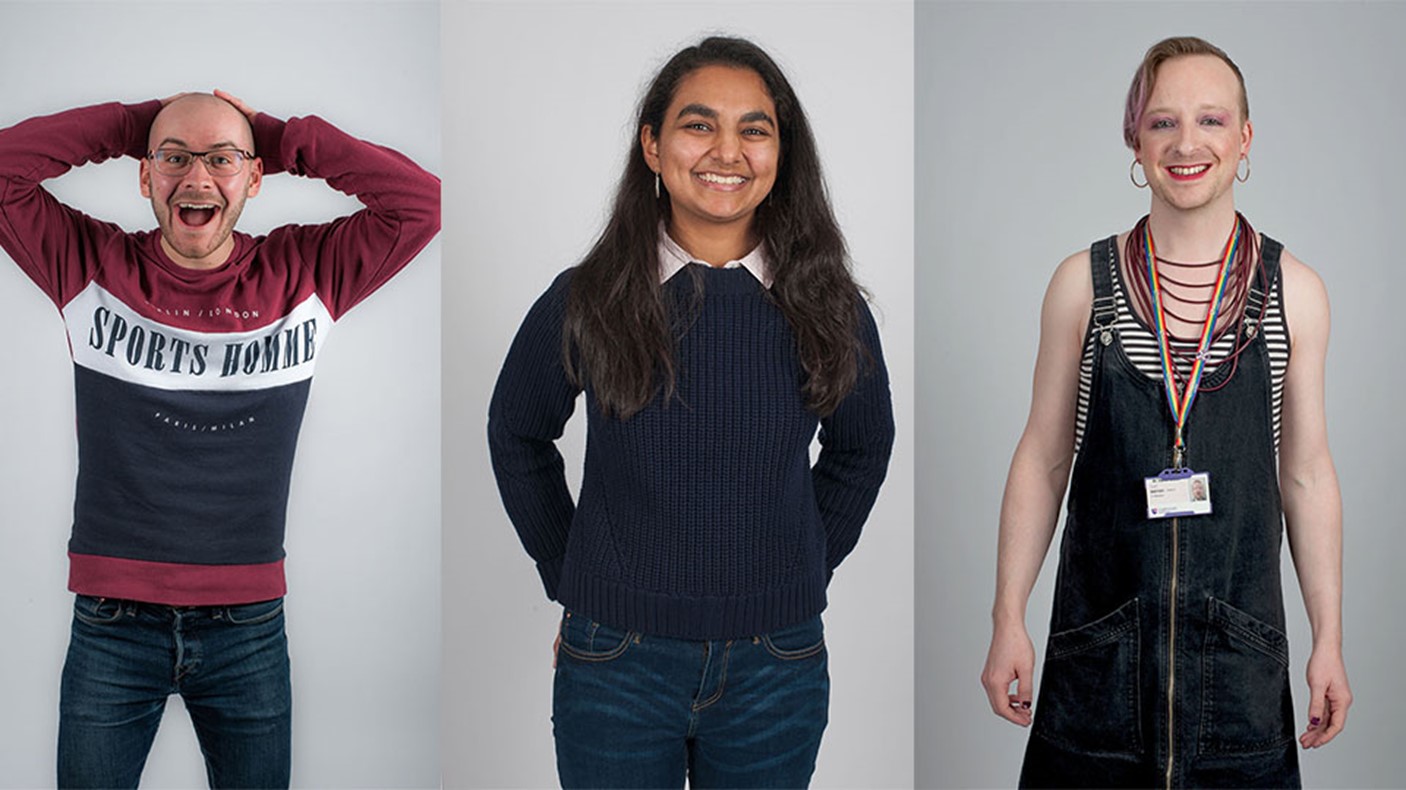 ...And we celebrated becoming a Stonewall Diversity Champion!
By becoming a Stonewall Diversity Champion, the University was recognised as an institution that aims to provide a supportive environment for the LGBT+ community. As part of this partnership, Loughborough continues to work closely with Stonewall to receive support and backing of ongoing LGBT+ inclusion and support initiatives.
The exciting news was commemorated with an event attended by the Senior Management team, LSU Executive members, and staff and student allies.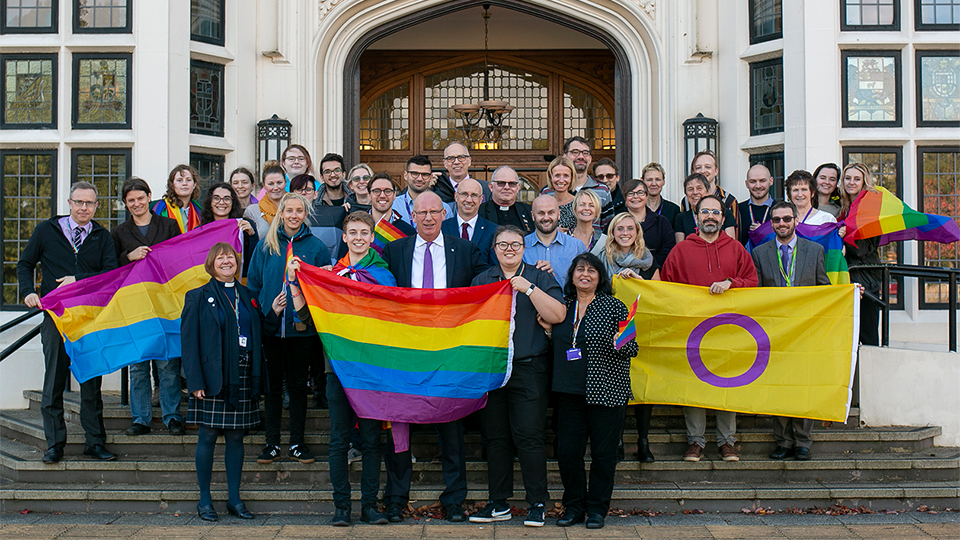 Chair of the LGBT+ Staff Network Sam Chambers commented: "Our LGBT staff and student groups continue to work to ensure Loughborough University is not only a place LGBT+ individuals can feel safe, but also thrive.
"When being a part of our LGBT+ community, people should feel a sense of belonging and find it a supportive network. Nothing is ever perfect, but we are committed to working towards better inclusivity and equality for all at Loughborough."
More information, news, and events as part of this year's LGBT+ History Month can be found on the dedicated website.