Tips for planning your journey to the UK
If you've been offered a place at Loughborough University and you have accepted, the next step (aside from applying for your visa) is to plan your journey to the UK. Naturally this can seem daunting, especially if you've never travelled to the UK before. To help, we've outlined some useful tips which will help you prepare for your new adventure.
Step 1: Find out what airports you can fly to
Before you book your flight, make sure you do some research and look at what airports you can fly to and pinpoint the airport which offers regular flights and the best transport links to your next destination after you've landed.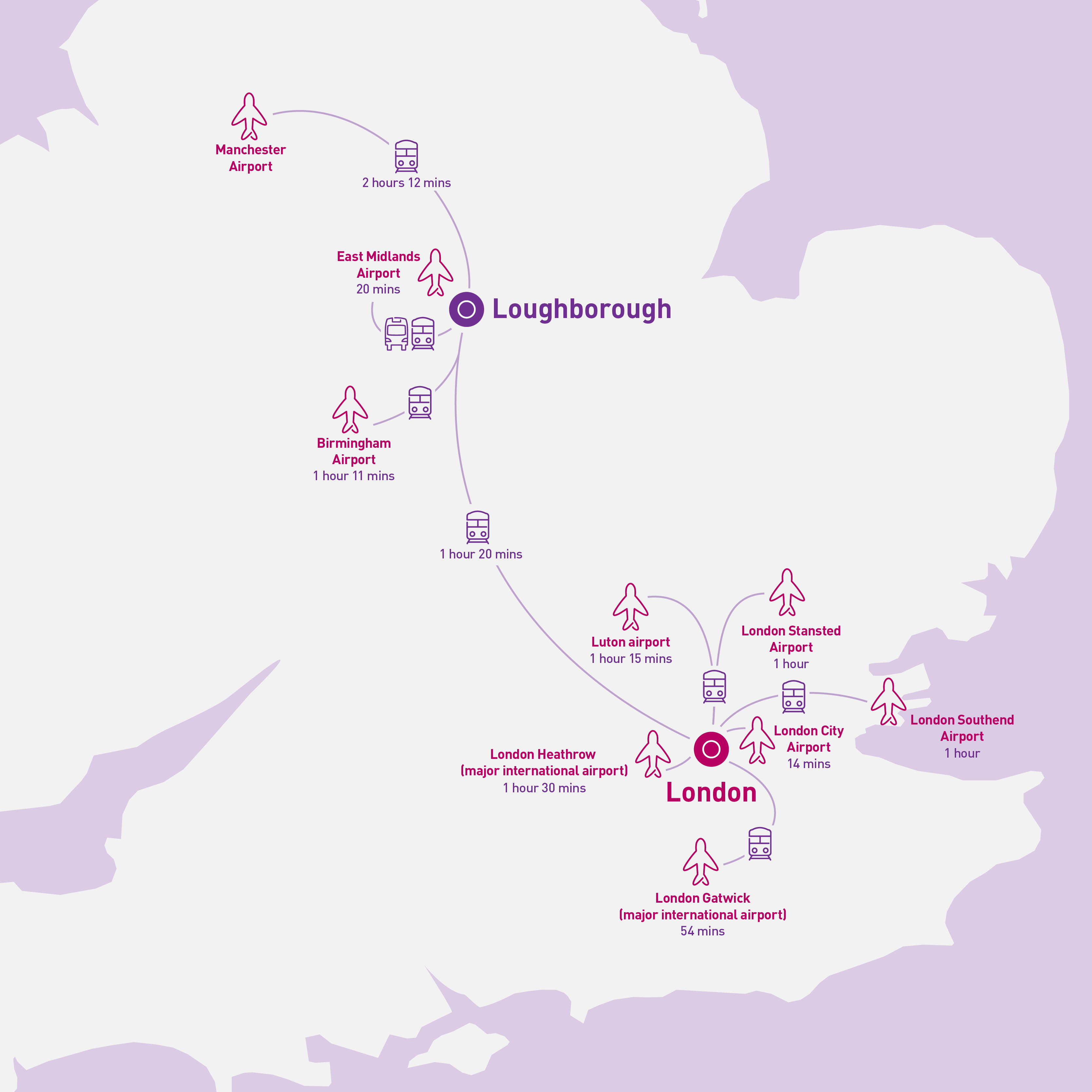 Step 2: If possible, book or plan transport in advance
If you're flying to Heathrow Airport in London, we offer a free coach pick-up service which will drop you off at our Loughborough Campus.
If however you're flying to a different airport, there are lots of ways you could potentially travel to our London or Loughborough campus. We've offered information on the best way to travel to both of our campuses.
Please remember that public transport services are less frequent on Sundays and travel to Loughborough will be easier if you can plan to arrive during the rest of the week.
Step 3: Have a lot of luggage? Book the most direct route
When you come to look at the different transport options available, we suggest that you try to book the most direct route to your new campus, with the least number of changes between forms of transport and/or stations.
You'll probably be carrying a lot of luggage and after a long flight you'll naturally be tired (and London is a busy capital city). You may find the FlightLink coach service between the London Airports and East Midlands Airport (near Loughborough) is more convenient than the train, as there is no changing involved while carrying heavy luggage.
Step 4: Take a look at these websites to help plan your journey
Step 5: Travelling in a group?
If you're travelling in a group, you may find that it's easier to book a taxi. This can be very expensive so we recommend reading the advice we have on pre-booking a taxi beforehand.
Step 6: Allow for delays
If you are pre-booking transport for after you've landed it's important to give yourself lots of time and to allow for delays. It will probably take you longer than expected and we don't want you to miss the next part of your journey.
Step 7: Make a note of the address
Print out the address you're travelling to, this way if you do miss a coach or train ride to your next destination, you'll be able to get some help.
There will be information and help desks available in the airports, so if you do get confused make sure you find this desk and they should be able to advise you.
Step 8: …and our contact details
Please make a note of our contact details – if you do get stuck or if you get a little lost we can always offer you some support. If you have any questions prior to travelling here, please get in touch we're always happy to help however we can.