Alumni, staff and sporting guests gathered for the celebrations at the Loughborough University Stadium on campus.
Vice-Chancellor, Professor Nick Jennings CB FREng FS gave an opening speech before dinner, welcoming guests to the event and provided an update on the University's recent developments and successes across a broad range of sports-related activity.
Fellow Hall of Fame member and former 5000m world record holder, David Moorcroft OBE, later presented the awards and conducted short interviews with the Hall of Fame inductees to share highlights of their impressive careers and achievements.
The new inductees join more than 70 existing members in an ever-growing group of incredible Loughborough alumni and linked sportspeople who have succeeded at national and international level.
The Hall of Fame covers four categories: performance, performance coaching, performance support, and sports leadership.
On Friday evening, the five inductees were awarded across three of the categories.
Ama Agbeze MBE, Maddie Hinch MBE, and Laura Unsworth MBE were inducted into the performance category, recognising their achievements as athletes in their respective sports.
Dr Sam Erith was recognised in the performance support category, whilst Amanda Bennett was inducted as a sports leader.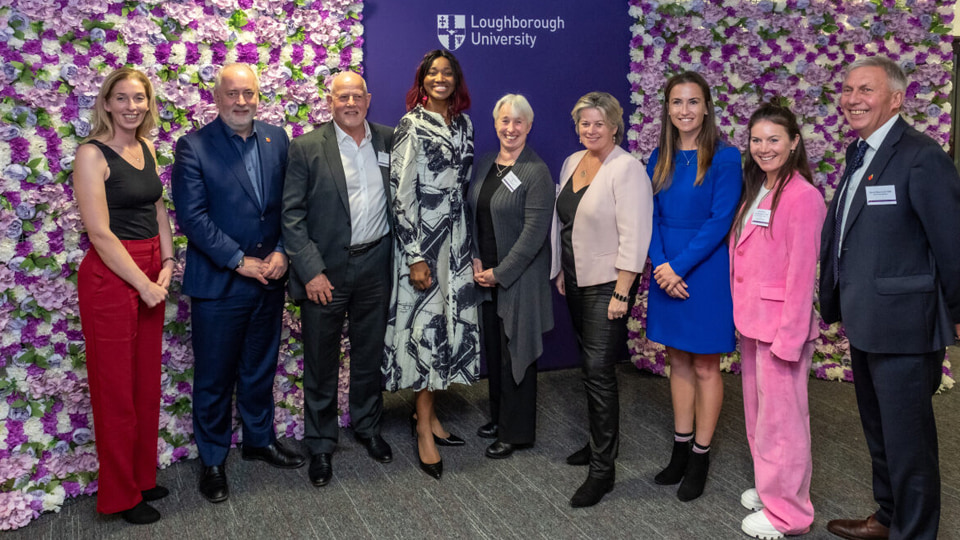 The new inductees stand with the Vice-Chancellor and fellow members of the Hall of Fame‌
Alumna Ama Agbeze MBE gained her first of more than 100 caps for the England netball team in 2001. From there she went on to captain Team England to a gold medal at the 2018 Gold Coast Commonwealth Games. She played a pivotal role in securing the European Championships in 2016 – her first as captain – having won the title several times in her early career. She also led the team that clinched England's first Fast5 Netball World Series title in the following year.
Accepting her induction, Ama commented on the feeling of winning that Gold Coast medal, talking about the moment she jumped over the barriers to celebrate with her fellow teammates:
"I can't remember how I felt. I've seen that video so many times, leaping over the barrier and we had a pile-on!"
She also spoke about the time she spent training and playing at Loughborough:
"Netball didn't necessarily have a high profile and so I thought it was magnificent that a university like Loughborough would support my sport".
Hockey goalkeeper Maddie Hinch MBE has well over 100 caps for England and Great Britain. During her international career Maddie won gold at the 2016 Olympics and a Bronze at Tokyo 2020 as well as a plethora of other European and Commonwealth medals. Well-known for her penalty saving performance in the finals at the Rio 2016 Games, Maddie has been a firm fan-favourite for many years and was voted World's Best Female Goalkeeper on three occasions.
David asked Maddie how it felt to stand together with her teammates having won an Olympic gold medal in 2016. She said:
"Surreal. It still feels a bit like a movie scene. I remember thinking how fortunate I was to get that at my very first Olympic Games."
Talking about her experience at Loughborough, Maddie added:
"For me Loughborough was a no-brainer. I wanted to be one of the very best athletes in the world one day. I didn't know how to get there but I heard Loughborough could help me."
She continued:
"I got stuck into a world that is beyond unique. We had everything at our fingertips to go and achieve whatever we wanted to set out to achieve."
Fellow GB and England hockey player Laura Unsworth MBE is the first British field hockey player to win medals at three Olympic Games – including the gold medal at the Rio Games in 2016. Statistically she is the greatest-ever hockey Olympian Great Britain has ever had, and she has surpassed 300 international appearances for England and Great Britain.
During the inductions, Laura reflected on her proudest moments, talking about the Tokyo 2020 Olympic Games as a highlight. With a change in team players from Rio to Tokyo and a Games with no crowd, there were additional challenges to face as well as exciting new things to strive towards for many of the newer players. She commented:
"We'd had the highs of Rio where we came away with a gold medal. After an Olympics in our sport you have a lot of people who retire. The team who went to Tokyo was completely different. As a team we wanted to make our own history.
"The highlight was Tokyo. We went out and we won a bronze medal."
Dr Sam Erith works in elite sport as a leader in applied sports science and in more recent years as a performance director. Sam was head of sports science at Tottenham Hotspur FC and moved to Manchester City FC in 2011 where he enjoyed a successful 12 years in building the performance department. He has also worked for the Senior Men's England Football Team as a performance coach and is currently the Senior Vice President of Player Performance for Madison Square Garden Sports in New York.
Joining the proceedings online, Sam talked about his Loughborough journey and how he felt about starting out at the University in the late-90s.
He said: "I came to Loughborough in 1997 and I was in awe of the place. I walked around campus, and it was a pinch-yourself moment that you're actually part of it."
Speaking about his move away from the Premier League to work with basketball and ice hockey teams in America, Sam said:
"Going back to my Loughborough days of being surrounded by so many different sports, I always had this kind of drive at some stage to work with different athletes from different sports."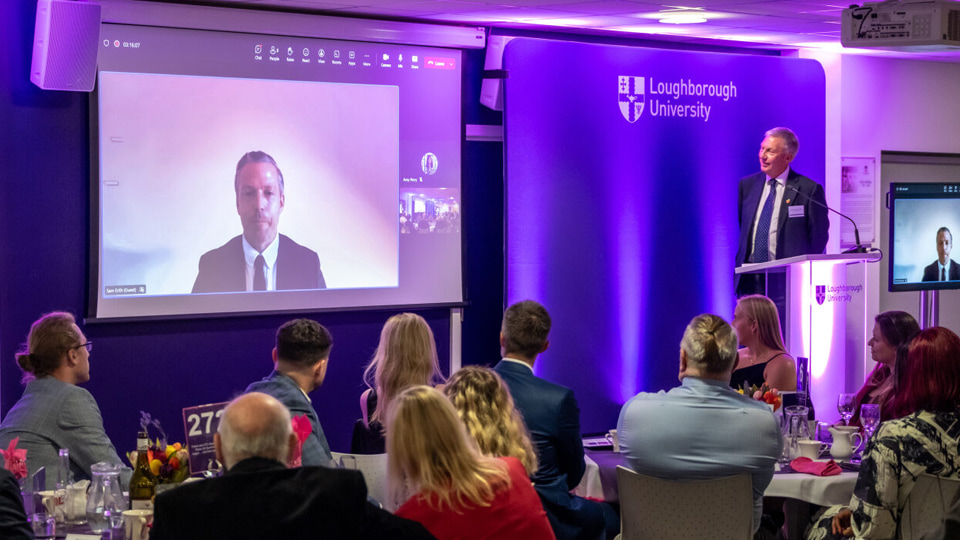 Amanda Bennett played and coached rugby to a high level and has made an impact in sports leadership roles across her career. As a PE teacher she rewrote curricula that impacted equal access to sport for girls. She has worked for the Women's Sport Foundation and UK Sport amongst other organisations and bodies, and she has made positive changes that have impacted women's sport in the UK, including through her own organisation, FairPlay. Just last week she added further to her portfolio, becoming an independent Non-Executive Director within the Welsh Rugby Union.
Speaking on the pinnacle of her career so far, Amanda talked about gaining her first cap for Wales in 1987 where she played against England. It was the first official Wales Women team. Amanda said:
"We didn't set out to make history, but we kind of knew it was special. We'd done something nobody else had done.
"We relished the moment that what we'd done there was new – and look at the game now."
Commenting on her career and inclusion in sport, Amanda added:
"Things have changed, and things have improved. We can always do better, and we can always be better.
"I think our understanding of genuine equality of opportunity and our understanding of inclusion is far better. But I think we still have some systemic barriers that we have to break down, and we have some cultural barriers that we have to break down."
To close the event, the University's new Director of Sport, Richard Wheater, gave a speech that commented on the success of Loughborough Sport in the last twelve months, and thanked everyone involved in the whole Hall of Fame process and event.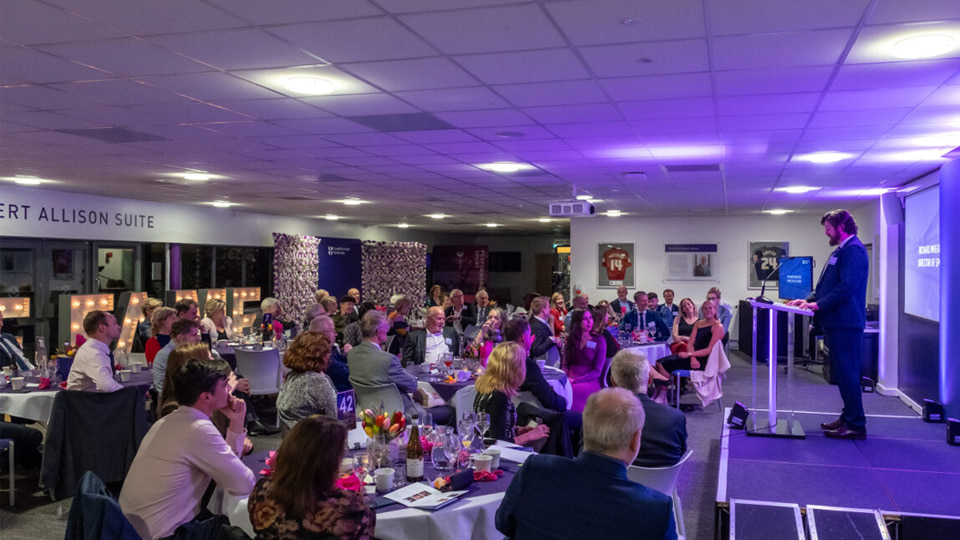 Many congratulations to our new inductees.
Nominations for the 2024 Hall of Fame are now open.