Many Loughborough alumni will have interacted with Rex over the years. He studied Physical Education from 1959-1962 before graduating with an MSc in Human Sciences Research in 1974. Whether he was your lecturer, involved in your sports team, or you met him more recently, he has made a huge impact on the University.
With over 40 years of experience of Loughborough Sport, Rex was a pioneering scientist-practitioner and coach educator, with an international reputation as one of the foremost experts in fitness prescription and development for sport. He served as Director of Rugby for over 20 years at the University and became the University's first Director of the Centre for Coaching and Recreation.
In 2019 he was awarded the School of Sport, Exercise and Health Sciences Distinguished Alumni Award alongside Rod Thorpe and Dave Bunker – his close friends and colleagues. Rex was recognised for his contribution to UK coaching, applied sport science and student-athlete development – something he has a great passion for.
That passion was evident in his continued role with Loughborough Students' Rugby.
Rex's role as President was key in leveraging support for the club. He encouraged fellow alumni and friends to stay connected with Loughborough Students' Rugby, bringing together former players and teams to support the next generations of players. Members regularly watch games on campus and beyond, and they support the club financially. Rex was also on the Club Committee in his role as President, working closely alongside the players.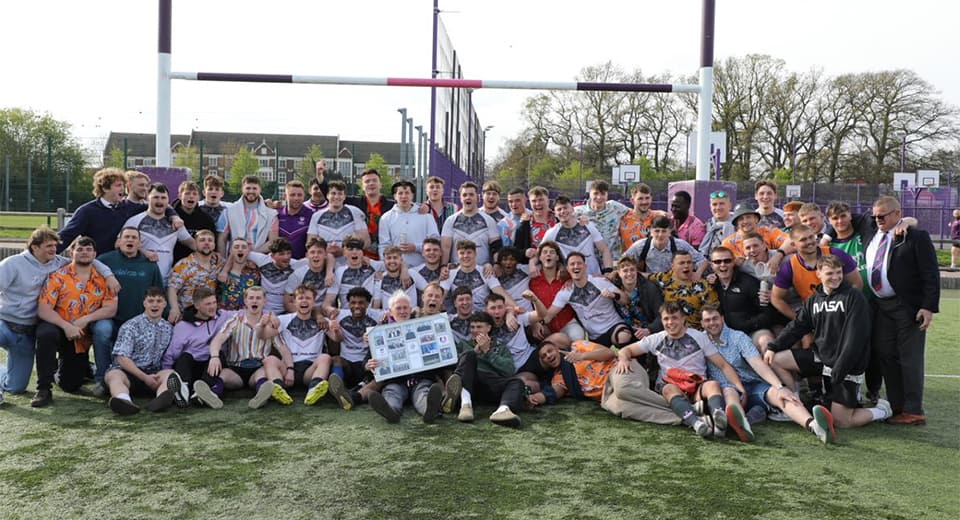 Rex is pictured on the grass in the centre of the image with players and members of Loughborough Students' Rugby at the last game of the 22/23 season
Rex stepped down at the end of a very successful season for the club. Loughborough Students' Rugby won the BUCS Super Rugby League and made the BUCS Super Rugby National Championship Final, missing out on an historic BUCS Super Rugby double by small margins.
In their last game of the season, Loughborough played Clifton at home, winning 53-38 in a great display of rugby. Rex was thanked and honoured at the game, where he was presented with photographs by Director of Rugby, Rhys Edwards.
Rex hands over the reins to fellow alumnus Kevin Lucyszyn (B.Ed. Physical Education 1977), a keen member of Loughborough Students' Rugby club. Kevin has been actively involved and in touch with Loughborough Students' Rugby since he played himself in the 1970s. Kevin and Rex are pictured below with some of the student players.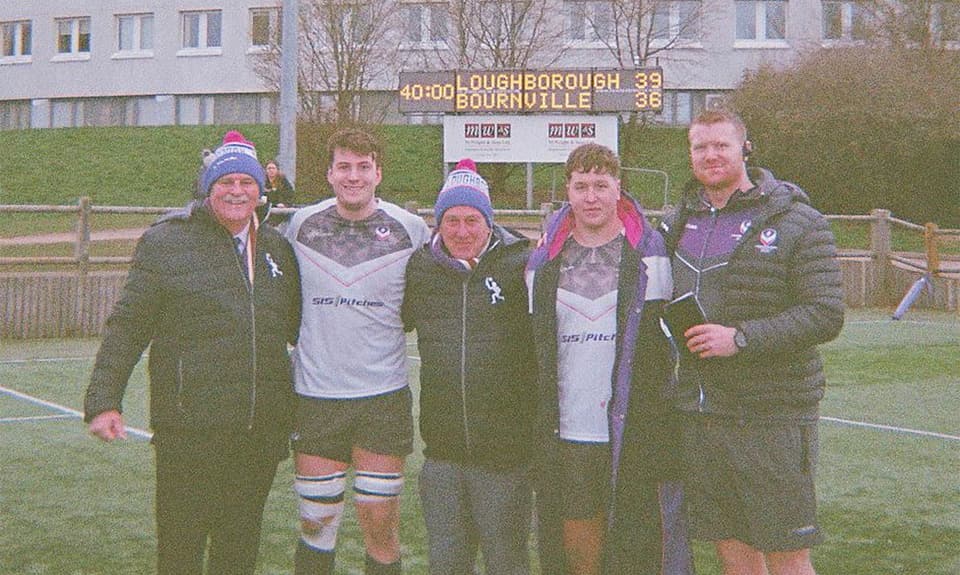 Kevin Lucyszyn pictured left with Rex in the centre of the image as they support a game at home on the Loughborough University campus
Thank you again to Rex for his generous contributions and we wish Kevin all the best as he takes on his Presidency for the 2023-24 year.
Find out more about Loughborough Students' Rugby and check out the membership information online.