Tom, who studied Aeronautical Engineering at Loughborough in the 1940s, died on New Year's Eve 2022 aged 96.
Responsible for an array of well-known designs, Tom's work was internationally recognisable.
He came to the UK in 1942 having fled German occupied Czechoslovakia in 1939. He began to study at Loughborough shortly after, before moving to London to pursue further study in Industrial Design.
The alumnus was the Chief Designer and Managing Director of Ogle Design from 1962 to 1999. Among a raft of well-known Ogle products are the Reliant Scimitar GTE 'high performance estate', Leyland's 'Truck of the Year', and the Bond Bug.
He is also responsible for the infamous Raleigh Chopper bicycle and Kiddicraft Marble Run. One of Tom's most successful designs, the Marble Run has been played with by millions of children. He cites the piece as his "most inspired creation".
Just a couple of years ago, he told us about his design of the Marble Run. He said:
"I let ideas percolate in my mind and when they took a certain shape, I would record them in my sketchbook (was never without one). This would clear my mind before tackling further problems. My sketches for the marble run are in the archives of the V&A."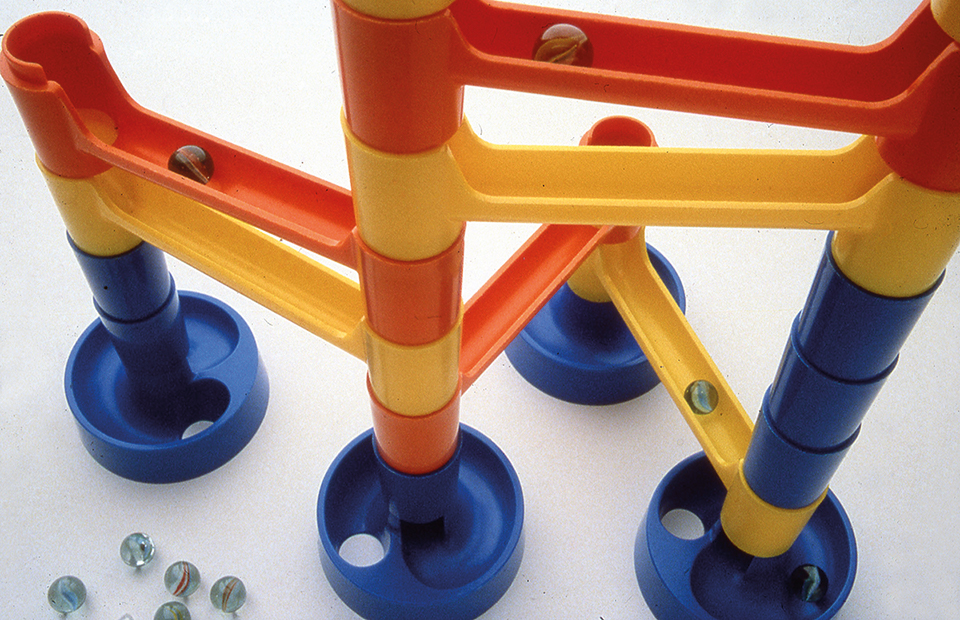 Marble Run
He was always keen to inspire children. He spent two decades of his retirement doing workshops in primary schools and making toys and games for his grandchildren. Even during the coronavirus lockdown of 2020, Tom shared ideas on how to use household items to keep children entertained.
He shared his story in his book, 'Toymaker: My Journey from War to Wonder', published in late 2020.
Many of his works, including designs and sketches, were also showcased at The Jewish Museum, London. His work featured in the 'Designs on Britain' exhibition in 2017 as part of a feature on Jewish émigré designers.
Last year, an exhibition of his designs – 'Tom Karen: Creations' – was held at the Museum at One Garden City in Letchworth. The museum is opening a book of condolence.
Tom Karen graduated from Loughborough University in 1945. The University also recognised him for his design work with an Honorary Doctorate in 2001. He was awarded an OBE for his work 2019.