Utilising her degree in Sports Technology, gained in 2012, Mari launched the company having found her niche in sports bra performance testing after graduation. It was in the lab setting that Mari found that the ultimate sports bra did not exist, and so she decided to come up with a solution.
MAAREE sets out to provide quality support to the active wearer. The bras on offer have received several awards – particularly from Women's Running – over the last few years.
Following early success, MAAREE goes from strength to strength and has recently been awarded a further two "Best in Test" awards from Women's Running and Runner's World.
Women's Running named MAAREE's Solidarity High Impact Bra the winner of Best Sports Bra for 2022, whilst Runner's World recognised MAAREE bras for best innovation and best for A-C.
MAAREE was also recognised as the best overall sports bra for 2023 in a review by the Independent.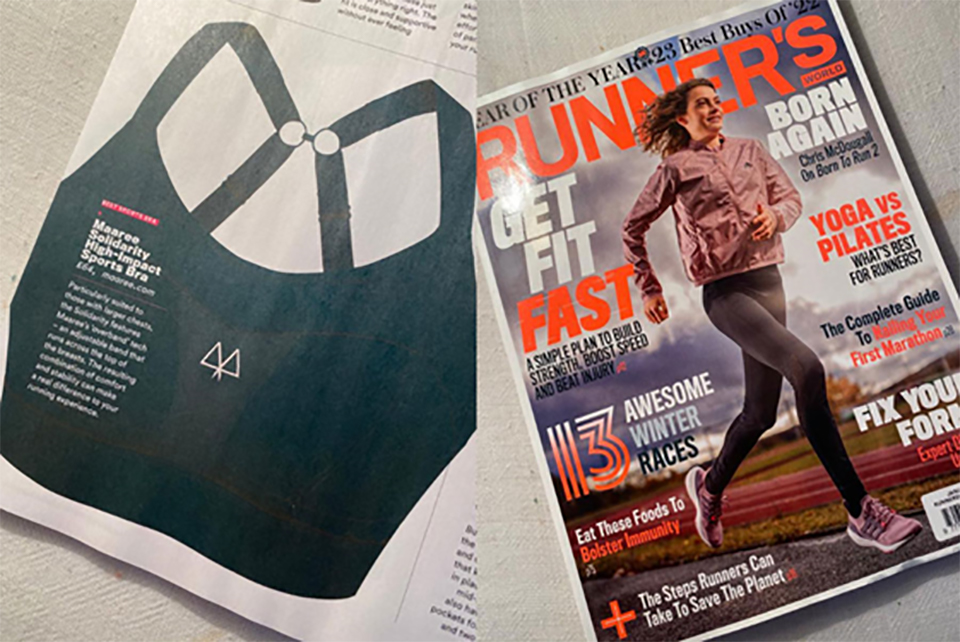 The sports bras on offer, currently retailing at £49 - £76 online, offer overband technology and utilise recycled materials. They range from medium-high impact. The technology uses stiffened fabrics to create a curved structure and provides enhanced support to stabilise upward motion during exercise.
Fellow alumnus Elliot has joined the organisation in 2021 as a Director, bringing further sports technology experience to the company. He graduated with a BSc degree in Sports Technology in 2010 and an MSc in Industrial Design a year later.
The MAAREE team share blogs, facts and guidance with their customers online, and also offer bra-fitting services. Their range has expanded, with leggings, tops and other items also available to purchase.
Check out MAAREE online.