Adam completed his BSc Physics and Mathematics degree in 2013 and gained a PhD in Mechanical and Manufacturing Engineering from Loughborough. As part of his business, the alumnus is keen to help students achieve their goals and reach their full potential.
The tutoring service enrols students aged 10-18 and mainly focuses on Maths tuition to cover Key Stage 3, (I)GCSE., A level and IB curricula.
Dr Adam Tutoring provides tailored and interactive learning services focusing on three different key areas of Foundation Building, Mentoring and Guidance, and Exam Prep and Support.
The online classroom environment provides both one-to-one and group tuition to cater to individual needs of students and optimise academic performance.
Dr Francis has 12 years' experience teaching curriculum specific materials.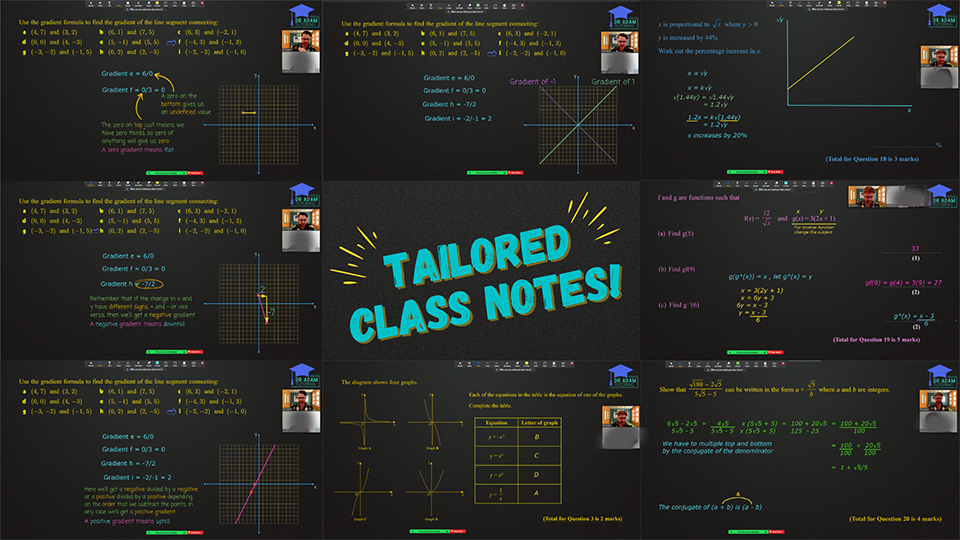 A series of mathematical images including equations, graphs and formulae on a black background‌
We asked the alumnus to share an insight into his business, and he told us more about his drive for setting up the online tutoring service:
"I've always loved teaching and maths. The freedom and independence that I thought running my own tuition company would bring was very appealing to me. I wanted to create a business that would allow me to provide high-quality teaching and support to students in mathematics, while also allowing me the flexibility and autonomy to run the business on my own terms."

Dr Adam shared the challenges he faced whilst setting up his own online teaching system and how he overcame these:
"Building the online platform and backend system that would allow the business to run smoothly and students to use the platform easily was a long iterative process and took a long time to implement and learn to use. Creating stimulating and engaging content and materials for students has also taken a long time and the system I have in place has been a result of testing what works best over a long period of time. Feedback from students has been very positive, so it has been largely up to me to identify where the quality of the materials can be improved.

"As for the online platform, I decided to implement a school management plugin system, which took quite a while to get used to and learn how to use. However, now that I've used it with my current students, I have had lots of opportunities to use it and subsequently become familiar with it. Finally, making the move to leave the teaching platform I was working on and set up on my own was another big challenge. It took courage and self-belief to leave the security of what had been working very well for me, in order to pursue my goal of running and expanding my own business.

"Finally, an existing challenge is getting the necessary exposure that would allow Dr Adam Tutoring to reach out and help more students and parents. This is one of the reasons I wanted to share my story with the Loughborough alumni community so that I can reach students who I know would benefit from our services at DrAdamTutoring.com."

Adam continued to talk about how being a Loughborough graduate impacted his career:
"Completing a PhD significantly increased my self-belief and convinced me that I can really do anything when I put my mind to it. The person who arrived on campus during fresher's week wouldn't have had the self-belief or work ethic to create Dr Adam Tutoring, however the person I developed into during my time at Loughborough was, so I can only attribute my success to my transformation through my 8 years spent at Loughborough University.
"The business aspect of my business has been completely self-taught. However, the academic learning through my course material has provided me with the expertise in my subject to qualify me to provide high-quality teaching and support to students in mathematics at all levels."