Alumni were keen to share the love on social media and by email.
Our call out attracted a range of submissions varying from couples who have been together for as long as 54 years – such as Stephen Mitchell (Civil Engineering 1968) who met his wife Margaret (Teacher Training 1968) in 1965– as well as some more recent love stories.
From these submissions, there were several themes emerging, and here we share a few of the many stories we received.
Elvyn Richards Hall has seemingly been a popular place to cross paths with significant others.
Mark Ian Crawford (Electronic and Electrical Engineering 1992) and Helen Crawford (Information and Computing 1993) met in Elvyn in 1990. Mark said:
"Helen and I met in 1990 in Elvyn Richards Hall. We married in 1995 and will celebrate our 28th anniversary this year."
Richard Mayfield (Economics 1998) and wife Jo Mayfield (nee Upton) (Physical Education and Sports Science 1998) also met in Elvyn Richards.
Richard shared a short anecdote of their first meeting :
"We met on our first night at Loughborough in 1995. David Ayers, the warden of Elvyn Richards, delivered a speech at the welcome dinner stating "you might be sat opposite your future husband or wife"!
"He was right! We've been together for 24 years, married for 21 years and have 3 children aged 18, 15 and 12."
One couple from Elvyn Richards met in the hall during their time at University but didn't reconcile until years later!
Eliska Hill (Transport Management and Planning 1995) and Dax Aiken (Management Sciences 1995) met in May 1992 in their first year at University, they last saw each other at their graduation ball in 1995.
The pair reunited 26 years later with Eliska sharing:
"Dax got in touch via LinkedIn. I was married and living in Dubai since 2004, he was separated and living in Henley-on-Thames. We had never forgotten each other and reconnected again.
"I moved back to the UK in 2022 and now we are living together very happily in Henley, 30 years after we first met!
"We visited Loughborough in August 2022 and had a look around campus. Amazing to see how it has grown."
Whilst some alumni like Eliska and Dax needed time to find each other after University, others found love at first sight whilst studying at Loughborough.
Jessica Mistry (Psychology 2006) and Kirpal Rehinsi (Psychology 2004) had an immediate connection without even meeting!
The alumna recollected her husband's first impression of her:
"Me and my husband met at Loughborough University in 2003. We both studied Psychology. I was in my first year and he was in his 3rd year. He saw my picture in the wavy top building and said to his best friend that "he was going to marry that girl".
"Turns out that came true. We married in 2010 and now have two little boys who we took this year to visit the Uni!"
Elvyn Richards is not the only hall of residence hit by Cupid's arrow. More alumni who lived in halls shared stories of meeting their loved ones.
Chloe Pearce (English 2012) and Mathew Wilkinson (Business Economics and Finance 2013) are both originally from Derby but never met until they were both residents at Falkner Eggington in 2010.
The alumna was a fresher helper and met Matthew when he was a mature student staying at the hall.
She reflected on the couple's journey soon after meeting:
"I soon after left for Heidelberg University in Germany as part of the Erasmus scheme, but we stayed together through it. We have been together since and married each other in 2019 at Heidelberg Castle. We now have a child together and are expecting another child in May!"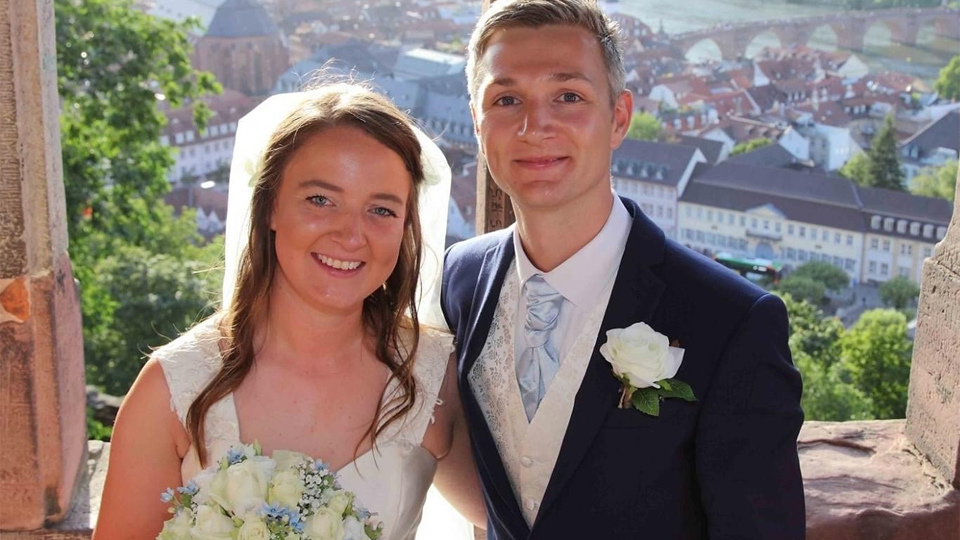 ‌
Similarly, alumna Hannah Patel met her husband in John Phillips Court 20 years ago!
Some say that dancing brings people together and this seemed to have been the case for many of our alumni who met their partners at discos and university social events.
Janet Fileman (Library Studies 1979) met her husband Paul (Physics 1980) at the Edward Herbert Building which was previously home to the Students' Union.The pair have now been together for 42 years and have stayed close to the Loughborough area.
Katie Goldbold shared via Facebook:
"Yes! Met my husband Ollie- both in the badminton team (wild!). Knew him for a while but got together in 2005 (after a night at Hey Ewe). Married since 2016 and now have two kids."
Loughborough Students' Union continued to bring people together through the years. In the last decade it brought together another pair of alumni, Rachel and Russel Holway, who met at the LSU Salsa society. Since leaving university, Rachel shared that the pair are now married and have three children together.
England Rugby joined in the Valentine's Day fun, too! Meg Jones and Celia Quansah met at Loughborough through friends whilst both study sports related subjects at the College. Now playing together for England Rugby Sevens, they became Olympians together in Tokyo.
Two pairs of alumni shared how they came to Loughborough together and eventually their children followed in their footsteps.
Jo Pickering (Human Biology 1976) and her husband Philip (Economics 1976) met at school, went to university together and have been married 46 years. The Pickering's eldest daughter, Fleur (English 2003) followed in her parent's footsteps and came to Loughborough in 2003 where she met her now husband Ryan (English 2004). The pair mirrored Fleur's parents and have been married for 16 years!
Catherine (English and History 1985) and Nigel Chandler (Chemical Engineering 1985) are another couple who came to Loughborough together and have married since.
The alumna shared a short story about her and her son's degree ceremonies via Facebook:
"I followed my husband to Loughborough from school. We married in 1988 and celebrated our 35th wedding anniversary this year.
"Our son attended Loughborough, following in our footsteps. Sebastian Coe was at both mine and my sons degree ceremonies, his honorary doctorate in my case and as Chancellor at my sons! A very small world."
Whilst some couples who met at Loughborough choose to stay close to the university, others choose the experience to use the skills gained at university to travel the world.
Yen (Data Processing 1986) and Vincent Cheung (Production Engineering and Management 1986) are a great example of this.The alumna shared with us their journey since graduating in 1986:
"My husband and I met in 1983 at LUT. His course was Production Enginering and Management whilst mine was Data Processing. We graduated in 1986 and married later in the year in Hong Kong. I completed a PhD in Engineering at the University of Warwick in 1991 and worked there for a few years.
"Now residing in Melbourne, Australia, our son, James who was born in Coventry in 1990 got married in 2020 just before the pandemic. We have also become grandparents to 7 month old Clara, James's and Vivian's daughter. Our daughter, Serena was born in Melbourne in 1997. I was a Senior Lecturer at Monash University and left in 2018 after 24 years there. My husband, Vincent Cheung is still in full time employment working in Systems Engineering in the defence industry."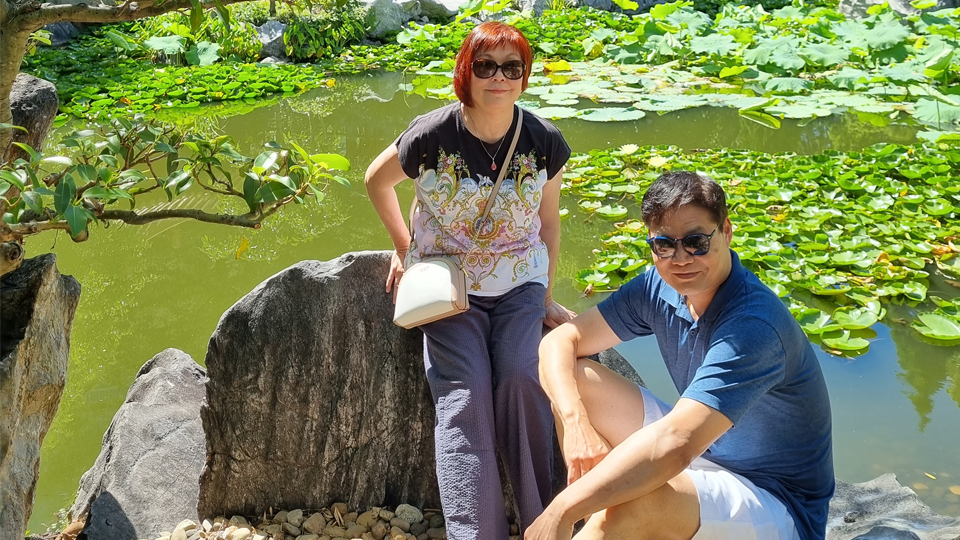 ‌
Thank you to everyone who submitted their Loughborough love story!
Did you get married recently or are you due to marry your Loughborough love soon? Maybe you're embarking on a new life with your Loughborough love. Whatever it is, we'd love to hear from you and share your story! Get in touch by emailing alumni@lboro.ac.uk.